Air Force sends male-only references in its official song off to the wild blue yonder
by
Wyatt Olson
May 29, 2020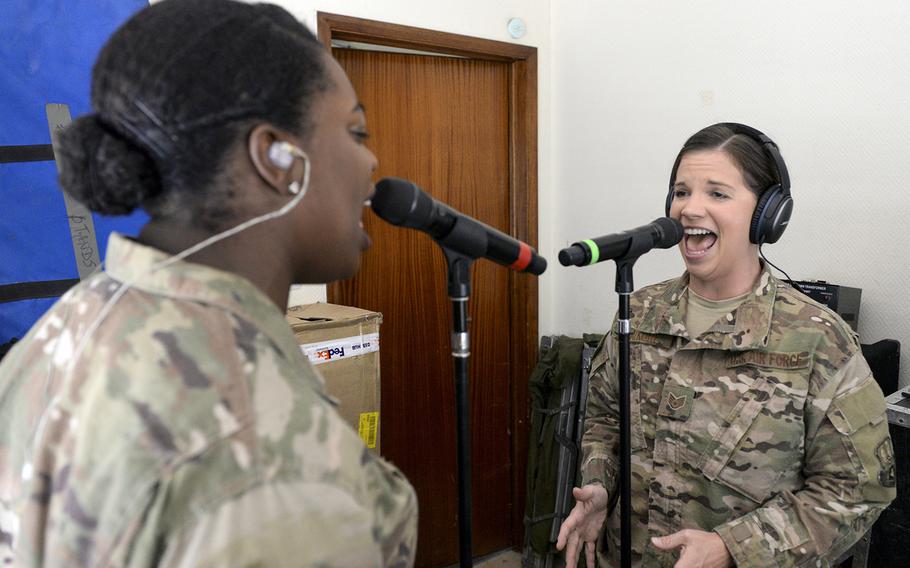 The Air Force on Friday announced completion of an update to the official Air Force song that replaces male-only references with gender-neutral lyrics.
Most significantly, the update changed a word in the fourth line of the oft-sung first verse from "At 'em, boys, give 'em the gun" to "At 'em now."
"These new lyrics speak more accurately to all we do, all that we are and all that we strive to be as a profession of arms," Air Force Chief of Staff Gen. David Goldfein said in a statement Friday. "They add proper respect and recognition to everyone who serves and who has served."
Almost 21% of the Air Force's roughly 328,250 active-duty airmen are women, according to Air Force statistics.
This final revision completes a process begun in February when Goldfein, who will step down this summer after a four-year tenure, approved gender-neutral changes to the song's third verse, which serves as the U.S. Air Force Academy's school song and is sung after athletic games.
The final line of that verse was changed from "A toast to the host of the men we boast" to "A toast to the host of those we boast."
"The U.S. Air Force," as it is properly named, has been the official song of the service since 1947 and is played or sung at countless Air Force events big and small each year. The original version was adopted by the Army Air Corps in 1939.
Other changes to lyrics in the song include:
• "Minds of men fashioned a crate of thunder" to "Brilliant minds fashioned a crate of thunder"
• "Hands of men blasted the world asunder" to "Valiant hands blasted the world asunder"
• "Souls of men dreaming of skies to conquer" to "Boundless souls dreaming of skies to conquer"
• "To a friend we send a message of the brave who serve on high" to "To a friend we send a message of his brother men who fly"
• "Flying men, guarding the nation's border," to "Fly to fight, guarding the nation's border" Goldfein spoke about the changes Feb. 27 during the Air Force Association's Air Warfare Symposium in Orlando, Fla. "I want to open a conversation here, which I hope to have over the next few months about whether we also want to update the first verse," he told the audience. "I can tell you a number of stories of women who have been giving them the gun throughout the ages but especially most recently as all combat positions are open."
In September 2016, the Navy announced its intent to rename job titles containing the word "man," such as hospital corpsman, with gender-neutral descriptions. Navy leaders dropped the idea a few months later after vociferous negative feedback from sailors.
Air Force officials at the time said the service had no plans to modify the catch-all descriptor of "airman."
olson.wyatt@stripes.com Twitter: @WyattWOlson
---
---
---