Air Force seeks $10.5 billion budget boost to increase force size, invest in future weapons
by
Corey Dickstein
March 12, 2019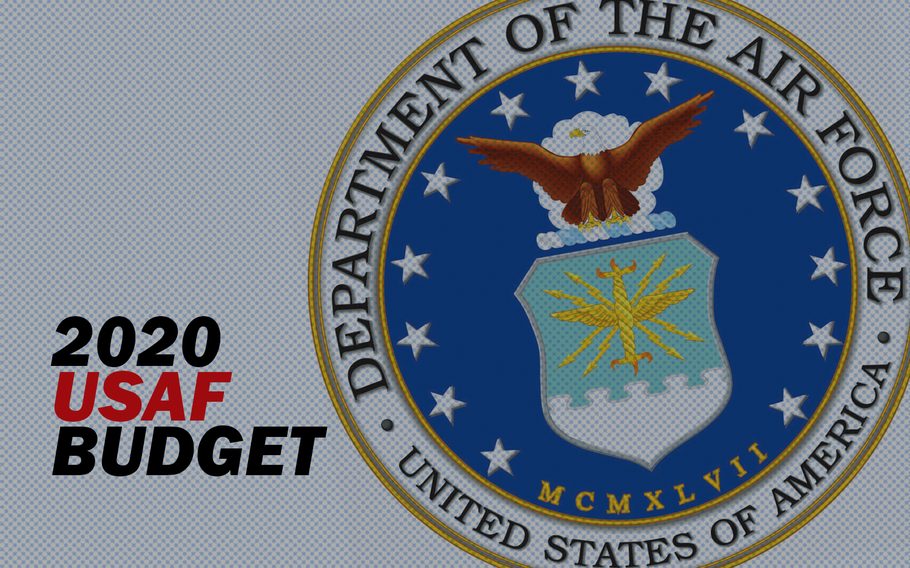 WASHINGTON – The Air Force has asked Congress for a $10.5 billion budget boost in fiscal year 2020 to add thousands of new airmen, buy dozens of new aircraft and increase funding for future weapons systems that the service contends will be necessary for a major war.
The Air Force requested $204.8 billion for the next fiscal year as it looks toward building a larger, more modern force that top officials have said it needs to retain military advantages over near-peer competitors such as Russia or China. The request was part of the Pentagon's $718.3 billion proposed budget, the details of which were released Tuesday.
"To counter the threats projected in the 2020 to 2030 time line … we must increase our capacity to evolve, incorporate advanced technology, and cutting edge capabilities in new and innovative ways," said Air Force Maj. Gen. John Pletcher, the service's deputy assistant secretary for budget. The budget request "sets the conditions to field faster and smarter the technology we need that will allow us to achieve a strategic advantage over near-peer competitors."
The request would fund the addition of 4,400 new airmen, bringing the Air Force to 510,600 servicemembers – 332,800 on active duty, 107,700 in the Air National Guard and 70,100 in the Air Force Reserve. It would mark the fifth consecutive year of growth in force strength for the service and return it to pre-2012 personnel levels, the year that the service was cut drastically by mandated budget cuts.
The 2020 budget request includes some $30 million in incentive pay to attract individuals to pursue Air Force careers in positions for which the service has been fighting shortfalls in recent years. Among those long-standing shortfalls, the service seeks to add 1,480 pilots in 2020.
Top service officials said last year that the Air Force would like to increase to more than 740,000 servicemembers in the coming years as it eyes adding 74 combat-focused squadrons to reach 386 combat squadrons by 2025 or 2030.
The 2020 request does not directly build any new squadrons, Pletcher said. But he argued it positions the Air Force to begin building new units in the coming years.
"It is a discussion we'll continue having," the general said of the proposed squadron increase. "It is clearly a priority."
Air Force officials also want to purchase 101 aircraft in 2020, according to the budget documents. The aircraft include 48 F-35A Lightning II fighter jets, 8 F-15EX Advanced Eagle fighter jets, 12 KC-46A Pegasus fuel tankers, 12 HH-60W combat rescue helicopters, 12 MQ-A Reaper drones, 8 MC-130J Commando II special operations tanker/transport aircraft and one EC-37B Compass Call electronic warfare aircraft.
Pentagon officials said their fiscal year 2020 budget proposal is driven by the 2017 National Defense Strategy, and it prioritizes the potential for a future war with a near-peer competitor over the conflicts American troops have been fighting in the Middle East and Afghanistan for nearly two decades.
For the Air Force, that means a focus on next-generation weaponry.
The budget invests $1.5 billion to test and prototype future technology, including hypersonic missiles that travel more than five times the speed of sound, directed-energy technology, such as laser weapons, and advanced jet engines designed to save in fuel costs.
The 2020 budget request also increases the amount of money that the Air Force wants to invest in its future stealth bomber, the B-21 Raider. The Air Force proposes pouring about $3 billion into the program being developed by Northrup Grumman and slated for production by the mid-2020s. That represents an about $725 million increase in yearly funding over the amount enacted last year by Congress.
While much of the B-21 Raider program to build the new bomber capable of delivering nuclear and conventional weapons remains classified, Carolyn Gleason, the Air Force deputy for budget, said Tuesday that the program was moving into the manufacturing and design phase and is "pretty much on schedule" to be completed on time.
Meanwhile, the request also seeks $1.8 billion for ongoing combat operations in places such as Afghanistan, Iraq and Syria. Much of that money would go toward replenishing stocks of bombs dropped in combat in those locations.
The fiscal year 2020 budget also seeks $72 million that would stand up the headquarters for President Donald Trump's proposed Space Force, a sixth military service focused on space operation that would fit within the Air Force Department.
The Air Force is seeking an additional $2.4 billion for its own space operations that would fund four space launches for national security purposes in 2020, the Air Force's first advanced GPS II satellite and other space programs designed to "further accelerate our efforts to protect and defend our ability to operate in space," according to the budget documents.
dickstein.corey@stripes.com Twitter: @CDicksteinDC