Air Force's top enlisted leader speaks out on black rage, urges change
by
Joseph Ditzler
June 2, 2020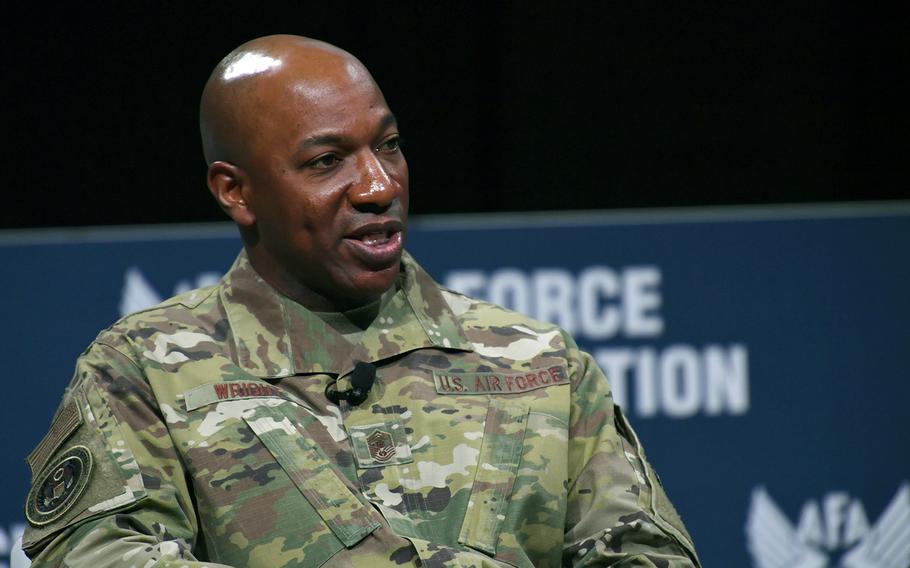 As violence tore across U.S. cities in the wake of a black man's death, the top enlisted member of the Air Force on social media Monday urged his countrymen and women to acknowledge the plight of black men in America and to do something about it.
"Just like most of the Black Airmen and so many others in our ranks … I am outraged at watching another Black man die on television before our very eyes," Chief Master Sgt. of the Air Force Kaleth O. Wright wrote on Twitter and Facebook. "What happens all too often in this country to Black men who are subjected to police brutality that ends in death … could happen to me."
In fact, he wrote, what happened to George Floyd, who died during his arrest at the hands of Minneapolis police on May 25, could happen to any black service member, from basic airmen to a wing commander.
"This my friends, is my greatest fear, not that I will be killed by a white police officer (believe me my heart starts racing like most other Black men in America when I see those blue lights behind me)," Wright wrote, "but that I will wake up to a report that one of our Black Airmen has died at the hands of a white police officer."
Wright, who represents enlisted interests to the public and government and advises the Air Force chief of staff, in his statement said he struggles with "the Air Force's own demons." They include racial disparity in military justice and discipline among the youngest black, male airmen, "and the clear lack of diversity in our senior officer ranks."
He wrote that Americans have a "right to be upset about what's happening in our nation," and to protest injustice.
"But you must then find a way to move beyond the rage and do what you think is right for our nation."
For himself, Wright said, "I can only look in the mirror for a solution."
He already has an "ongoing dialogue" with 25 of his closest friends of varied ranks and ethnicities "where we began by acknowledging our right to be angry about what's happening."
Admitting he has "not done enough as your most senior enlisted leader," Wright said he is working with Air Force Chief of Staff Gen. David Goldfein to "have a full and thorough independent review of our military justice system."
An independent watchdog group, Protect Our Defenders, in a report released May 27 said the Air Force has failed to fix racial disparities within its justice system and withheld documents to hide that poor record. The same group published a 2017 report that found some of the military's most extreme racial inequalities within the Air Force.
"We are also working to improve the diversity of our force," Wright said, "especially within our senior ranks."
Wright did not immediately respond to a Twitter message Monday evening in Washington seeking further comment. Air Force Public Affairs also did not immediately respond to an email message seeking an interview.
In his message, Wright said his readers must "find a way to move beyond the rage and do what you think is right for the country, for your sons, daughters, friends and colleagues … for every Black man in the country who could end up like George Floyd."
Wright said solutions must involve filling the communications gap between law enforcement and young black men. In a larger scope, he said, everyone must decide what works best for them.
"We didn't get here overnight so don't expect things to change tomorrow," he wrote. "Vote, protest peacefully, reach out to our local and state officials, to your Air Force leadership and become active in your communities … we need all hands on deck."
Black people in America don't expect special treatment, he said, but "the same chance to succeed" as their white counterparts.
"If you don't do anything else, I encourage everyone to fight, not just for freedom, justice and equality, but to fight for understanding."
Only black people know the experience of life in America as a black person, Wright said, adding that others may sympathize or only believe they know.
But let me tell you, he wrote, "regardless of how many Black friends you have, or how Black your neighborhood was, or if your spouse or in-laws are Black … you don't know.
"You don't know the anxiety, the despair, the heartache, the fear, the rage and the disappointment that comes with living in this country, OUR country every single day," Wright said.
Take time, he said, to talk with your colleagues about their experiences.
"Frankly, you owe this to every Airmen," Wright said, "but I'm asking you specifically to pay attention to the Black Airmen in your ranks during this trying time."
ditzler.joseph@stripes.com Twitter: @JosephDitzler