Air Force offers cash for better system allowing female pilots to relieve themselves in flight
by
Jennifer H. Svan
August 26, 2020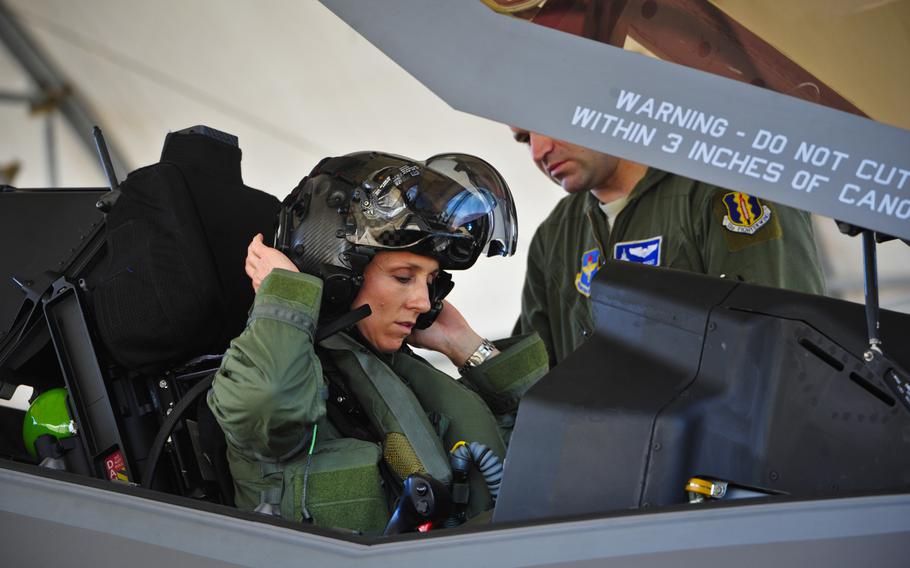 The Air Force is offering at least $100,000 to whomever comes up with a way for female pilots to answer the call of nature while strapped into the cockpit of a jet.
"Let's develop an improved, reliable and effective system to enable female air crew to relieve themselves while flying sky high," said a document announcing the "Sky High Relief Challenge" this month.
The Air Force "needs an improved bladder relief system that allows female aviators to hydrate adequately and relieve themselves during flight without interfering with operations or compromising flight safety," the document said.
Solving the problem has become urgent, with flight times running up to 16 hours, it said.
Female air crew often deprive themselves of liquid to avoid having to urinate in flight, a practice called tactical dehydration, that can reduce physical and cognitive performance and impair a pilot's ability to withstand G-forces, the document said.
Bladder relief during flight has long been a challenge for the services. Male pilots also have run into problems when they've really had to go.
For example, in 1992 an F-16 crashed in Turkey after the pilot undid his lap belt so that he could relieve himself in a "piddle pack" — which at the time consisted of a dehydrated sponge in a plastic container — only to send the aircraft into a spin when he wedged the belt's buckle between the seat and the stick that controls the plane.
The pilot ejected safely and no one was hurt on the ground, but the $18 million jet was a write-off.
Piddle packs evolved over time but never with female pilots in mind. Some women have reported stripping off clothes in the cockpit just to use one, Wired magazine reported in 2000.
Many pilots use the "old proven standby" of adult diapers to avoid having to resort to in-flight relief systems, the Wired article said.
Piddle packs are being replaced by the ominously named Advanced Mission Extender Device, a battery-operated device worn underneath the uniform and designed to collect urine.
For men, the urine is collected in a cup, and for women in a pad, before it's pumped into a collection bag strapped to the leg.
The maker of the device, Vermont-based Omni Medical Systems, reassuringly notes that it's made from fire-retardant materials. The female version "fits like a sanitary pad," Omni said.
The competition to find a solution for female pilots seeking in-flight relief is being run by AFWERX, an Air Force program that promotes and invests in new technology and ideas to solve problems.
"Providing them with female-specific equipment that functions safely and reliably will lead to vast improvements in their physical and mental health and enable them to focus on their missions with minimal distraction," AFWERX said on its webpage.
An evaluation team will review submissions beginning Sept. 21. Prizes range from a minimum of $100,000 for categories such as urine transfer and storage technology to at least $250,000 for a complete pumpless bladder relief system.
"Your solution could potentially provide female aviators the relief needed to navigate the skies with the ease and comfort they deserve!" AFWERX said.
svan.jennifer@stripes.com Twitter: @stripesktown