Air Force joins Army, Marines in cutting tuition assistance
By
Jennifer H. Svan Charlie Reed svanj@estripes.osd.mil reed.charlie@stripes.com
March 12, 2013
---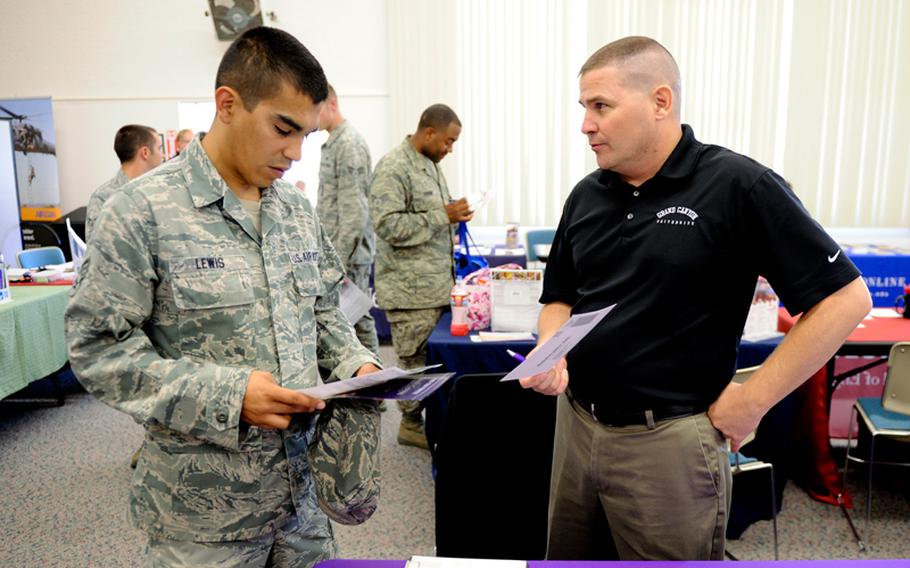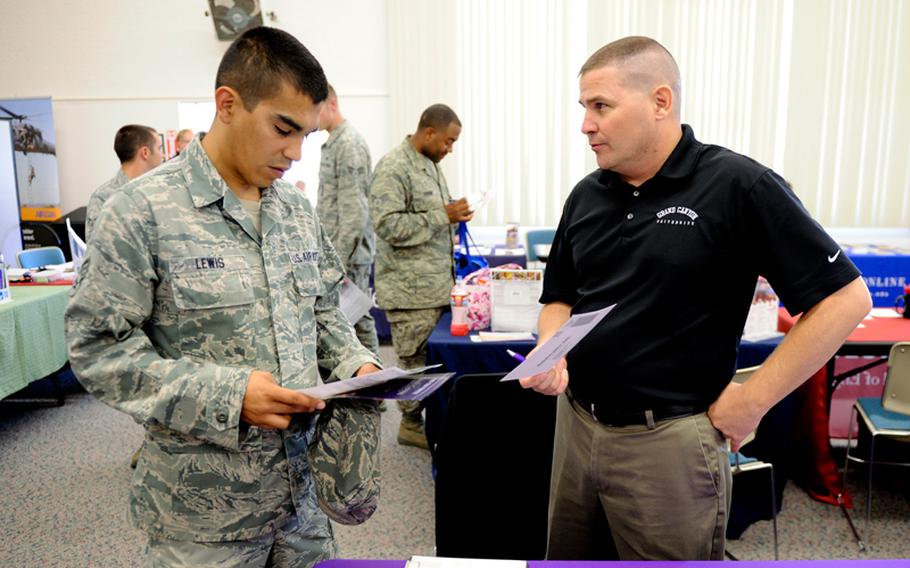 The Air Force has joined the Marines and the Army in dropping tuition assistance due to sweeping federal budget cuts.
Word of the decision began reaching airmen in the Pacific on Tuesday morning. During a commander's call at Yokota Air Base, 374th Airlift Wing commander Col. Mark August told airmen that applications for tuition assistance submitted after March 12 likely would be rejected by the Air Force.
"I suggest you call and see where your application's at," he said.
Because the Air Force is also strictly limiting TDY, professional education at the service's Non-Commissioned Officer Academy and Squadron Officer School, would also be limited, he said.
Commanders would likely have to limit and prioritize airmen scheduled to attend those schools, August said.
At Ramstein Air Base in Germany, phones at the education center were busy Tuesday morning with callers ranging from the distressed to those in disbelief asking: "What do you mean, I can't apply?"
"It has been probably one of the craziest mornings of my career," said Keith Davis, the chief of education and training at Ramstein, who fielded some of those phone calls. "It has been unbelievable."
The official message that the Air Force was suspending all new requests for tuition assistance effective immediately, came out "stateside time yesterday," Davis said Tuesday.
"We pushed an email out this morning from the education center," informing airmen of the change, Davis said.
By the time airmen woke up Tuesday morning in Germany, they were shut out from submitting new requests for tuition assistance through the Air Force Portal. A message on the application site says in red letters: "Air Force Military Tuition Assistance Currently Not Available."
Capt. Nicholas Plante, an Air Force spokesman at the Pentagon, said Tuesday that Secretary of the Air Force Michael Donley made the decision at about 5 p.m. Washington time Monday to suspend military tuition assistance. The service's education offices were promptly notified, and the Air Force planned to put out a statement Tuesday on its web site, www.af.mil, Plante said.
Sequestration, he said, is having "devastating effects" on readiness, mobilization and the workforce. "We have to make difficult choices to preserve those types of things."
Plante said the suspension applies to all components, including the Air Force Reserve and Air National Guard on extended active duty orders.
Last week, the Army and the Marines announced similar moves and the Navy was expected also to announce changes to its tuition assistance program.
As of Monday, airmen are not permitted to submit new requests for tuition assistance, Plante said. Airmen currently enrolled in approved courses are not affected, he said and are allowed to complete them. Applications from airmen submitted before the suspension but not yet approved will be processed normally, Plante said. The Air Force will evaluate the program in coming months, he said.
The Air Force has been providing $250 per semester credit hour and up to $4,500 a year to airmen pursuing associate's, bachelor's and master's degrees. The Air Force does not charge for professional education courses.
At Ramstein, about 1,600 students are currently taking advantage of tuition assistance benefits, according to Davis. About 70 requests are pending approval. To date this fiscal year, the base's education office has issued about $4 million in tuition assistance benefits.
"The advice is not to go away from education" but to still take advantage of other education benefits that are available, such as the G.I. Bill, Plante said. The cuts do not affect the G.I. Bill.
Yokota commander August told airmen who are concerned about how the cuts in education would affect their promotion prospects that review boards would factor in the education cuts.
A petition created March 8 — the day the Army announced its cuts — on the 'We the People' section of WhiteHouse.gov already has more than 27,000 signatures. It urges President Barack Obama to reinstate tuition assistance through an executive order. A petition must reach 100,000 signatures within 30 days to receive a response from the White House, according to its website.
---
---
---
---