Air Force is still short more than 2,000 pilots
---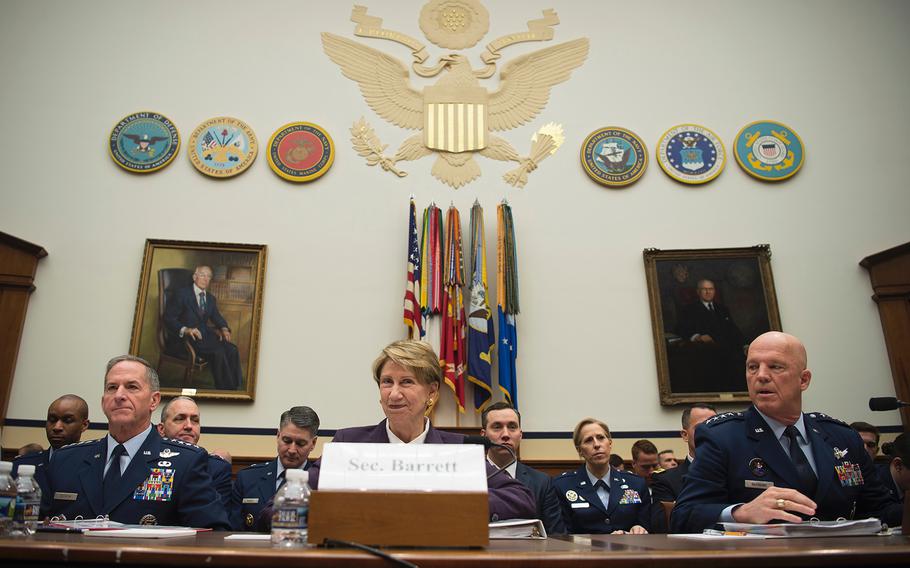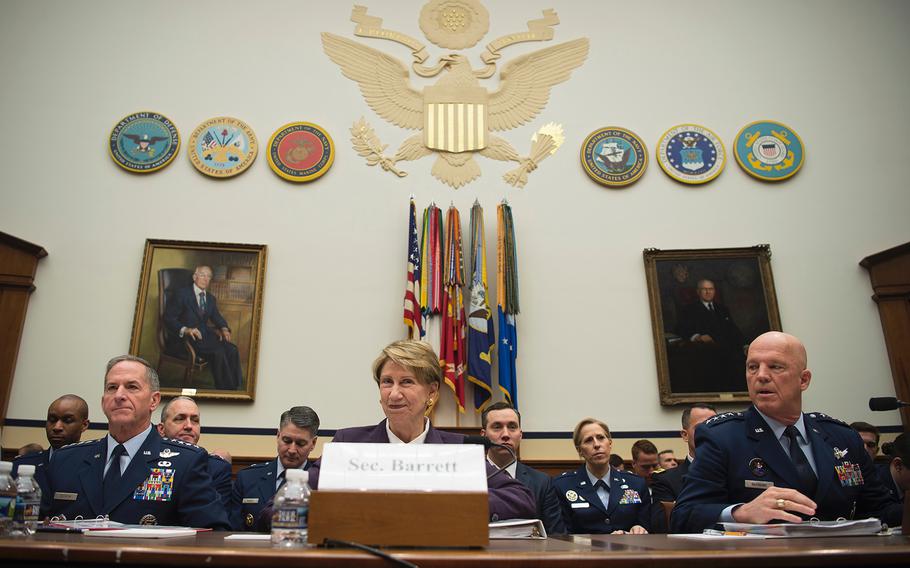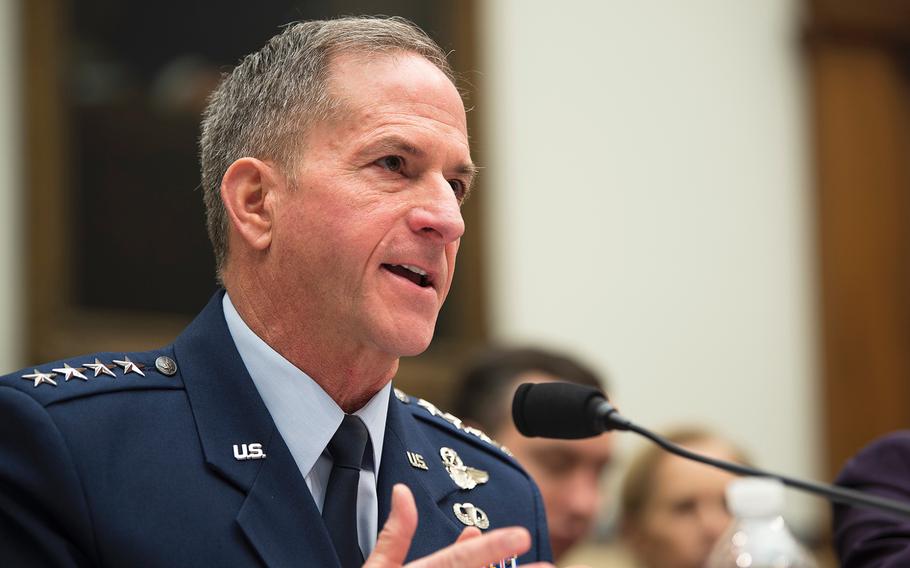 WASHINGTON — The top general for the Air Force told House lawmakers Wednesday that his service remained short some 2,000 pilots even after years of attempting to curb aviator losses with large bonuses and increased time in the cockpit.
Gen. David Goldfein, the Air Force chief of staff, told the House Armed Services Committee that the service was "holding its own" in stabilizing its pilot shortfall and has improved retention numbers among experienced pilots. But the Air Force — just like the other military services — has continued to struggle to attract pilots into its ranks and keep them flying military aircraft.
"This is a national-level issue, not an Air Force-level issue. The nation is not producing enough pilots," Goldfein said during the hearing to defend the Air Force's request for about $153.6 billion for fiscal year 2021. "We're starting to see positive trends … but it's too early to declare any kind of victory."
Goldfein, who is a decorated career fighter pilot, said the Air Force needs 21,000 pilots in its ranks to meet estimated requirements in the 2018 National Defense Strategy, which commits the military to preparing to fight a major conflict against a powerful adversary, namely China or Russia. The general said the service has about 19,000 pilots. It's similar to what Air Force officials reported last year.
Military officials have blamed a combination of the lure of high-paying commercial airliner jobs and low morale among pilots, who until the last few years saw training flight time reduced significantly amid shrinking military budgets and widespread issues with aircraft maintenance.
Goldfein on Wednesday thanked lawmakers for enabling him to offer large bonuses aimed at keeping trained pilots in the service. Last year, the Air Force offered pilots retention bonuses that could reach up to $420,000 in 12 years, for example.
But Goldfein expected increasing morale was more important.
"Most pilots are not truly motivated by money," he said. "It's very important to them, but they are motivated by quality of service, and everything we're doing as an Air Force is ensuring that flying in the U.S. Air Force is as rich an experience as we can make it."
That starts with pilots flying more, Goldfein said, adding the service has reported increasing training flight hours each year since 2018.
Pilots are now flying some 19 to 21 hours per month, which he characterized as a large increase from years past.
"Pilots came into the Air Force to fly," Goldfein said. "If they don't think that we're serious about [combat flight] readiness they're going to vote with their feet. You want to find the highest morale in the United States Air Force, you go find the units with the highest readiness."
Several lawmakers pointed to another issue plaguing Air Force pilots — a lack of diversity within the ranks. Rep. Anthony Brown, D-Md., said the Air Force has only 47 African Americans flying fixed-wing aircraft. He described the number of women flying in the Air Force as also "disturbingly low."
Brown largely blamed a cultural problem within the Air Force, pointing to a Rand Corp. study last year that found race and gender stereotyping were prevalent within the pilot community.
"We cannot be afraid of this. We have to take it head on," Brown told Goldfein and Air Force Secretary Barbara Barrett. "I implore you to take this on, and to ask Congress for help."
The Pentagon announced this week that for the first time in history, the military has selected an African American to lead a military service with the nomination of Air Force Gen. Charles "CQ" Brown to replace Goldfein in the summer as the service's top general. Brown is a career F-16 pilot, and Air Force officials have said privately his visibility in that position could spur minority recruitment.
Rep. Trent Kelly, R-Miss., had another suggestion to address the diversity issue, asking Air Force leaders to make public appeals directly to minorities and women.
"I think we've got to advertise — we need to make it where those young ladies and minorities see that TV commercial, and they want to go fly fighters for the United States Air Force," said Kelly, who is also a brigadier general in the Army National Guard.
Barrett said she believed another change happening now within the Air Force was expected to boost interest in the service, including among minorities — the establishment of a new sixth branch of the military, the U.S. Space Force.
"One of the things that will help us even [in the Air Force] is the recent attention brought to the military service when the Space Force was stood up," she said. "There's new excitement."
dickstein.corey@stripes.com Twitter: @CDicksteinDC
---
---
---
---