Air Force drops dress-code criterion of 'faddish' for being too subjective
by
Wyatt Olson
July 11, 2020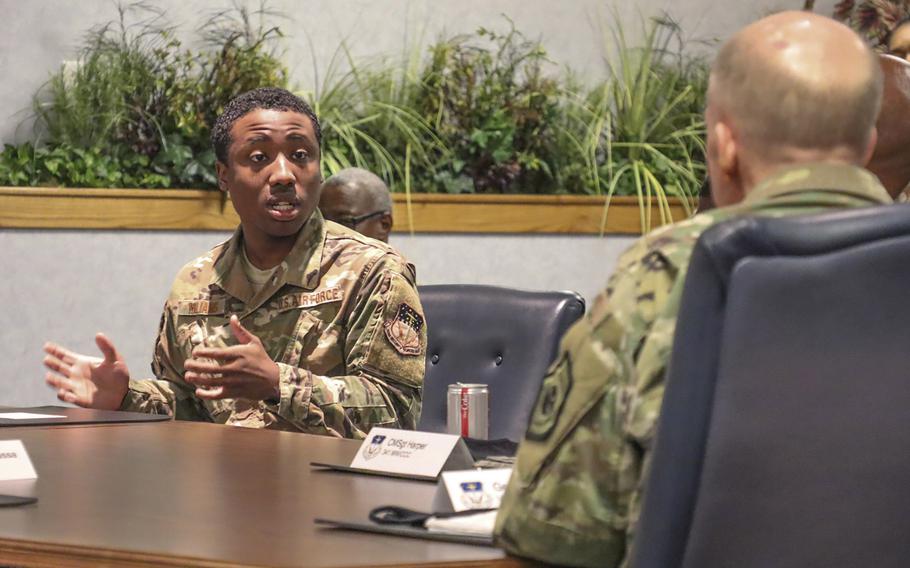 The Air Force on Friday announced revisions to its personal appearance requirements in an effort to create a more inclusive and racially sensitive culture for airmen.
The changes to the Dress and Personal Appearance of Air Force Personnel instructions include "the removal of subjective language and other rules that may have been creating unintentional or unfair barriers for Air and Space Force uniformed members," the service said in a statement.
"As we listened to Airmen and Space Professionals, we reviewed our policies and identified language in our dress and appearance instruction that was problematic for certain groups," Lisa Truesdale, Air Force deputy director of military force management policy, said in the statement. "Ensuring inclusive language in our policies is one of the first steps in creating a more inclusive culture where all uniformed members can thrive and maximize their fullest potential."
The revisions, effective immediately, are:
• The term "faddish," in references to "complexion and associated subjectivity," has been removed from the guidelines. Some airmen had complained that the word "faddish" had "resulted in particular demographics being disproportionately caught up by the enforcement of those rules that included the term," the statement said.
• Name tapes/tags can include diacritical accent and hyphens to provide more accurate pronunciation of a name — for example, in surnames such as Peña, Lewis-Miles, Müller or Calderón.
• Male airmen are authorized to have "one straight line part (cut, clipped, or shaved) on either side of their head."
• The restriction on height of combat boots has been removed, "acknowledging that some career fields require more flexibility."
• Airmen granted a shaving waiver are given more leeway in cutting or trimming facial hair, which "allows them to more readily present a neat, clean, and professional image," the statement said.
Last month, the Air Force's surgeon general extended the duration of approvals for shaving waivers from one year to five if an airman has been diagnosed with pseudofolliculitis barbae, also known as razor bumps. The chronic inflammation of the face — caused and exacerbated by shaving — is most common among African-American men.
In June, the Air Force ordered an independent review of discipline and advancement opportunities in regard to racial disparities.
The still ongoing review is to "assess Air Force-specific causal factors like culture and policies, assimilate the analysis and conclusions of previous racial disparity studies by external organizations, and make concrete recommendations resulting in impactful and lasting change."
The review came on the heels of widespread national protests after George Floyd, a 46-year-old Black man, died while being arrested in Minneapolis on May 25. Video taken by bystanders that went viral showed a police officer kneeling on Floyd's neck for more than 9 minutes as he pleaded for breath.
olson.wyatt@stripes.com Twitter: @WyattWOlson