Air Force cancels fitness assessments over coronavirus concerns
by
James Bolinger
May 22, 2020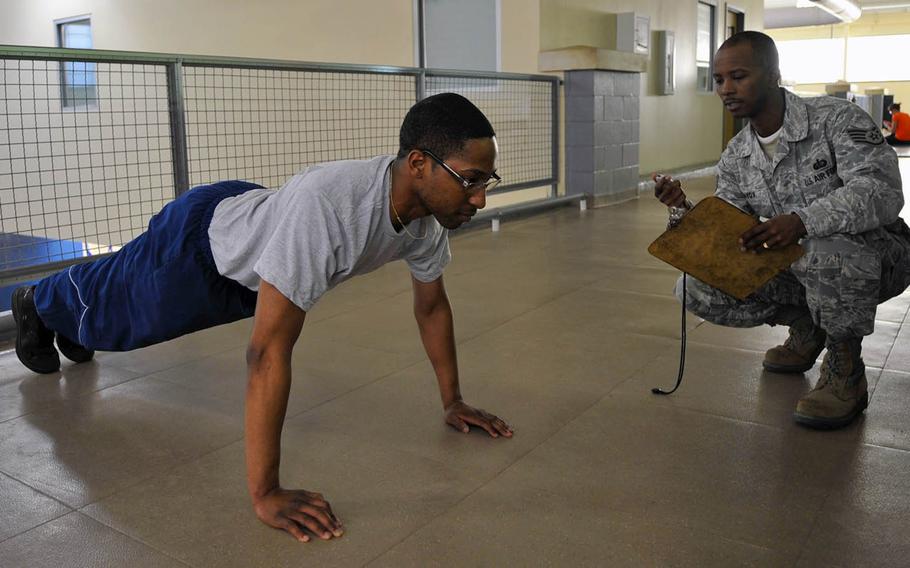 Stars and Stripes is making stories on the coronavirus pandemic available free of charge. See other free reports here. Sign up for our daily coronavirus newsletter here. Please support our journalism with a subscription.
The Air Force has postponed physical fitness testing for its service members through Oct. 1 as a precautionary measure against spreading coronavirus, according to a memo released Thursday.
The memo, signed by Lt. Gen. Brian Kelly, the chief of manpower and personnel services, said that local health conditions would dictate when and how commanders could resume testing after Oct. 1.
Before they allow testing to resume, local commanders must consult with public health authorities and perform a local risk assessment, according to the memo. In it, Kelly authorized commanders to delay testing beyond Oct. 1 if fitness centers remain closed and local movement restrictions remain in place.
Airmen take the test once or twice per year depending on how high they score. Airmen who earn an excellent rating are only required to test once per year; all other categories must complete the assessment once every six months.
The Air Force fitness test is four events: a waist measurement, a timed 1.5-mile run and the maximum number of situps and pushups the airmen can perform in 1 minute per event.
Kelly also suspended the waist-measurement portion until Oct. 1, 2021, and the annual height and weight measurements until further notice.
"During this period, all Airmen will receive a temporary, one-year abdominal circumference exemption, and the next scheduled test date will be based on the overall fitness score," the memo stated.
To handle the expected increase in the number of airmen who will be tested when the moratorium is lifted, the memo also temporarily allows physical training leaders to test members of their own squadron, a practice that has been banned for years.
Airmen who are not current, overdue or previously scored an unsatisfactory result on their fitness test have more than a month to prepare for their next test after Oct. 1, according to Kelly's memo.
"Airmen who are non-current or have an unsatisfactory official physical fitness assessment will not be required to test before the authorized 42-day reconditioning period has expired," the memo stated. "The first day of the 42-day reconditioning period begins 1 October 2020."
The Air Force decision mirrors those of the Navy and the Marine Corps, which canceled their fitness assessments on March 18 and April 21, respectively.
"Airmen remain our top priority, and we will ensure their health and safety as we maintain our force readiness posture," Kelly's memo said.
This is the second change to Air Force fitness testing since January, when the service announced that airmen could take up to three diagnostic fitness tests under official conditions, and if they liked their score from any one test, the service would count it as officials.
bolinger.james@stripes.com Twitter: @bolingerj2004