Navy reaches goal of homeporting 5 fast-attack submarines on Guam by year's end
By
Stars and Stripes
April 12, 2022
---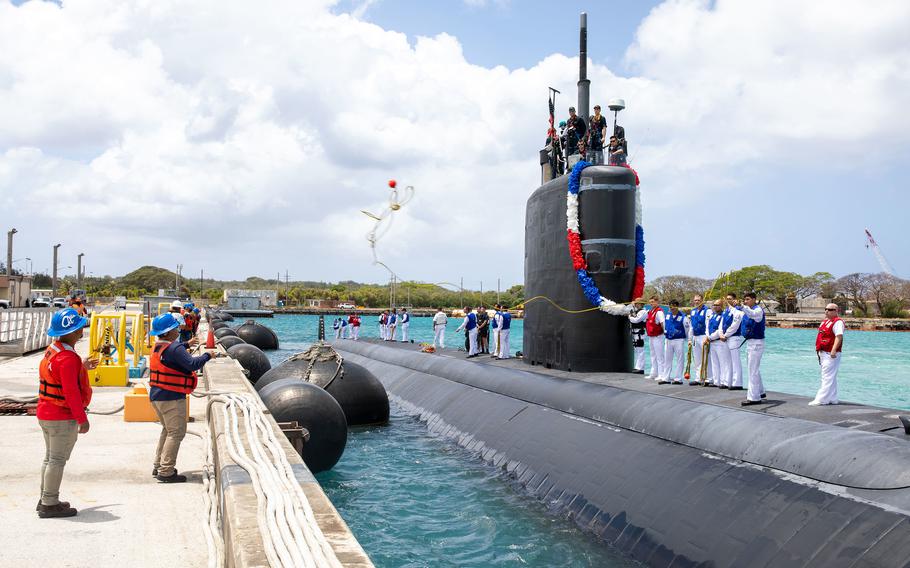 The fast-attack submarine USS Annapolis arrived at Naval Base Guam late last month, fulfilling a Navy goal as the service continues to bolster its presence in the Indo-Pacific.
The Los Angeles-class vessel completed its journey from Naval Base Point Loma in San Diego and steamed into Apra Harbor on March 28, the Guam-based Submarine Squadron 15 said in a Tuesday news release.
"I would like to personally extend a warm Hafa Adai to the Sailors and families of our fifth homeported submarine on Guam, USS Annapolis," Rear Adm. Benjamin Nicholson, commander of Joint Region Marianas, said in the release. Hafa adai is a greeting used by the Chamorro people of the Mariana Islands.
"Guam and the Mariana Islands are incredibly important to the overall defense of the region, and this additional capability further underscores our commitment to a free and open Indo-Pacific," he said.
The Annapolis' arrival comes just one week after another Los Angeles-class submarine, USS Springfield, arrived on Guam on March 21.
Joining submarines USS Asheville, USS Key West and USS Jefferson City, the Annapolis and Springfield fulfill the Navy's goal of having five fast-attack submarines on Guam by the end of this year, according to the news release.
The Department of Defense considers Guam, the westernmost U.S. territory, to be a vital part of the United States' military presence in the Indo-Pacific. The DOD announced it would be "modernizing its force posture" on the island in its 2019 Indo-Pacific Strategy Report.
"The security environment in the Indo-Pacific requires that the U.S. Navy station the most capable ships forward," squadron spokesman Lt. Eric Uhden said in the news releases. "This posture allows rapid responses for maritime and joint forces, and brings our most capable ships and submarines with the greatest amount of striking power and operational capability to bear in the timeliest manner."
Like its sister ships, the Annapolis can take on multiple roles and missions, such as anti-submarine warfare, anti-surface warfare and surveillance. The 360-foot-long nuclear-powered submarines have crews of approximately 143 and carry armaments such as Tomahawk missiles and MK 48 torpedoes, according to the Navy.
The Annapolis and its crew aren't strangers to the region. The submarine's most recent deployment in April 2021 involved "operations vital to national security in the Western Pacific," according to the release.
---
---
---
---