Breedlove: No-fly zone over Syria would constitute 'act of war'
---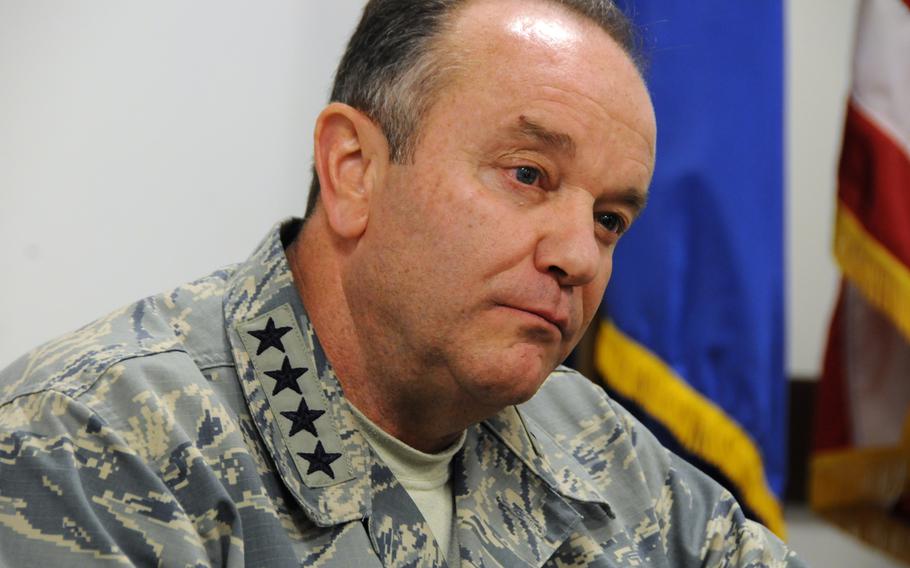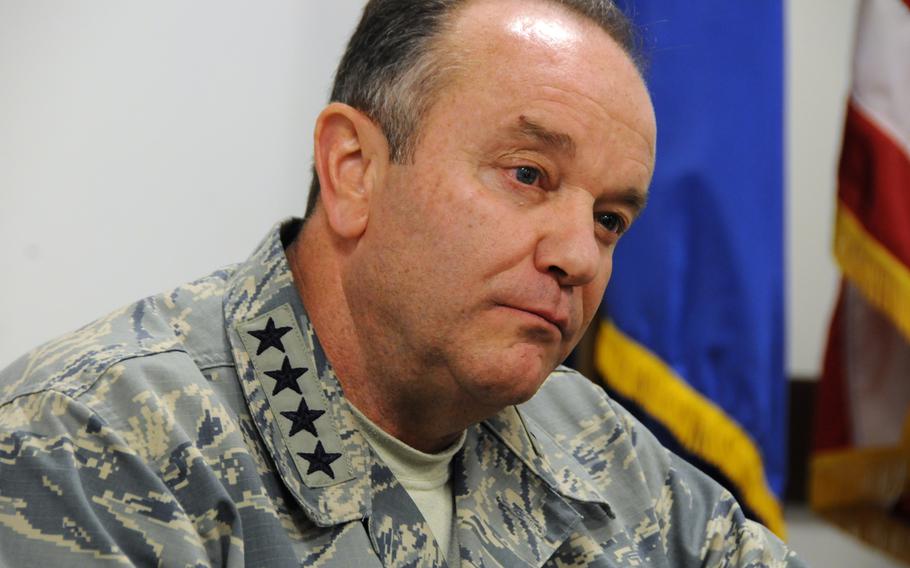 NAPLES, Italy — Rather than a quick and relatively painless affair, any effort to dismantle Syria's air defenses as part of enforcing a no-fly zone would be tantamount to a declaration of war, cautioned NATO's new military chief, Gen. Philip Breedlove.
"It is quite frankly an act of war and it is not a trivial matter," said Breedlove, NATO's new supreme allied commander and head of U.S. European Command, during a recent Thursday visit to Naples, Italy.
Less than a month on the job, Breedlove is facing an array of security challenges as NATO's top military officer. As he oversees the drawdown of the alliance's combat mission in Afghanistan, the former fighter pilot also has his sights focused on the unfolding crisis in Syria, where at least 80,000 people have been killed in the two-year civil war, according to the United Nations.
Currently, NATO is not engaged in any official war planning for Syria, which requires formal North Atlantic Council approval. But that doesn't mean commanders aren't ruminating about what would be required if NATO were called upon, Breedlove said.
As the debate continues about whether the U.S. and its European allies should begin to arm rebel forces in Syria and possibly impose a no-fly zone over the country to help those forces in their fight against forces loyal to President Bashar al-Assad, Breedlove cautioned that such actions also carry risks.
"It would absolutely be harder than Libya," said Breedlove, referring to NATO's 2011 air bombardment that resulted in the ouster of longtime dictator Moammar Gadhafi. "This is a much denser, much more capable defense system than we'd faced in Libya."
While some political leaders, such as Sen. John McCain, R-Ariz., have been vocal about the need for the U.S. to arm rebel forces and support a no-fly zone, the Obama administration has so far been cautious about military involvement or sending lethal aid to rebels amid concerns that some of those fighters have ties to al-Qaida-like groups.
There is a widespread perception that setting up a no-fly zone is simply a matter of sending in some planes, Breedlove said.
"I know it sounds stark, but what I always tell people when they talk to me about a no-fly zone is … it's basically to start a war with that country because you are going to have to go in and kinetically take out their air defense capability," Breedlove said.
Any no-fly zone plan would be further complicated if Russia goes ahead with plans to provide Syria with advanced anti-aircraft missiles, Breedlove said. On Thursday, Assad told a Lebanese television outlet that some of Syria's weapons contracts with Russia had been implemented, but he did not specifically mention the sophisticated S-300 anti-aircraft system. Russian media later reported that Syria would not receive the first shipment for several months.
"These are some very capable systems that are being talked about," Breedlove said.
The S-300 is considered a top-of-the-line air defense system which can also be used to intercept ballistic missiles. Its automatic targeting system is reported to be capable of tracking 100 targets and engaging a dozen simultaneously at all altitudes and at ranges of up to 200 kilometers.
Meanwhile, concerns continue to mount over the suspected use of chemical weapons in Syria. Officials, including former SACEUR Adm. James Stavridis, have cited the potential for those weapons to be taken out of Syria as a top security concern.
How to go about securing those weapons remains an operational conundrum. Some experts, including retired Air Force Gen. Charles Wald, have suggested it would require about 50,000 troops to secure those sites. After more than a decade of war, even no-fly zone proponents say they oppose sending in ground troops.
Breedlove stopped short of endorsing Wald's call for ground forces, but, without offering specific tactics, acknowledged that securing chemical weapons would require more than simply dropping bombs on sites.
"Without a doubt this is a very tough mission set," he said. Whether talking about "completely eliminating them, controlling them, containing them, each of those requires a different level of effort, none of them easy. As long as the weapons can move about the country on the surface, it is a problem of controlling battle space. I think that it is a tough mission set. It cannot be done completely from the air."
Breedlove, who is on his eighth tour in Europe, has focused mainly on Air Force and Army missions during his frequent overseas assignments. During his two-day stop in Naples, he met with officials to learn more about the Navy's piece in the EUCOM mission.
In the years ahead, the area around the Mediterranean will be increasingly important for U.S. security interests and will factor into how forces are aligned in the years ahead, Breedlove said. A Defense Department review of its basing posture in Europe should provide an opportunity to ensure that forces are positioned to deal with emerging threats, he said.
"We are a force … that lives in a legacy positioning associated with Cold War outlooks," Breedlove said. "We are seeing ourselves needing to be based closer to those places where we are continuing to find threats. … Clearly, the Levant, the east Med, northern Africa are places we need to be positioned well to react quickly into those areas."
While more consolidation of base infrastructure could be needed in the future, Breedlove says troop levels — down roughly 75 percent from Cold War levels — should not be reduced much further. Current drawdown plans in Europe call for about 69,000 to be stationed on the continent.
"We're about where we need to be," he said. "Presence is important, because presence equals trust. You can't rotate trust. You can't surge trust. You earn trust in long-term relationships. Our ability to use these European bases to project on behalf of the alliance or other objectives is about that trust, that relationship, that long-term bond you get from forward-stationed forces."
Meanwhile, on the heels of his first trip to Afghanistan as SACEUR, Breedlove said he was optimistic over how the security transition is playing out there. Afghan security forces are already in the lead in most of the country, with U.S. forces serving almost entirely in a back-up advise and assist role, he said. "They are reaching that point where the can truly plan, execute and recover from an operation," Breedlove said of the Afghan forces.
Still, despite that progress, there are numerous shortfalls within the Afghan force, which still depends on NATO for higher end enabling capabilities ranging from surveillance and reconnaissance to air lift support needed for personnel recovery, Breedlove acknowledged.
Nonetheless, Afghan security forces are now in a position where they should be able to stave off the enemy, limiting the Taliban's ability to retake territory or launch major offensives as NATO steps off the battlefield, he said.
That doesn't mean the fighting is over.
"The Taliban have not gone away," Breedlove said. "There will continue to be bad things that happen because of their efforts."
---
---
---
---