Wilkie under investigation after accusations he tried to dig up dirt on House aide who reported sexual assault
by
Steve Beynon
February 27, 2020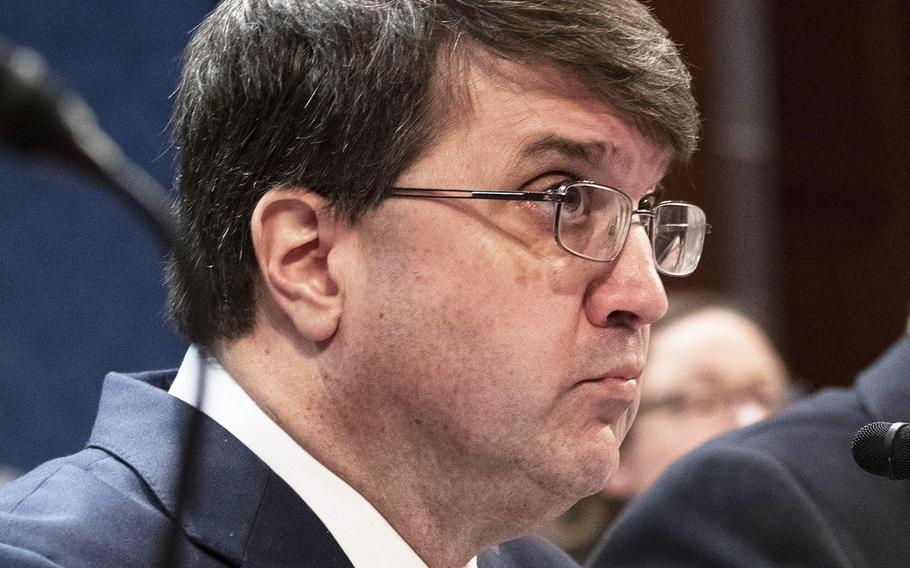 WASHINGTON — The inspector general for the Department of Veterans Affairs has launched an investigation into whether VA Secretary Robert Wilkie tried to gather damaging information on a Democratic policy adviser, who is also a Navy officer, after she reported she was sexually assaulted last year at a VA hospital.
VA Inspector General Michael Missal on Thursday wrote a letter to Rep. Mark Takano, D-Calif., chairman of the House Committee on Veterans' Affairs, telling him the matter is "a high priority" and investigators will report their findings to Congress once their probe is complete. It was unclear Thursday how long the investigation will take.
Earlier Thursday after a House VA committee budget hearing, Wilkie apologized for initially calling Andrea Goldstein's reported sexual assault at the Washington DC VA Medical Center "unsubstantiated."
"I wasn't calling her a liar…I was sorry about the implication from the word," Wilkie told a group of reporters before the news of the IG's investigation became public. "It was a word I used from the inspector general's own directive. I've said that to [Rep. Julia Brownley, D-Calif.] and [Takano] I should've never used that word."
Goldstein, a lieutenant in the Navy Reserve and senior policy adviser for the House VA committee's Women Veterans Task Force, said in September that a man groped and propositioned her inside the VA hospital. The VA inspector general's office investigated the alleged sexual assault but announced in January that it had closed the case without filing any charges.
Goldstein's report set off a harsh exchange between Democratic lawmakers and the VA. Takano, in a statement earlier this month, said Wilkie's calling out of a congressional staffer was "shockingly tone-deaf" and "outrageous" and an example illustrating how female veterans' concerns are often dismissed by the VA.
The IG's probe comes two days after six senators demanded an investigation into how the VA handled investigating the alleged sexual assault, prompted by the reports that Wilkie attempted to discredit Goldstein. The senators, led by Sen. Patty Murray, D-Wash., called the reports "deeply concerning."
Wilkie, who is an officer in the Air Force Reserve, has rebuked the claims.
"I never would do that to a fellow officer," he said in a statement to ProPublica, who first reported on the matter. "It is a breach of honor."
The House VA committee is also planning a hearing on sexual assaults at VA hospitals. No date has been set yet, but Wilkie vowed to Takano that he would attend.
"We do need to make some cultural changes to improve the care of our women veterans to make them feel welcomed," Takano said Thursday. "This requires leadership from the top. Just because a facility has a low complaint rate, doesn't mean sexual assault doesn't occur there."
When the IG completed their initial investigation and decided not to pursue charges in January, Wilkie scolded Goldstein and Takano for making "unsubstantiated claims."
"We believe that VA is a safe place for all veterans to enter and receive care and services, but the unsubstantiated claims raised by you and your staff could deter our veterans from seeking the care they need and deserve," Wilkie wrote in a letter to Takano in January.
It's unclear what Wilkie meant Thursday when he said "unsubstantiated" came from a directive of the inspector general.
Missal slammed Wilkie's January letter, writing the VA secretary was wrong to characterize Goldstein's allegation as unsubstantiated.
"Neither I nor my staff told you or anyone else at the department that the allegations were unsubstantiated," Missal wrote within hours of Wilkie's letter. "Reaching a decision to close the investigation with no criminal charges does not mean that the underlying allegation is unsubstantiated."
The VA secretary's initial response was also slammed by Brownley.
"Whether intentional or not, Secretary Willkie's statement illustrates how much work we have ahead of us to make sure all veterans feel supported coming forward when they are harassed or assaulted," she said in a statement following Wilkie's letter.
Wilkie quickly backed off after kicking up a public fight with House Democrats and reportedly attracting ire from the White House. He said in early February that he wasn't "satisfied" with the resolution.
"I have to know, Ms. Goldstein has to know, our women veterans have to know our facilities are safe. We're going to make a renewed push to get answers," he said about the reported sexual assault.
beynon.steven@stripes.com Twitter: @StevenBeynon