Veterans groups rally behind David Shulkin
by
Nikki Wentling
February 19, 2018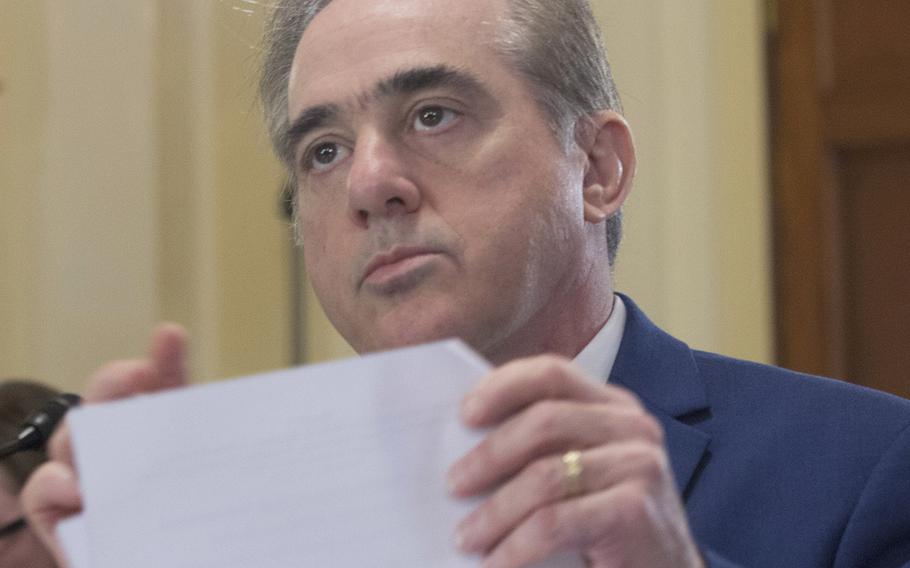 WASHINGTON — Major veterans organizations are reinforcing their support for Department of Veterans Affairs Secretary David Shulkin amid internal strife at the agency that emerged following findings of ethical violations last week.
The American Legion, Veterans of Foreign Wars, AMVETS, Disabled American Veterans and Vietnam Veterans of America – groups that regularly advise VA leadership and lawmakers on veterans issues – backed Shulkin on Monday and decried any attempt to undermine or replace him.
"There's two different VAs right now, two different administration efforts, and that's just not going to work," said Joe Chenelly, executive director of AMVETS. "The president has to have a unified voice from his administration that begins and ends with the secretary, and he must make it clear to the rest of the team that they have to be willing to follow the secretary, or leave."
Shulkin told reporters Thursday he was attempting to identify and remove anyone within the agency who may be working against him.
Hints of internal strife at the VA appeared over the last few months. Shortly after the transition, there were concerns among veterans organizations over the role in President Donald Trump's administration of Concerned Veterans for America – a conservative group that's part of the Koch brothers' political network and has advocated for pushing more veterans' care into the private market. Darin Selnick, one of CVA's former advisers, landed a job in the White House to advise on veterans' issues.
Then in December, senators received mixed messages from the administration about proposed reforms to the VA Choice program, which allows veterans to receive private-sector medical care. Shulkin has been working with senators on legislation that has bipartisan support, but other White House officials favor a Republican-led bill that provides more aggressive expansion.
The tension between Shulkin and White House insiders culminated last week, following findings from VA Inspector General Michael Missal that Shulkin improperly accepted tickets to Wimbledon for himself and his wife on a taxpayer-funded trip to Europe last summer. Further, the IG found that Shulkin's chief of staff, Vivieca Wright Simpson, misled an ethics official into approving travel expenses for the VA secretary's wife. Shulkin, his wife and a small staff had traveled to Cophenhagen and London for a veterans' summit with allied countries, but much of the trip was spent sightseeing, investigators found.
All of the groups that rallied behind Shulkin on Monday expressed disappointment in the ethical violations found by the IG. But they were satisfied with the actions he was taking – including repaying the U.S. Treasury for his wife's travel expenses – and said they didn't want to see Shulkin removed.
They purported White House insiders were using the moment to interfere.
"While we were disappointed to learn of the recent issue with the Secretary's travel, we believe that the current controversy surrounding the secretary is part of a larger effort to remove him and install others who would take steps to privatize the services provided to our nation's heroes by the [VA]," American Legion National Commander Denise Rohan said in a statement.
The division within the agency became more apparent in days following the IG report.
In an email obtained by The Washington Post, Jake Leinenkugel, a White House adviser on veterans affairs, expressed frustration and distrust in Shulkin, adding his desire to have him removed and replaced from the VA's top position. He also described Wright Simpson and Deputy Secretary Tom Bowman as obstructionists.
On Friday, Wright Simpson announced her retirement and a former member of Trump's transition team, Peter O'Rourke, took her place.
There have also been signals of a rift between Shulkin and his communications staff.
The announcement naming O'Rourke as the new chief of staff did not mention Shulkin, and it came with the message that O'Rourke's presence would ensure VA leadership works closely with the White House. Shulkin's Twitter account, which was used regularly to communicate his daily work, has been inactive since Feb. 8. In addition, Shulkin alleged last week that his chief of staff's email had been hacked, but VA Spokesman Curt Cashour seemed to contradict him, asserting in a statement that there had been no evidence of hacking.
Shulkin has regularly been on the receiving end of compliments from Trump about changes he's made to the department over the past year, especially regarding attempts to root out a perceived culture of corruption. Over the past several days, though, Shulkin has been fighting to keep his position, and veterans organizations have been waiting to learn whether the leader they've worked with to achieve major reforms will be replaced.
"We're waiting just like everybody else to see what unfolds. We're going to have to wait and see what the president decides," said Garry Augustine, executive director of Disabled American Veterans. "We're aware of the folks that are causing dissension, and it's troubling. It's troubling to think that this group is able to push their agenda and jeopardize what we believe has been good leadership at the VA, to include the secretary and new deputy secretary."
All of the groups stated the same concern – that a potential replacement for Shulkin would use the position to allow veterans unfettered access to private-sector medical care. For years, the organizations have been advocating for a better VA Choice program that still maintains the VA as veterans' primary source of health care. They worry that unlimited access to the private sector would erode and dismantle the VA.
Shulkin has said repeatedly over the past year that he is opposed to privatizing the VA, and veterans' organizations have supported the type of reforms Shulkin has promised.
The infighting that appeared publicly last week has delayed the Senate's progress on VA Choice reform. It's also potentially affected employee morale and veterans' trust in the system, the veterans' groups said.
AMVETS called on Trump to put an end to the "political football," and the VFW called for transparency into power plays happening inside the agency.
"This political infighting must stop, so we also support full transparency about what is really going on," said Bob Wallace, executive director of the VFW. "The mission of VA is too important to have this type of behavior impacting employee morale and the trust of veterans in their VA."
The groups were planning to gather Tuesday to discuss the IG travel report and infighting at the agency. Trump is scheduled to return to Washington late Monday, and it's unsure when he may announce any action against VA personnel.
"We urge President Trump to retain Secretary Shulkin as the leader of the VA, as he is essential to its continued progress," said John Rowan, national president of Vietnam Veterans of America. "[Shulkin] seems to have made a mistake regarding travel, and that's unfortunate, but it doesn't overshadow his exemplary leadership in reforming the [VA]."
wentling.nikki@stripes.com Twitter: @nikkiwentling