VA trials of hydroxychloroquine will continue despite troubling studies
by
Nikki Wentling
May 27, 2020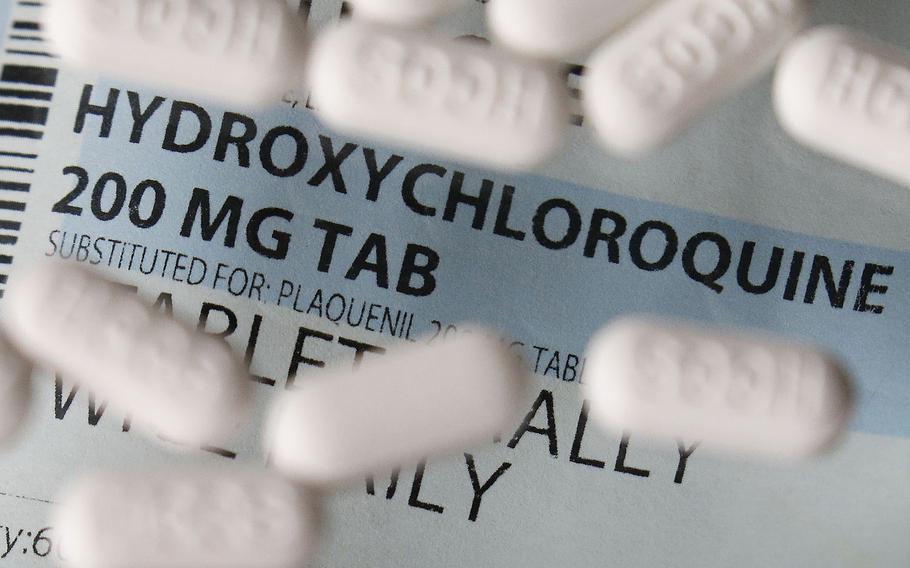 Stars and Stripes is making stories on the coronavirus pandemic available free of charge. See other free reports here. Sign up for our daily coronavirus newsletter here. Please support our journalism with a subscription.
WASHINGTON — The Department of Veterans Affairs will continue to use hydroxychloroquine to treat some coronavirus patients despite warnings from experts and a decision by the World Health Organization to halt its clinical trials because of safety concerns.
Hydroxychloroquine, an antimalarial drug that also typically is used to treat rheumatoid arthritis and lupus, remains an unproven treatment for the coronavirus. President Donald Trump held up the drug as a "game-changer" for treatment of the virus and said that he took a dose every day for two weeks as a preventive measure.
The World Health Organization announced Monday that it temporarily stopped its clinical trials of hydroxychloroquine as a treatment for the virus after observational studies were published that found the drug might do more harm than good. Anthony Fauci, the nation's top infectious-disease expert, said Wednesday that the drug is not an effective treatment, based on available research.
Fauci and the World Health Organization referenced a study published Friday in the Lancet, a peer-reviewed journal, that looked at 96,000 coronavirus patients worldwide and found those who received hydroxychloroquine were at higher risk for death and irregular heart rhythms.
The VA, however, said it would continue to administer the drug to some coronavirus patients.
"In certain cases, medical providers and patients want to try hydroxychloroquine to treat COVID-19, and [Food and Drug Administration] guidance, which VA follows, permits that," VA Press Secretary Christina Noel said in an email. "VA only permits use of the drug after ensuring Veterans and caretakers are aware of potential risks associated with it, as we do with any other drug or treatment."
In late March, the FDA granted emergency approval for doctors to use hydroxychloroquine to treat hospitalized coronavirus patients in specific instances. The potential benefits of using the drug must outweigh the risks, and there must be no adequate, approved or available alternative, the FDA guidance says.
About 1,300 VA patients have received hydroxychloroquine. The department did not say how many of those patients recovered from the virus nor how many died. Noel said only that the answers to those questions would require a review of all patient records.
The National Institutes of Health and the University of Virginia funded an analysis in April of the VA's use of hydroxychloroquine on more than 200 coronavirus patients. Researchers found no benefits of using the drug and discovered a possible link between hydroxychloroquine and higher death rates. The researchers urged medical providers to wait for more rigorous studies of hydroxychloroquine before it's adopted as a treatment for the virus.
The analysis prompted Iraq and Afghanistan Veterans of America to accuse the department of using veterans as "human testing subjects." Democrats in Congress also are raising concerns. Last week, Senate Minority Leader Chuck Schumer, D-N.Y., accused Trump's administration of using veterans as "guinea pigs" for hydroxychloroquine.
"We need to know what the basis was for using this drug against the consensus of science, which called into question its effectiveness in treating COVID-19," Schumer said in a statement Friday.
VA Secretary Robert Wilkie responded to the accusation Saturday on Fox News. He accused Schumer of "trying to deflect attention" away from "the thousands and thousands of deaths that occurred in his own backyard because of the mismanagement of nursing homes."
When asked by Fox News about the 1,300 coronavirus patients who received hydroxychloroquine at the VA, Wilkie said the drug was being used as a "last effort to keep people alive."
"We used this in the last hours of a veteran's life in the hopes it could prolong this life," Wilkie said. "We're doing everything we can to try to preserve life, and we follow guidelines."
As of Wednesday, 1,191 VA patients and 31 employees had died of the coronavirus. The department reported more than 13,500 positive cases of the virus among its patients, about 11,000 of whom have recovered.
wentling.nikki@stripes.com Twitter: @nikkiwentling