VA to place gender-exclusive motto in 142 cemeteries
by
Nikki Wentling
June 4, 2020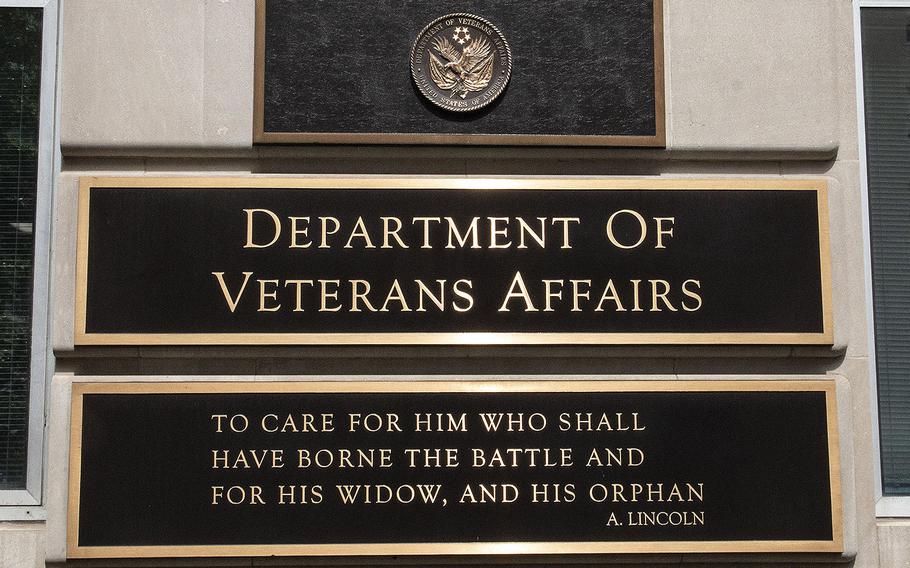 WASHINGTON — The Department of Veterans Affairs plans to install plaques inscribed with its motto, using male-only pronouns, in 142 cemeteries nationwide — drawing ire from female veterans and advocates who have pushed for a gender-neutral version for years.
VA Secretary Robert Wilkie announced on Memorial Day his intention to install the plaques, the first of which are expected to be in place by the end of the year. A cost estimate for the project has not been completed, VA Press Secretary Christina Noel said.
Since 1959, the VA motto has been a quote from former President Abraham Lincoln's second inaugural address in 1865, the same year he created the first government institution for volunteer soldiers: "To care for him who shall have borne the battle and for his widow, and his orphan."
Plaques inscribed with the quote now flank the entrance to VA headquarters in Washington and are inside many VA facilities.
"Those words are the basis of our VA mission to care for our living veterans and their families," Wilkie said in a statement May 25. "That's why, later this year, we will memorialize in bronze Lincoln's charge to the nation at all our VA cemeteries."
In 2017, Iraq and Afghanistan Veterans of America urged the VA to alter the motto, which the group claimed was sexist, outdated and exclusionary. Reps. Kathleen Rice, D-N.Y., and Brian Mast, R-Fla., previously introduced legislation to make the motto gender-neutral, but the measure was never taken into serious consideration by Congress.
The VA rejected the idea of changing the motto and insisted it would continue to use the original quote. In 2018, then-VA Acting Chief of Staff Jacquelyn Hayes-Byrd issued an agency-wide message telling all employees to not paraphrase or alter the motto.
Iraq War veteran Allison Jaslow, who in 2017 was the executive director of IAVA, said this week that Wilkie's decision to place the motto in 142 new locations was disappointing. She criticized the department for spending time and money to "further emblazon a gender-exclusive motto across the agency's footprint."
"It's Secretary Wilkie's responsibility to create a culture within the VA that's welcoming to women veterans," Jaslow said. "[He] can veil his actions in the cloak of history all he wants, but he's once again proactively deciding to ignore the women veterans that are standing before him in the present."
The VA argued that the motto is a direct quote from Lincoln and emblazoned on stone in the Lincoln Memorial.
"The speech formed the basis of VA's subsequent creation and is part of our recognized mission," Noel said. "Of course, today our mission is focused more broadly on the men and women veterans we treat in our medical facilities, provide earned benefits and inter in our national cemeteries."
Wentling.nikki@stripes.com Twitter: @nikkiwentling