VA secretary refuses to share documents that detail PPE supply, lawmakers say
---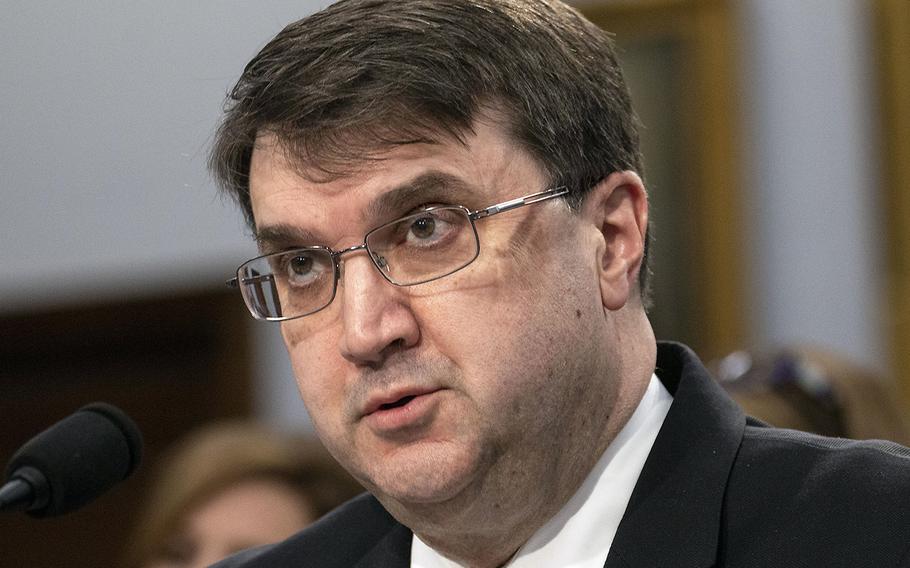 Stars and Stripes is making stories on the coronavirus pandemic available free of charge. See other free reports here. Sign up for our daily coronavirus newsletter here. Please support our journalism with a subscription.
WASHINGTON — After reassuring lawmakers for weeks that it has no shortage of personal protective equipment for its medical staff, Department of Veterans Affairs leaders are refusing to share documents with Congress that give an official count of its supply.
The House Committee on Veterans' Affairs has requested the documentation dozens of times since March 23. Eight Democrats on the committee, including its chairman, Rep. Mark Takano, D-Calif., wrote to the White House Task Coronavirus Task Force on Thursday morning asking that it be shared immediately.
"If VA does not provide our committees with timely information, we cannot adequately exercise our oversight responsibilities, nor can we work with VA to minimize the harm to our veterans caused by this pandemic," the lawmakers wrote.
VA Secretary Robert Wilkie and Richard Stone, the executive in charge of the VA health care system, are holding weekly calls with lawmakers about the department's pandemic response and sending daily briefings. Takano wrote that the information they've shared is insufficient and contrasts with news reports and what lawmakers are hearing directly from constituents who work at the department.
Denise Bruno, an intensive care unit nurse who works at the Brooklyn VA Medical Center, told Stars and Stripes that her hospital is rationing masks. The Brooklyn VA has been on the front line of the pandemic. Out of the 272 VA patients nationwide who have died from the virus, the Brooklyn VA has been the deadliest so far, with 32.
Internal VA emails have shown that some medical staff are conserving masks for up to one week, NPR reported. The Wall Street Journal obtained internal memos that revealed there were serious shortages of protective gear.
"We have found that the information reported to the committees through VA's daily and weekly briefings—especially with regard to availability of personal protective equipment —stands in stark contrast to what we have heard from VA employees and read in the media," the lawmakers wrote.
The VA has remained insistent that it has enough personal protective equipment for all medical staff and is following guidelines from the Centers for Disease Control and Prevention.
"All VA facilities are equipped with essential items and supplies to handle coronavirus cases, and all VA employees have the appropriate personal protective equipment, as per CDC guidelines," VA Press Secretary Christina Noel said. "VA is monitoring the supply levels at every facility every day to make sure facilities have adequate PPE for the number and types of patients they are seeing. And if a facility were to fall below stock levels, the facility could be cross-leveled by another VA facility or region."
As of Wednesday, nearly 4,500 VA patients had tested positive for the coronavirus. There were 1,530 positive cases of the virus among workers at VA medical centers, and at least 13 employees had died. Three of those employees had jobs in which they directly cared for veteran patients, the VA said.
The House Committee on Veterans' Affairs has requested internal memos, policy guidance, emails and written instructions that the VA has sent to its medical facilities about the pandemic response and the agency's supply of PPE. VA officials told the committee they approved of sharing the information, but that it was being held up by the White House's Office of Management and Budget.
Takano argued that obtaining clearance from the OMB "has never been part of the VA's past practices" for sharing information with Congress.
"Your administration has hamstrung VA's ability to ensure Congress is fully informed of the full extent to which it is prepared to care for veterans and fulfill VA's fourth mission of augmenting the civilian health care system," the lawmakers wrote to the coronavirus task force, which includes Vice President Mike Pence and Russell Vought, the acting director of the OMB.
In addition to Takano, Reps. Julia Brownley, D-Calif.; Gil Cisneros, D-Calif.; Conor Lamb, D-Pa.; Mike Levin, D-Calif.; Chris Pappas, D-N.H.; Kathleen Rice, D-N.Y.; and Lauren Underwood, D-Ill., signed the letter.
wentling.nikki@stripes.com Twitter: @nikkiwentling
---
---
---
---