VA intends to pause community care program during coronavirus pandemic
---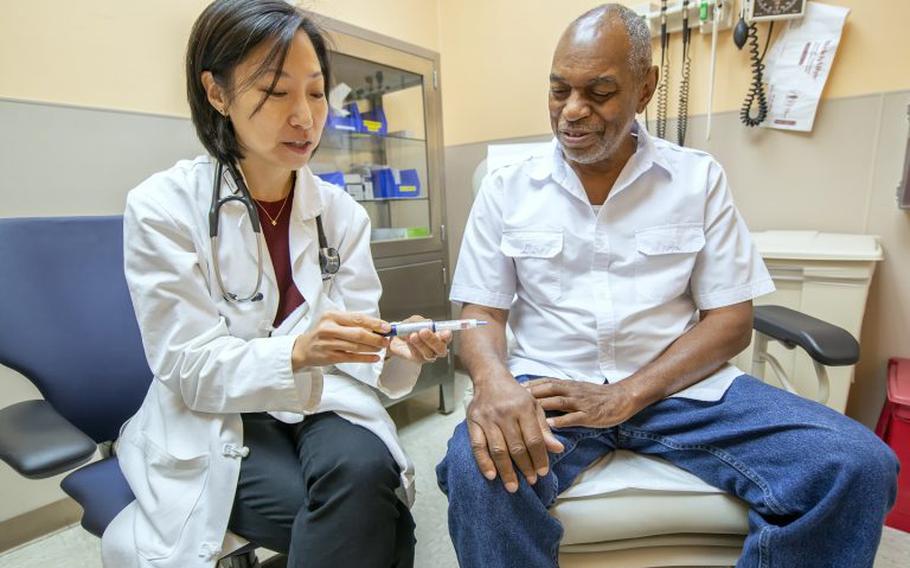 Stars and Stripes is making stories on the coronavirus pandemic available free of charge. See other free reports here. Sign up for our daily coronavirus newsletter here. Please support our journalism with a subscription.
WASHINGTON — The Department of Veterans Affairs plans to pause its community care program in order to free space across private health care systems for coronavirus patients and to prevent veterans' exposure.
The department will stop sending veterans outside of the VA for non-urgent and routine appointments. In an email to members of Congress on Tuesday night, officials said the VA will review appointment requests on a case-by-case basis and determine whether to refer veterans to private doctors in non-emergency situations. The VA will continue to refer veterans to the community for urgent medical needs "when necessary."
The VA's community care program sends veterans to private-sector doctors in certain cases, including when veterans must wait longer than 20 days for an appointment or drive more than 30 minutes to reach their VA health care provider. Those standards were put into effect last year under the VA Mission Act, a measure President Donald Trump touted as recently as Monday.
"Completing non-urgent and routine health care appointments to meet access standards put veterans at risk of contracting COVID-19," the agency wrote to lawmakers. "This is true for both VA and community health care providers. [The Veterans Health Administration] thus proposes a temporary, strategic pause."
The VA first told lawmakers it intended to ignore those standards for the next 90 days or until routine care can safely resume. On Wednesday, VA Press Secretary Christina Mandreucci said the measures would be reassessed every 30 days.
"VA's actions are in line with current CDC recommendations and are required to help protect veterans from unnecessary COVID-19 exposure," Mandreucci said. "Similarly, many community health care systems are taking the same approach, and we anticipate less capacity in the community for routine care in an effort to limit foot traffic in their facilities and help stop the spread of COVID-19."
The VA is enhancing its telehealth capabilities to care for veterans who have non-urgent medical needs, officials told lawmakers. They promised that veterans "will still receive necessary and appropriate health care."
Veterans who already scheduled medical appointments with a community provider can keep those appointments if the private provider is still available, officials said. In some areas of the United States, hospitals were nearing capacity because of the surge of coronavirus patients.
Rep. Phil Roe, R-Tenn., the ranking Republican on the House Committee on Veterans' Affairs, said he understood the effort to prevent veterans from being exposed to the coronavirus but was concerned the VA's decision could lead to veterans not getting the care they need.
"There is no doubt that we must prevent veterans from being unnecessarily exposed and ensure that every available resource is directed toward mitigating the deadly impact of this virus," Roe said. "However, we must also make sure that veterans continue to receive the care that they need, and community care is a necessary tool to accomplishing that goal."
Roe wanted to know Wednesday what led VA Secretary Robert Wilkie to make the decision and how veterans would continue to be cared for throughout the pandemic. Lawmakers also wanted to know how the VA would communicate the change and how the department would prevent veterans from falling through the cracks.
Sen. Jerry Moran, R-Kan., the chairman of the Senate Veterans' Affairs Committee, said he had serious concerns about the changes.
"When it is in the veteran's best interest, the VA is required under the Mission Act to send them to the community," Moran tweeted.
The VA said Wednesday that the language it used to describe the changes to lawmakers on Tuesday night "required refinement to accurately reflect the VA's intended approach."
"VA is working to provide updated guidance to both employees and congressional staff," Mandreucci said.
Concerned Veterans of America, a conservative veterans' group backed by the Koch family, urged the VA not to move forward with pausing its community care program.
Nate Anderson, executive director for Concerned Veterans of America, argued the decision was a blanket approach that created new barriers for veterans needing health care."President Trump has been a consistent champion of expanding health care choice for veterans, and we are hopeful he will not let this proposed policy change proceed," Anderson said.
It was uncertain Wednesday when the VA planned to initiate the changes.
The VA already canceled elective surgeries for veterans at its medical facilities in order to free beds for coronavirus patients. The department is encouraging veterans with flu-like symptoms to call their VA facility before showing up, and anyone entering a VA facility is being screened.
As of Wednesday afternoon, VA facilities across the country were treating 365 veterans who tested positive. New Orleans accounted for almost one-third of those cases, with 106. Four veterans have died — two in New York, one in Oregon and one in Vermont.
wentling.nikki@stripes.com Twitter: @nikkiwentling
---
---
---
---