VA coronavirus deaths near 500, cases surpass 8,500
by
Nikki Wentling
April 30, 2020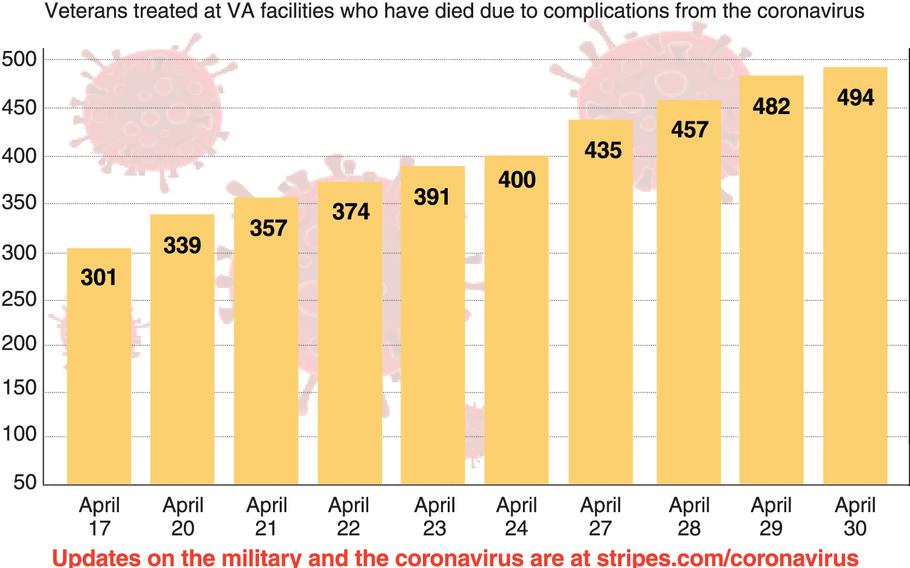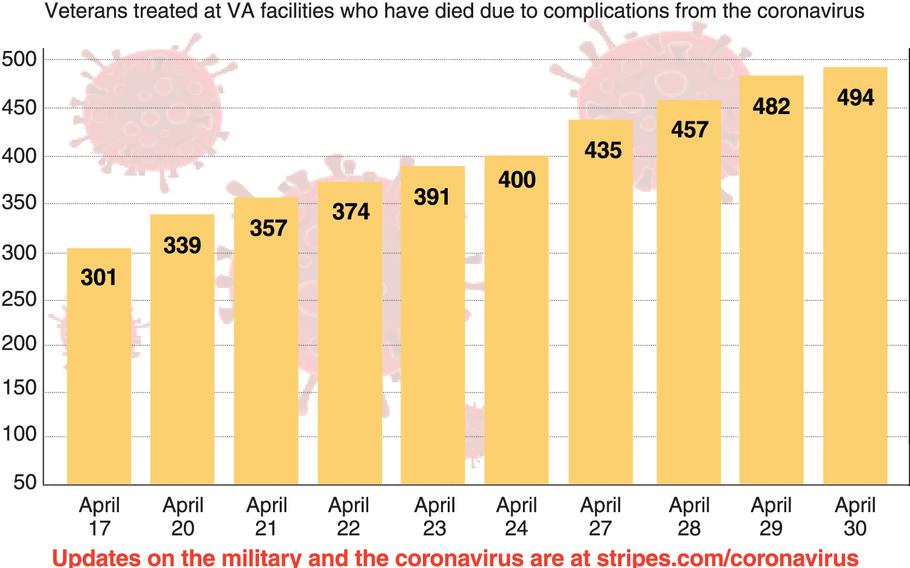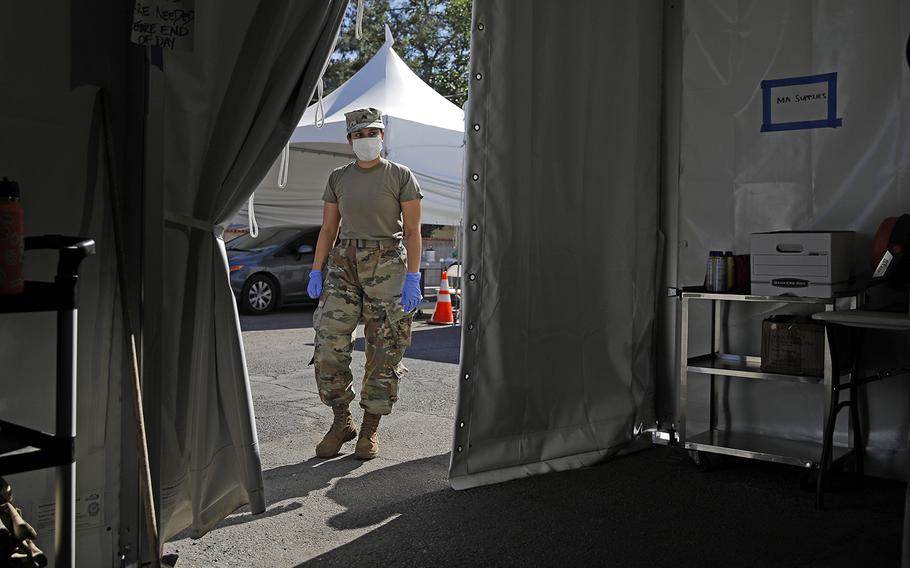 Stars and Stripes is making stories on the coronavirus pandemic available free of charge. See other free reports here. Sign up for our daily coronavirus newsletter here. Please support our journalism with a subscription.
WASHINGTON — The Department of Veterans Affairs reported Thursday that nearly 500 patients died last month from the coronavirus and 8,550 were infected.
While 27 VA patients died of the virus in March, April saw 467 deaths. The number of cases grew by nearly 7,400 during the month. This week alone, the number of cases increased by about 24% so far, and deaths rose 14%.
The VA administered over 100,000 coronavirus tests as of Thursday, meaning more than 8% of patients tested are infected with the virus.
The numbers provide only a snapshot of cases and deaths among veterans. The VA's tally does not include veterans who are not enrolled in the VA system or veterans who were treated at community hospitals, rather than VA facilities.
Like the overall U.S. population, many of the cases and deaths have occurred in the New York City area. As of Thursday, 62 patients have died at the Brooklyn VA Medical Center, 51 veterans died in nearby East Orange, N.J., and 48 died in the Bronx. New Orleans and Detroit, which have also been hit hard by the virus, are reporting some of the most deaths among VA patients. The New Orleans VA Medical Center reported 35 and Detroit had 22.
As of Tuesday, more than 2,000 VA employees had contracted the virus, and 20 had died from it. An estimated 3,400 employee were exposed to the virus and are under quarantine. Six of the employees who died worked directly with patients.
VA medical workers have protested throughout April about their unsafe working conditions.
After insisting for weeks that they had a sufficient supply of personal protective equipment, VA leaders recently acknowledged a shortage. VA hospitals have been rationing their supply by ordering staff to reuse single-use masks.
National Nurses United, a nationwide union, is planning more protests Friday at 139 hospitals across the country, including some VA facilities. The protests are being held May 1 in recognition of International Workers Day, which celebrates laborers and the working class.
Wentling.nikki@stripes.com Twitter: @nikkiwentling