Trump's VFW remarks go from praise to politics
by
Nikki Wentling
July 24, 2018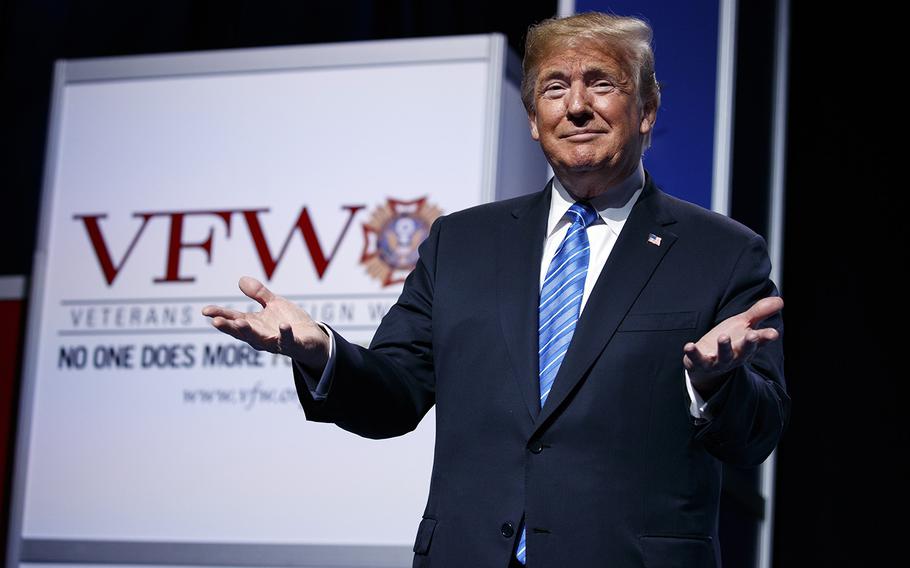 WASHINGTON — During a nearly hourlong speech Tuesday at the Veterans of Foreign Wars convention, President Donald Trump spoke briefly about veterans policy before hitting on his usual topics, from immigration and "fake news" to tariffs and the Space Force.
Trump spoke to about 4,000 veterans gathered in Kansas City, Mo., for the VFW's annual national convention, telling the crowd about his commitment to rebuild the military and improve care for veterans.
At points during his speech, Trump injected partisan politics into the nonpartisan event. He criticized Democrats for their immigration agenda and specifically singled out Missouri Sen. Claire McCaskill for voting against the Tax Cuts and Jobs Act. McCaskill is widely considered one of the most vulnerable Democrats up for re-election this fall.
Trump invited her challenger, Missouri Attorney General Josh Hawley, to the stage. Hawley complimented Trump for his leadership. Trump was scheduled to attend a fundraiser for Hawley later Tuesday.
"We need him so badly," Trump said.
His address to the VFW came one day after the Senate confirmed Robert Wilkie to be the next secretary of the Department of Veterans Affairs.
Wilkie is the 10th secretary of the department and the only one who didn't receive unanimous support in the Senate. Eight Democrats and Sen. Bernie Sanders, an independent, voted against his nomination.
"The only ones who voted against him were all of the people, 'super lefts,' that are running against me in 21/2 years," Trump said. "He's going to do a fantastic job."
Trump touted the VA Accountability Act, which Congress passed last year to allow the VA to fire employees more quickly. Lawmakers cited concerns during a congressional hearing last week that the law was being used to target low-level employees and retaliate against whistleblowers.
Trump also praised the new VA Mission Act, signed into law in June, that aims to expand the VA's private-sector care programs. Congress is currently arguing about how to pay for the overhaul, debating between breaking spending caps or cutting money from elsewhere in the existing budget.
His administration is still working to bring home the remains of Korean War dead, Trump said. Before his summit with North Korean leader Kim Jong Un in June, the VFW urged Trump to reach a deal to repatriate the remains.
A U.S. official said last week North Korea has agreed to hand over as many as 55 sets of remains and to allow the United States to fly them out of the country.
"I hope that very soon these fallen warriors will be coming home to lay to rest in American soil," Trump said. "I think that process is starting fairly soon, we hope."
wentling.nikki@stripes.com Twitter: @nikkiwentling