Student vets CEO calls on veterans to fill America's 'leadership deficit'
by
Nikki Wentling
January 5, 2019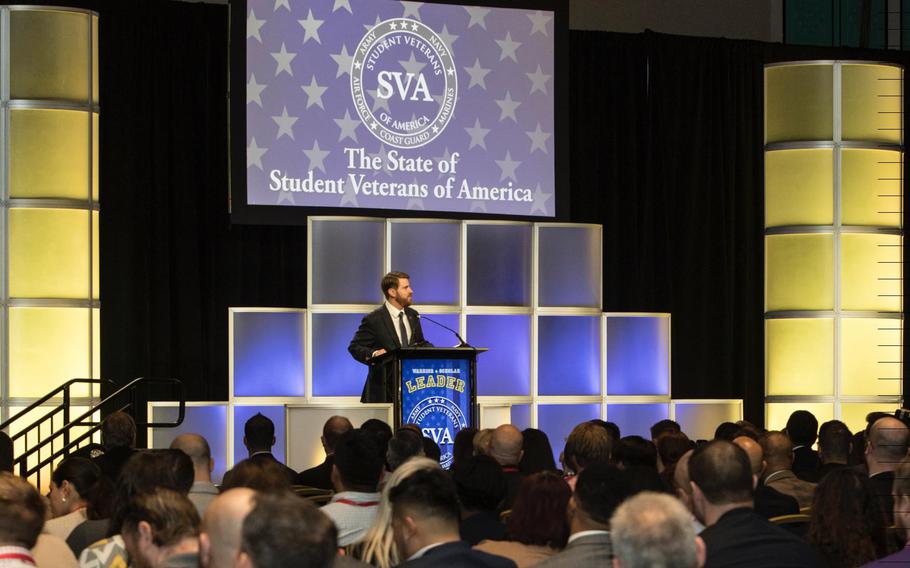 ORLANDO, Fla. — America is facing an "unprecedented leadership deficit," and young, educated veterans should be the ones to fill it, the CEO of a large veterans organization argued Friday in a call to action.
Jared Lyon, a Navy veteran and CEO of Student Veterans of America, addressed a crowd of about 2,300 people at the group's national convention in Orlando, Fla. The group is made up of nearly 1,530 chapters nationwide and advocates in Washington, D.C., for student veterans.
In his speech, Lyon noted "incredible challenges" facing the country, including the ongoing war in Afghanistan, which entered its 18th year in 2018, as well as political divisions and potential threats to the U.S. economy.
"I remain convinced that you, a highly educated generation of student veterans, are the solution that our country desperately needs," Lyon said.
He called on student veterans to start a "second service," promote "dignity, humanity and civility" and bridge divides by "reaching out to those different from you, with different life experiences."
"You have the capacity for the task at hand," Lyon said.
Other organizations have recently looked to veterans to lead the country toward unity. That was evident during the 2018 midterm elections in November, when more than 200 veterans ran for House and Senate seats – an uptick of former servicemembers seeking public office, according to With Honor, a "cross-partisan" group focused on electing veteran candidates.
This week, 19 new senators and representatives were sworn into the 116th Congress, bringing the number up to nearly 100 veterans serving in the House and Senate.
Wentling.nikki@stripes.com Twitter: @nikkiwentling