Senator urges Justice Department probe of VA for 'potential violations of law'
---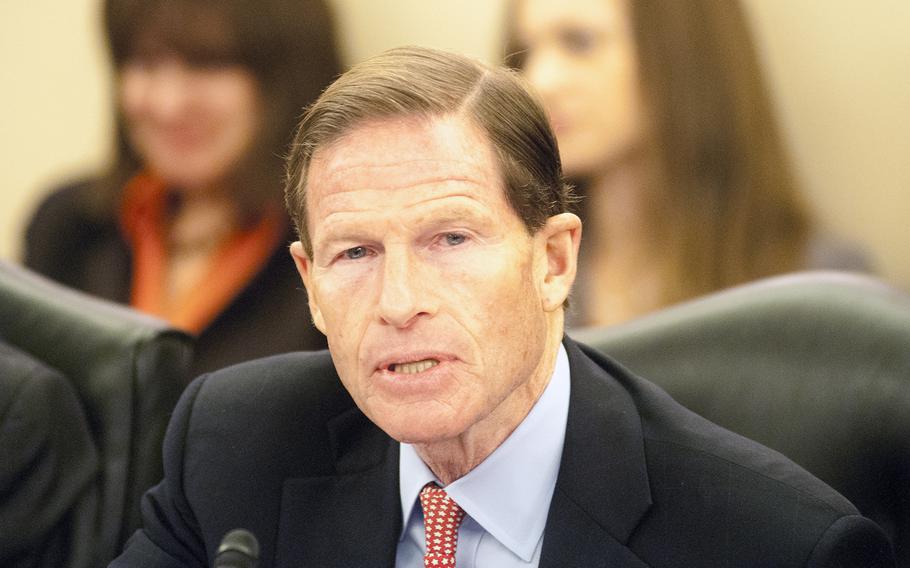 WASHINGTON — Angered by the latest "potential violations of law," Sen. Richard Blumenthal called on the Department of Justice to open a criminal investigation into the findings of a damning Department of Veterans Affairs inspector general's report.
Three VA officials targeted by the probe — including a prominent undersecretary — are still on the job more than a week after being accused of manipulating the VA hiring system for financial benefit.
"This scheme to defraud taxpayers and manipulate the system is, unfortunately, only the latest example of unacceptable misconduct by VA employees," Blumenthal, D-Conn., wrote in a letter sent Tuesday to U.S. Attorney General Loretta Lynch. "This behavior is unacceptable for any federal employee, but it is particularly egregious in this case because it evinces a mindset that puts veterans last."
VA Undersecretary for Benefits Allison Hickey — whom the report said helped two officials create vacancies for themselves for personal gain — sent out an email to VA employees Monday highlighting the department's successes. The former Air Force brigadier general, who oversees more than 20,000 employees, made no mention of the inspector general's report.
"We couldn't have delivered these record breaking results without each and every one of you and your ICARE approach to the way we serve," she wrote in the email, which was obtained by Stars and Stripes.
The OIG report, released Sept. 28, recommended that the VA consider disciplinary action against Hickey and two deputy undersecretaries who work for her. It also found that Philadelphia VA Regional Director Diana Rubens and St. Paul (Minn.) Regional Director Kimberly Graves manipulated the VA hiring system to create vacancies for themselves with high salaries and reduced responsibilities. None of them had been suspended or placed on any type of administrative leave as of Wednesday, VA spokesman James Hutton said.
In his letter, Blumenthal called for more aggressive pursuit of "potential violations of law" outlined in the report and in other cases of malfeasance at the VA.
The OIG also made criminal referrals to the U.S. Attorney's Office regarding the actions of Rubens and Graves. No charges have been filed.
Rubens and Graves received about $400,000 in moving expense compensation to move to the jobs they sought, including nearly $300,000 for Rubens to move the 140 miles between Washington, D.C., and Philadelphia. In June, Hickey told Stars and Stripes that she hand-picked Rubens to clean up the scandal-plagued Philadelphia regional office.
Based on email and interviews with investigators detailed in the report, Hickey appears to have been working with Rubens and Graves to orchestrate their moves.
Hickey said she "sweetened the pot" to move the then-St. Paul director to a different job, clearing the way for Graves, according to the report.
"Please know that in this decision for you — I will be all in to help and make it happen. I would like to talk to you about it all to understand better if I could have helped before now to take better care of you," Hickey wrote in a 2014 email to Rubens about her desire to move to Philadelphia.
Hickey did not respond to an email and Rubens did not respond to a message left with her office. The VA did not respond to a request to speak with Graves.
In response to the report, the VA released a statement saying they will conduct a 30-day review of all incentive and relocation procedures.
"In addition, VA will consider all the evidence presented by the IG, collect any additional evidence necessary, and take appropriate accountability actions," the statement read.
An internal memo sent to Veterans Benefits Administration staff by VA Deputy Secretary Sloan Gibson and obtained by Stars and Stripes said the VA "will fully cooperate with other federal agencies as required as we continue our daily efforts to improve the timeliness and quality of care and services delivered to our Nation's Veterans. As we respond to the IG report, I would ask that all (Veterans Benefits Administration) staff remain focused and committed to our mission to care for Veterans."
druzin.heath@stripes.com Twitter: @Druzin_Stripes
---
---
---
---