Senate passes emergency bill protecting GI Bill benefits as colleges go online
---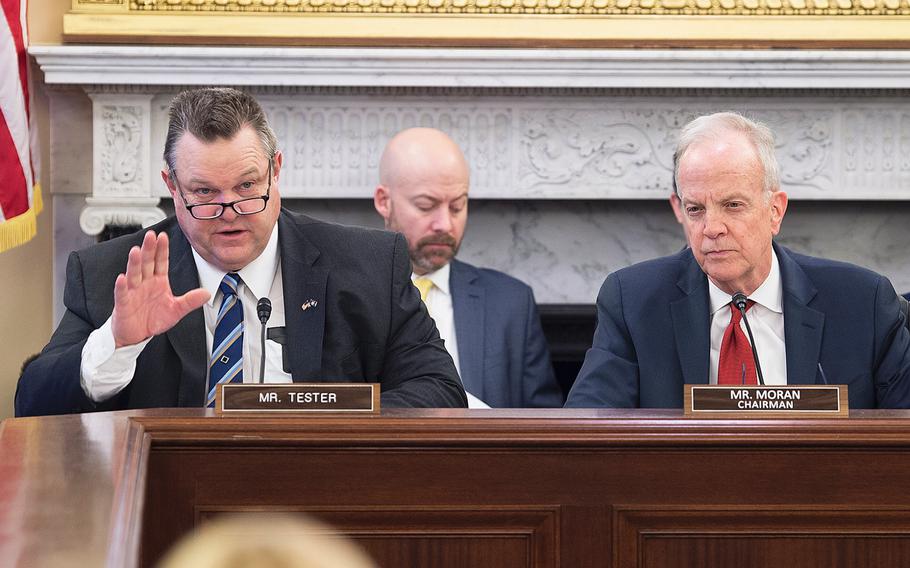 • Stars and Stripes is making this story and other coverage of the coronavirus pandemic available free of charge. See other stories here, and sign up for our daily coronavirus newsletter here.
WASHINGTON — The Senate approved a measure late Monday that would ensure student veterans continue to receive full GI Bill benefits, even as colleges go online-only in response to the coronavirus pandemic.
GI Bill recipients rely on monthly stipends from the Department of Veterans Affairs to pay for housing, food and other bills. Those payments are higher for students who attend physical classes as opposed to online coursework. As classes began to move online last week to help prevent the spread of coronavirus, tens of thousands of student veterans faced the possibility of losing their benefits or seeing drastic cuts to their monthly checks.
The Senate approved an emergency fix by voice vote that would allow students to retain the amount of benefits they received when they started the semester. It gives the VA Secretary broad authority to ensure GI Bill benefits are distributed without interruption during national emergencies.
The vote came just three days after Sen. Jerry Moran, R-Kan., and Sen. Jon Tester, D-Mont., introduced the bill. Moran and Tester — leaders of the Senate Veterans' Affairs Committee — urged the House to follow suit quickly and to approve the measure.
"This is a great first step, and I urge my colleagues in the House to also act quickly to pass this legislation and send it to President Trump to sign," Moran said in a statement. We must make certain veterans can still receive the benefits they've earned despite concerns surrounding coronavirus and have the opportunity to earn a college degree and achieve success after service."
Rep. Phil Roe of Tennessee, the ranking Republican of the House Committee on Veterans' Affairs, introduced a bill last week that also would guarantee the housing stipends for student veterans remain unchanged during the outbreak.
It's uncertain when the House will schedule a vote on Roe's bill. House members left for recess this week, and it's uncertain when they'll return to Washington.
Student Veterans of America, which has hundreds of chapters at colleges nationwide, also is pushing the House to act quickly. The group, along with others, sent a letter to Congress last week warning that student veterans were at risk of losing their homes if their benefits stop or substantially decrease.
If veterans' courses originally were not approved for online instruction, all of their benefits will stop as soon as they begin online classes, Student Veterans of America warned. The group described the legislation as "critical."
"The uncertainty facing student veterans in the wake of unexpected school closures and changes in response to [coronavirus] is unprecedented," said Jared Lyon, CEO of Student Veterans of America.
wentling.nikki@stripes.com Twitter: @nikkiwentling
---
---
---
---