Retired Gen. Frederick Kroesen, whose career spanned from WWII to the late Cold War, dies at 97
by
Erik Slavin
May 5, 2020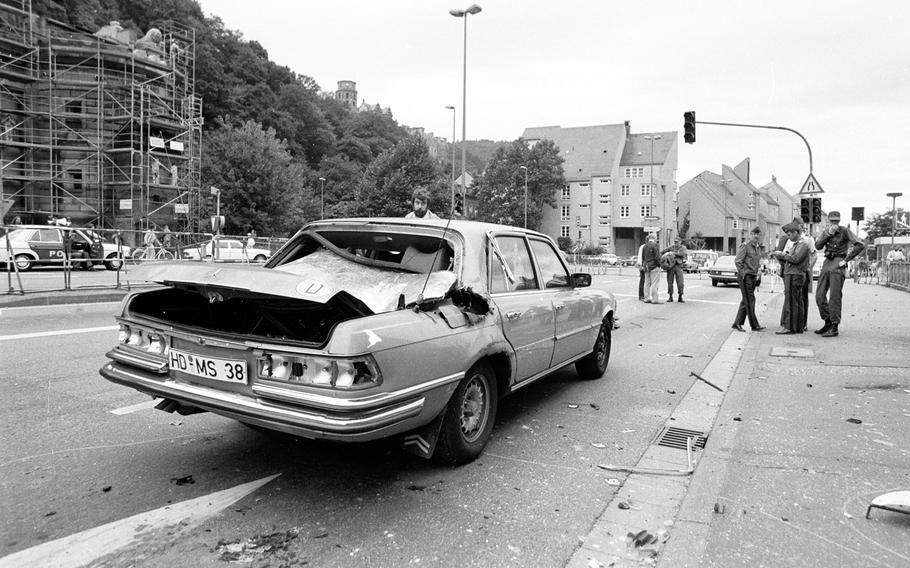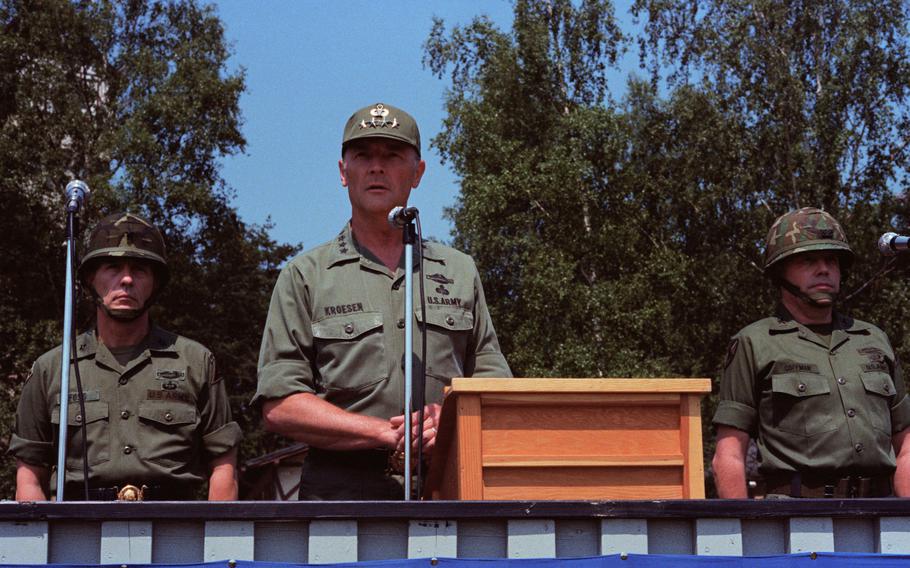 KAISERSLAUTERN, Germany — Retired Gen. Frederick Kroesen, who fought his way into Germany as a World War II infantry officer and survived a Cold War assassination attempt as the Army's commander in Europe, died at the age of 97.
Kroesen also fought in Korea and Vietnam, and served as Army vice chief of staff during his 40-year career.
He died after a long illness on April 30, the Association of the United States Army said on its website.
Retired Gen. Carter Ham called Kroesen "the conscience of our Army" in a statement Friday.
"He was wise, caring, unselfish. One of the Army's great leaders," said Ham, the president of AUSA, where Kroesen was a senior fellow. "I will miss him. We will all miss him."
Kroesen was born in Phillipsburg, N.J., in 1923, AUSA said. He graduated from Rutgers University in 1944 and shipped to Europe with the 63rd Infantry Division, 254th Infantry Regiment.
There he fought near Colmar in eastern France and advanced after months of winter fighting through the Siegfried Line, a German defense that ran along the country's western borders.
Kroesen called the fighting "an animal existence" in a 1998 interview with Rutgers historians.
"I had a shower in December and I never had another one until ... I guess, in the month of March," he said.
During the Korean War, he served with the 187th Regimental Combat Team, a unit that made several parachute assaults into communist-held territory. He held several positions in Vietnam, including as head of the First Regional Assistance Command. Afterward, he commanded the 82nd Airborne Division and held senior Pentagon posts before taking over U.S. Army Europe in 1979.
On Sept. 15, 1981, Kroesen and his wife were traveling through Heidelberg on their way to the dentist when their armor-plated Mercedes was hit by a rocket-propelled grenade and automatic rifle fire.
"I remember looking at my husband and seeing the blood run down his neck," Rowene Kroesen told Stars and Stripes in 2005 phone interview from Alexandria, Va., where she and her husband retired.
The attack was claimed by the Red Army Faction, a far-left group that conducted assassinations and bombings in the 1970s and 1980s.
The two were taken to the hospital, where bits of glass were removed from their skin and clothes. Then her husband went to Fulda to give a talk, and Rowena Kroesen went to the dentist anyway, she said.
Kroesen remained an advocate for service well after his retirement, making appearances at commemorations and memorials.
On the 74th anniversary of D-Day in 2018, he swapped stories with veterans and honored the fallen at the National World War II Memorial in Washington.
"We owe (veterans) our freedom," Kroesen told Stars and Stripes. "If we don't sustain that through our willingness to sacrifice in wars if it is necessary … It's still worth the cost. We have to generate that kind of understanding among your generation."
slavin.erik@stripes.com Twitter: @eslavin_stripes