FEATURE REPORT
Ohio-based nonprofit helps veterans reclaim their lives by covering rent deposits
by
Martin Kuz
January 30, 2015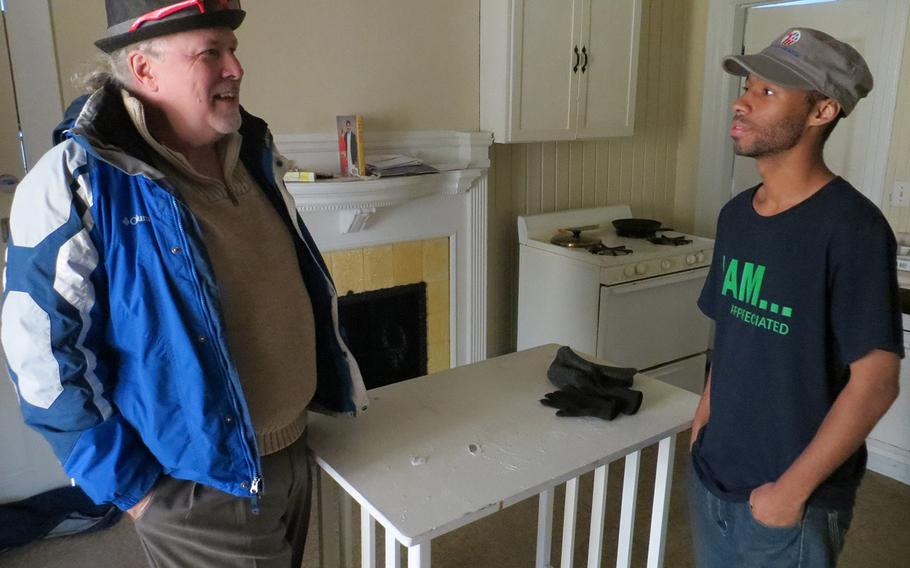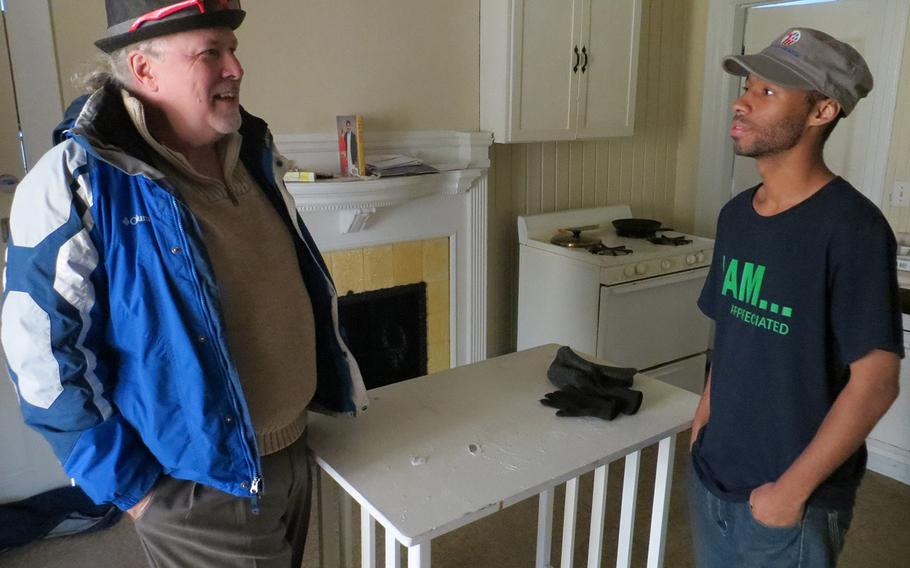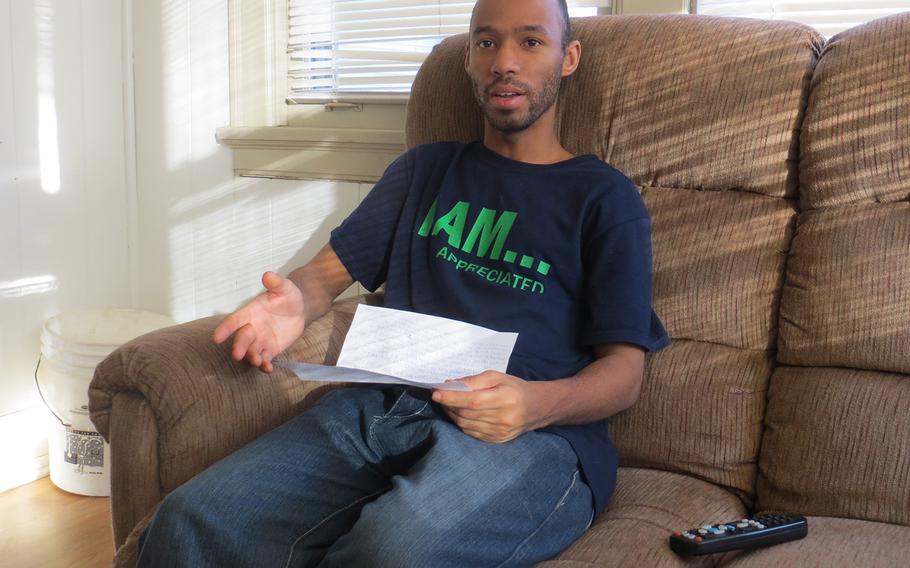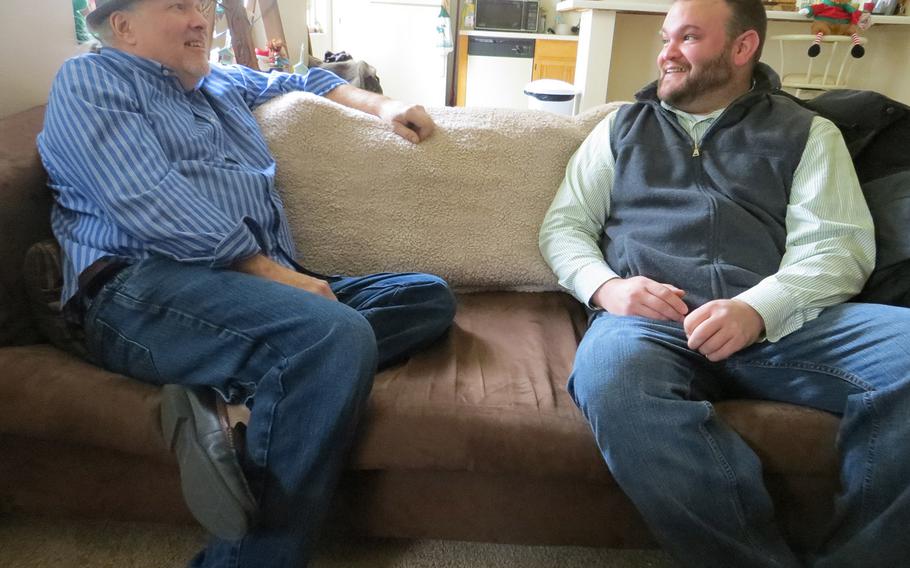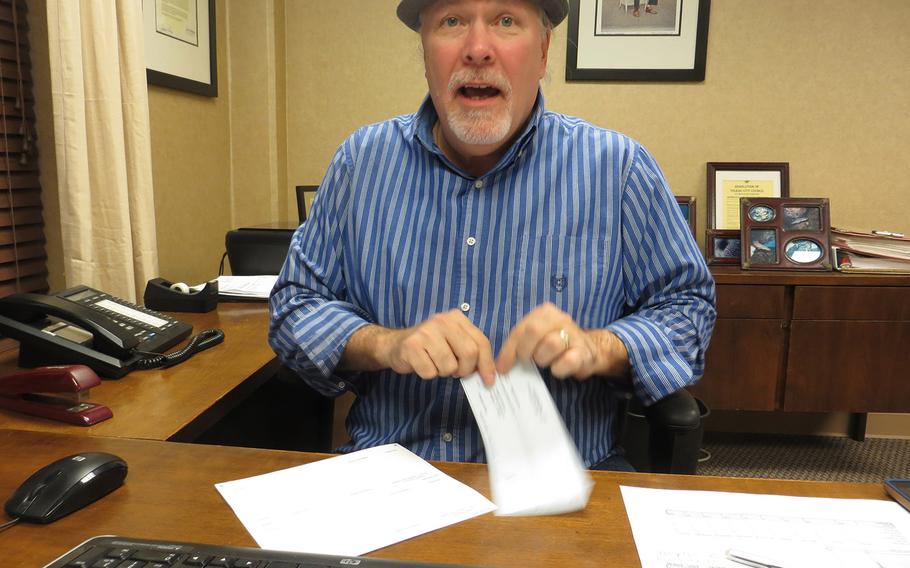 TOLEDO, Ohio — A  whiteboard that hangs on the refrigerator in Dave Hammond's apartment lists his itinerary to search for a life gone missing.
In green marker and neat, coiled script, he has written 10 priorities for recovering what he lost in the years after his medical discharge from the Army in 2005. He longs to reunite with his young son, who lives with his ex-wife in Washington. He wants to find a job, return to school, buy a computer. He needs a driver's license.
In time, Hammond hopes to rewind the spiral that by 2012 had left him homeless, surviving on the dollar menu at McDonald's and sleeping at bus stops. He faces a long journey back from a decade of misfortune and mistakes, and there are days when his mood turns as leaden as Ohio's winter sky.
Still, looking out at the snowy tableau of downtown Toledo from the warmth of his 12th-floor apartment, he had reason for gratitude. He could ponder ambitions beyond the desire to be inside.
"It was cold out there," said Hammond, 34, who grew up in nearby Perrysburg and served six years in the Army before a degenerative back condition cut short his career. "When you don't have a place to stay, that's pretty much all you think about."
He moved into his one-bedroom unit in October with the help of Veterans Matter, a nonprofit established in Toledo in 2012. The group provides rent deposits for homeless veterans who qualify for federal housing vouchers through a program run by the departments of Veterans Affairs and Housing and Urban Development.
The joint effort by the VA and HUD has boosted President Barack Obama's five-year campaign to end homelessness among veterans. The push began in 2010, when more than 76,000 former servicemembers lacked permanent housing. The VA reported last year that the number had dropped below 50,000. (The agency will release the results of its 2015 survey of homeless veterans, conducted earlier this week, in the coming months.)
Yet the relative success of the voucher program obscures a pitfall that thwarts more veterans from escaping the purgatory of shelters and the streets.
The vouchers do not cover rent deposits that landlords require as a condition of leasing. A veteran can apply for the money through an array of other programs, but approval routinely takes 30 to 60 days, and sometimes stretches to four months or longer. By then, in a typical scenario, a landlord has rented to another tenant, or the veteran has drifted out of the VA's orbit.
Veterans Matter seeks to reduce the wait from months to minutes. The organization has created a cloud-based platform for VA social workers and case managers to submit online requests for rent deposits.
If the application conforms to VA and HUD guidelines, a Veterans Matter staffer accepts the request and mails a check that day to the landlord, who also receives a confirmation email. Most property managers treat the electronic notice as proof of payment and allow the veteran to move into housing without further delay.
The accelerated process delivers "instant compassion," in the words of Ken Leslie, the group's founder, whose advocacy for the homeless in Toledo traces to his own time on the streets a quarter-century ago. "The philosophy is simple," he said. "Get veterans housed to save their lives."
In three years, the group has raised $320,000 to cover deposits for more than 500 veterans in six states. The housing has benefited almost 800 dependents, including 200 children.
Leslie, backed by one part-time employee and two contractors, plans to assist an additional 1,500 homeless veterans this year while expanding into more states, and he envisions offering aid nationwide by 2017. A former standup comedian with ties to the entertainment industry, he has drawn fundraising support from the likes of Katy Perry, Kid Rock, John Mellencamp and Dusty Hill of ZZ Top through public service announcements and concert ticket auctions.
The high-profile names contrast with the group's unseen impact. Hammond knew nothing of Veterans Matter before it paid his $475 deposit last fall. At the time, he was nearing the two-year limit for residency at a transitional housing complex for homeless veterans. He felt a gathering dread.
"I couldn't have come up with the money," he said. "I was worried I was going to be back on the streets."
'Black-ops speed'Leslie's concept for Veterans Matter bloomed three years ago in the chilled air of February. Every month or two, he and members of 1Matters, the homeless advocacy group he formed in 2007, set out to visit different areas in the border region of northwestern Ohio and southeastern Michigan. They enter a parallel realm — a place of woodlands and train tracks, underpasses and vacant buildings — to look for those he dubs "the unhoused."
Joining the search party was his friend Shawn Dowling, a social worker with the VA's Ann Arbor Healthcare System in Michigan, a network that encompasses Toledo. She mentioned that her office had recently received 35 housing vouchers. But unable to afford security deposits, the veterans who qualified for the program remained in limbo.
Leslie asked how the VA attempted to come up with the deposits. "We take them around to VFWs and churches and help them beg," Dowling said.
Her answer at once pained and prodded Leslie, who had found himself among the unhoused in the late 1980s.
During his touring days as a comedian, he had fallen for the dark charms of drugs and alcohol, an expensive romance that he preferred to paying rent. Sobriety arrived in 1990 after he realized how much he hated sleeping in his car. The same year, Leslie launched Tent City, an annual event that provides free job, housing and medical services to the homeless, and he has devoted much of the past 25 years to their plight.
When Dowling explained that a modest $750 separated each veteran from permanent housing, he saw a chance to bring them across the threshold.
The next morning he called Barbara Petee with ProMedica, a nonprofit health care network based in Toledo. She manages the group's advocacy fund, distributing grants for regional projects that improve the health and well-being of low-income adults and children.
Leslie laid out the dilemma of the 35 veterans and requested $26,250 to cover their deposits. He added that he wanted to acquire the funding "at black-ops speed."
Petee needed little persuading. "Just because something like veterans' homelessness is a difficult problem doesn't mean we have to try to find difficult solutions," she said. "It was clear Ken's idea could help these veterans right away."
Seven days later — "Valentine's Day, 5:36 p.m.," to Leslie's memory — Petee called back to tell him ProMedica would supply the grant. "Three days after that, we housed our first veteran," he said. "Eleven days from idea to execution. And it's only because it's so simple and it's focused only on the people."
A translator between worldsThe work of Veterans Matter in the ensuing years has had a dramatic effect on the VA's housing program in the area. Dowling related that, before 2012, an average of 137 days elapsed between a former servicemember applying for a voucher and signing a lease. The wait has since plunged to 32 days.
She identified Leslie's organization as the principal reason, even as funding for rent deposits has become available through other federal programs. The group, acting with a nimbleness mostly unknown to government agencies, has enabled 90 veterans in the region to move into permanent housing.
The urgency is crucial given the prevalence of addiction and mental illness among the homeless. "If you take too long to get veterans housed, you'll lose them," Dowling said. "They'll go away, and they'll stay gone until you can find them again."
Toledo has earned national notice for aiding former military members in need through the cooperation of public officials, social service agencies, nonprofit groups and private businesses. The latest evidence of progress is a $12.5-million, 75-unit apartment complex for low-income and homeless veterans that will open this summer on the city's south side. Veterans Matter will contribute to covering the rent deposits of tenants.
For their efforts, Leslie and Mayor D. Michael Collins, along with civic leaders from 80 cities, were invited to Washington last spring for a summit on ending homelessness among veterans hosted by first lady Michelle Obama.
On a recent morning, the two men shook hands and hugged when they met in the mayor's office on the 22nd floor of the city's government center. A gray haze shrouded vistas of downtown outside the floor-to-ceiling windows as Collins, a former Marine, discussed his guest's clarity of purpose.
"What often happens in the political arena is like a Baskin-Robbins experience. An issue comes up and it's the flavor of the day, so everybody comes together and says, 'This isn't right and we have to do something about it,'" he said.
"Then the following day there's a new issue and everybody says the same thing, and nobody pays attention to yesterday's issue. That's why it's good to have people like Ken. He doesn't let you forget."
For someone who once made a living by seeking the laughter and affirmation of strangers, Leslie, 57, demurs when praised for his advocacy. He diverts credit to Dowling and her VA colleagues, to Petee and ProMedica, to Collins and other elected officials, to the county's housing authority and Veterans Service Commission.
"I'm not that smart. Really — that's not fake humility," he said, his gray ponytail spilling down beneath a porkpie hat, a pair of red-framed sunglasses perched on the brim. He talked in the rapid cadence of a man who, in addition to managing his nonprofit endeavors, must squeeze enough minutes from the day to run a small headhunting firm. "I'm very simple, and so when I see a problem, I look for a simple solution."
Leslie, who grew up in Perrysburg and lives in Toledo with his wife, keeps an office on the ground floor of a business center converted from an old shopping mall. He has a view of a parking lot. On the wall behind his desk hangs a photo of the late folk singer Harry Chapin, one of his three heroes together with Irish songwriter Bob Geldof and John Mellencamp.
He reveres the trio less for their music than for their humanitarian work. Like Chapin before him, Geldof has fought to end world hunger; Mellencamp cofounded Farm Aid in 1985. The annual benefit concert for family farmers inspired Leslie to launch his Tent City project five years later.
During a tour stop in Toledo in 2007, Mellencamp visited the Tent City venue to meet with homeless residents. Leslie forged a bond with him, and the singer has recorded a public service announcement to promote Veterans Matter. Similar support from Ice-T, Susan Sarandon and other entertainers has raised thousands of dollars in donations and extended the group's presence into Indiana, Massachusetts, Texas and Washington.
Leslie's emphasis on recruiting the famous to crusade for the anonymous arises from a populist sensibility. He believes that celebrities, by illuminating a hidden struggle, can motivate Americans to care about those who served and who now live on the streets.
"I don't think of John Mellencamp as a star. I consider him a comrade in arms," he said. He held up his hands as if clasping a basketball and moved them toward each other. "What I try to do is sort of be a translator between these two worlds and get them a little closer. Because in the end, we're all at the same level."
'A big relief'Leslie stepped inside Greg Johnson's apartment and shook hands with the Iraq War veteran while clapping him on the shoulder.
"What's up, bitch?" Leslie said. Both men laughed as Johnson replied in kind.
The Toledo native moved into the one-bedroom unit on the city's west side last fall after Veterans Matter paid the $540 rent deposit. He had spent the summer living out of a 2001 Cadillac DeVille. His wardrobe consisted of two pairs of pants and a few T-shirts that he stashed in the trunk. He drove to a Rite Aid each morning to shave and wash up in the bathroom.
Johnson deployed to Iraq in 2007. A year removed from high school, he belonged to an Army flag detail at Camp Liberty in Baghdad that took part in memorial ceremonies for fallen troops. The duty weighed on him as the months passed.
"Even though I wasn't going outside the wire much, seeing those bodies going home does have an effect on you," he said. "You start to think, 'Could I be next?'"
He returned to Toledo following his honorable discharge in 2009, and over the next five years his life imploded in slow motion. By last spring, he was unemployed and estranged from his wife, and the county had taken custody of his three young children after police charged him with domestic assault.
Johnson found renewed hope when he connected with Dowling and her team with the VA in August. Gaining a fixed address a month later freed him to begin rebuilding his future.
He soon picked up a part-time job at the post office and enrolled in a counseling course for domestic violence that grants him visitation with his kids. A local nonprofit donated a bed, recliner and a handful of other furnishings for his apartment, and though the space still appears more empty than occupied, the comforts surpass those of a Cadillac.
"Having this place has been a big relief," said Johnson, 27, who wore a blue T-shirt imprinted with the words "I Am... Appreciated." "I know an apartment doesn't change everything, and I know I have a long way to go. But being here makes it easier to focus on what I need to do to turn things around. When you don't have a place to live, you're just thinking about survival."
Dowling regards permanent housing as essential to guiding former servicemembers toward VA support services and, in turn, restoring their dignity. She described Veterans Matter as relentless in pursuing a mission that may mean life instead of death.
"These men and women are either going to die on the streets or we can give them a place to live and help them regain control of their lives," she said. "They served their country. I think we owe it to them to get them housed as fast as we can, and that's what Ken does."
The cause animates Leslie. Driving to a meeting after leaving Johnson's apartment, he received a call from a VA social worker in Dallas. She asked if he could cover a $250 rent deposit for a veteran who had qualified for the voucher program. "Yup, no problem," he said. "The check will go out this afternoon." The entire exchange lasted under a minute.
A couple of hours later, sitting at his desk, Leslie slipped the check into an envelope. He looked up and smiled.
"Another veteran housed. Boom. Done."
kuz.martin@stripes.com Twitter: @MartinKuz