Obama ordering VA to add staff, see suicidal vets within 24 hours
---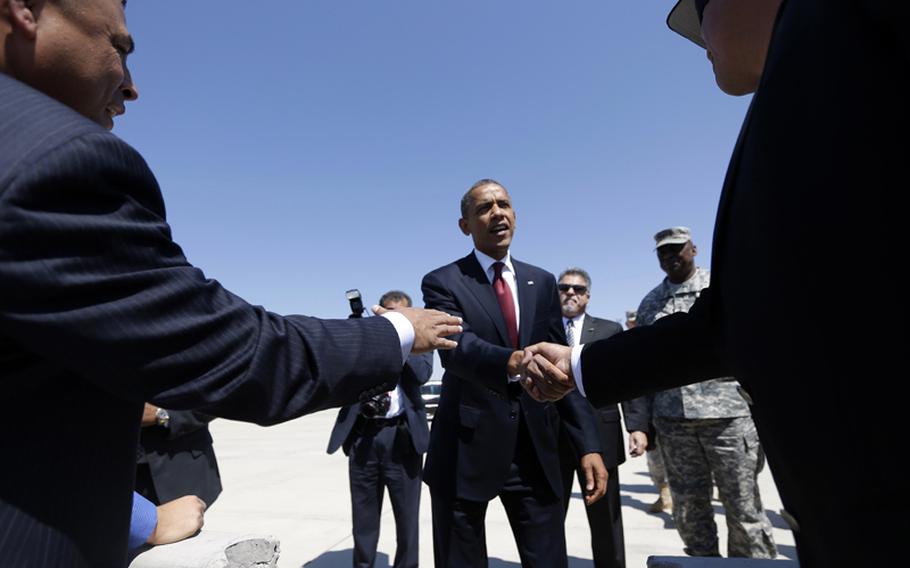 WASHINGTON — President Barack Obama signed an executive order Friday directing the Department of Veterans Affairs to expand mental health services and suicide prevention efforts.
The president made the announcement in a speech to troops at Fort Bliss, Texas, where he was scheduled to hold a roundtable with soldiers and their families.
Much of what's outlined in the executive order are initiatives that were previously announced earlier this summer by the VA.
Obama is instructing the VA to ensure that any veteran with suicidal thoughts is seen by a mental health professional within 24 hours — a standard already set for the VA, but which the department often fails to meet.
To help the understaffed VA meet that ambitious requirement — there are areas of the country where the dearth of psychologists, psychiatrists and social workers means veterans wait months for appointments — the order directs the VA to partner with the Department of Health and Human Services to tap into community services to help meet demand. The two agencies will create 15 pilot sites in underserved areas by contracting with local facilities. They've also been ordered to develop a plan for rural areas, which are lacking in all health services. The plan is to include a way for areas to share mental health providers.
The VA said in June it had put together a 21-person, in-house recruiting team to work on these issues.
The executive order also reiterates a VA plan to hire more mental health care providers. However, there is a nationwide shortage and the VA has struggled over the years to lure professionals to work for them.
The VA has until June 2013 to figure out how to fix that issue with pay, loan repayment, scholarships and partnerships with community-based providers and training programs. The goal, announced by the VA in June, is to hire 1,900 mental health staffers.
The VA is also being told to increase the veteran crisis hotline capacity by 50 percent by the end of year and to develop a national 12-month suicide prevention campaign that would help connect veterans to mental health services.
"VA will work closely with our federal partners to implement the executive order immediately, and continue to expand access to the high-quality mental health care services our veterans have earned and deserve," Secretary of Veterans Affairs Eric K. Shinseki said in a statement.
The president ordered the Pentagon to review and rank its mental health and substance abuse prevention programs by quality and effectiveness. "By the end of Fiscal Year 2014, existing program resources shall be realigned to ensure that highly ranked programs are implemented across all of the military services and less effective programs are replaced," the order states.
That forces the Pentagon to take ownership of the programs military-wide instead of allowing each service to decide on its own what programs to use. Reviewing the vast and disparate programs will be a big task and could lead to kickback from the services, which are protective of their programs.
In addition, the president is convening a Military and Veterans Mental Health Interagency Task Force to present him with recommendations in 180 days on how to improve treatment services.
Obama's announcement comes on the heels of Republican presidential nominee Mitt Romney's remarks at the American Legion this week that called out the VA's struggle to provide mental health care services as "reproachable failures."
mccloskeym@stripes.osd.milTwitter: @MegMcCloskey
---
---
---
---