The Catholic University of America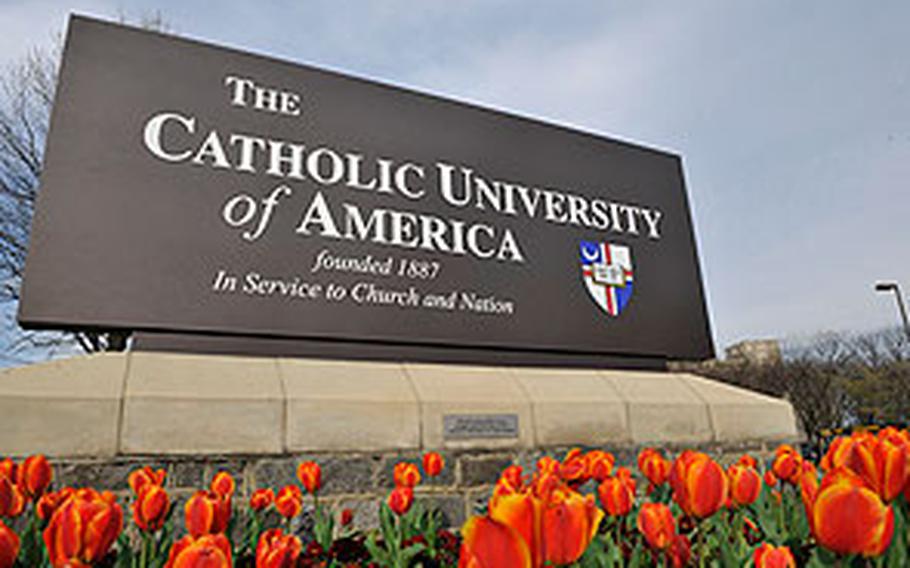 Location: 620 Michigan Ave., N.E., Washington DC, 20064Description: Students at Catholic University have the best of both worlds: They study and live on the largest campus (193 acres) in Washington, D.C., where they can enjoy a complete collegiate experience, but they are also located in the heart of the nation's capital. Traveling by Metrorail, which is near the edge of campus, students are only a 10-minute ride away from Union Station, Capitol Hill and the Library of Congress, and within easy reach of the abundant array of educational, cultural, social, political and professional opportunities that Washington has to offer.
Many first-time visitors to campus are captivated by the university's expansive setting among tree-lined rolling hills where the skyline is dominated by the adjacent, majestic Basilica of the National Shrine of the Immaculate Conception, the largest Catholic church in the United States.Student to Faculty Ratio: 10 to 1Degrees Offered: All 12 of the university's schools offer graduate and/or professional degrees. Undergraduate degrees are awarded by eight schools — architecture and planning, arts and sciences, engineering, music, nursing, philosophy, professional studies, and social service. (Schools offering only graduate and/or professional degrees include canon law; law; library and information science; theology and religious studies; and Theological College, the university's seminary)All undergraduates combine a base curriculum in the liberal arts with more in-depth courses in their major fields of study.Catholic University is the only American university with ecclesiastical faculties granting canonical degrees in canon law, philosophy and theology. Theological College prepares men for the priesthood who come from dioceses of the United States and abroad.Accredited by the Commission on Higher Education of the Middle States Association of Colleges and Schools as well as many disciplinary accrediting organizations, CUA enjoys a distinguished history and has filled an important niche: doctoral programs in philosophy and social work that are among the nation's oldest; the only university library science and music schools in Washington, D.C.; the largest architecture school in the area; a law school that is a pioneer in clinical education; and a drama department that has been the educational incubator for acclaimed playwrights, directors and actors. Ninety-eight percent of the full-time faculty have doctoral or terminal degrees in their fields.Percent of applicants admitted (freshmen applicants): 86%SAT/ACT scores: Reading, math, writing- Average SAT Math: 563; Average SAT Verbal- 555Total undergraduate enrollment: 3,466Gender breakdown: Men: 1,593; Women: 1,873Expenses (effective fall 2009)Full-time Tuition• Undergraduate and Graduate — $31,740 per year • Engineering — $32,000 per year• Architecture and Planning — $32,470 per year• Law — $37,850 per year• Social Service — $20,540 per year Part-time Tuition• $1,170 per undergraduate credit• $1,245 per graduate credit• $1,180 per undergraduate architecture credit• $1,375 per law credit• $680 per professional studies credit• $794 per social service creditMeal PlansLaw, graduate and undergraduate students are charged the same for board. Prices are per semester.Anytime Plans• Platinum: $2,497 • Gold: $2,397 • Silver: $2,297 Block Plans• Block 175: $2,068 • Block 100: $1,301Commuter Plans• Block 75: $858 • Block 50: $610 • Block 25: $359Room Rates• $6,798 (double) per year(Single, apartment and suite-style rooms are also available.) Is service accepted as credit toward a degree?As part of Metropolitan School of Professional Studies' Prior Learning Assessment program, up to 30 ACE-evaluated military credits are accepted if they fit into the student's undergraduate degree plan. Additional credits may be earned by participation in our portfolio program. MSPS may accept up to 84 undergraduate credits in all. Related links:http://metro.cua.edu/degree/pla/index.cfm, http://metro.cua.edu/res/docs/bachelor/transfer-credit-policy.pdf, http://metro.cua.edu/military/index.cfm Why does the school like military students?Students with military backgrounds tend to bring a sense of purpose to their chosen activities. They exhibit discipline and courtesy. They also bring experiences different from those of their classmates. What GI Bill/Tuition Assistance benefits are offered/available?All active military and veterans receive a special tuition rate. CUA has a designated person to process all military benefits. Metropolitan School of Professional Studies is a Yellow Ribbon School for graduate and undergraduate programs.Do you offer online degrees/distance learning programs?Metropolitan School of Professional Studies offers some online classes on the undergraduate level.What programs/services are available specifically to military students?Military students have access to all student services and the extensive student development program at the Metropolitan School. Students currently in the military are working to start a chapter of SVA (Student Veterans of America). Related links:http://metro.cua.edu/military/index.cfm, http://metro.cua.edu/studentservices/index.cfmWhat is your policy on involuntary activation for military service?CUA currently handles this on a case-by-case basis. A university policy is being developed.
---
---
---
---