DODDS students heading to robotics competition in Las Vegas
by
Mark Patton
March 16, 2011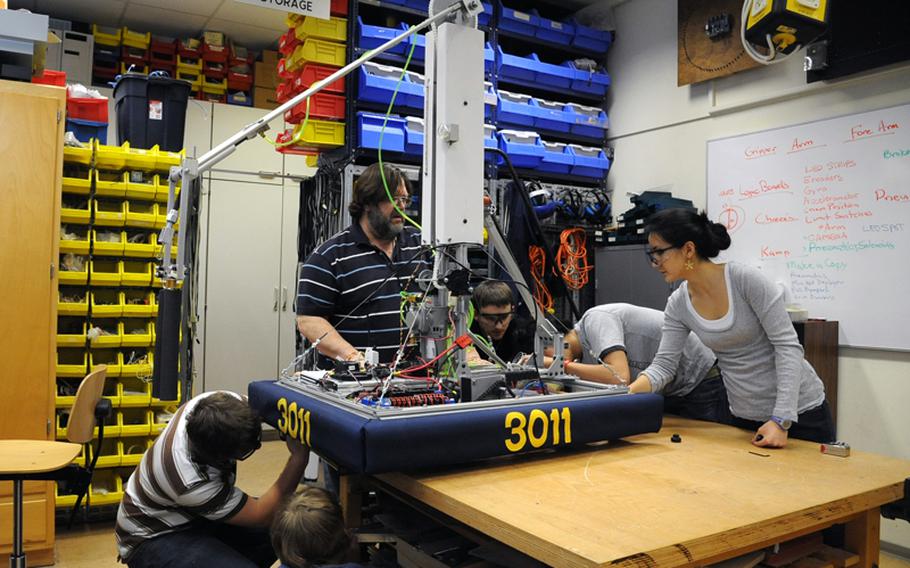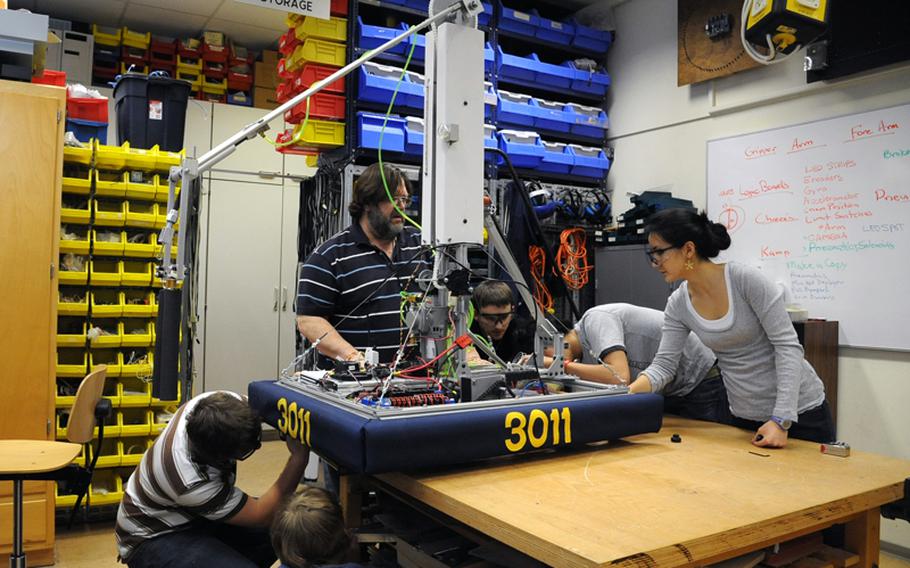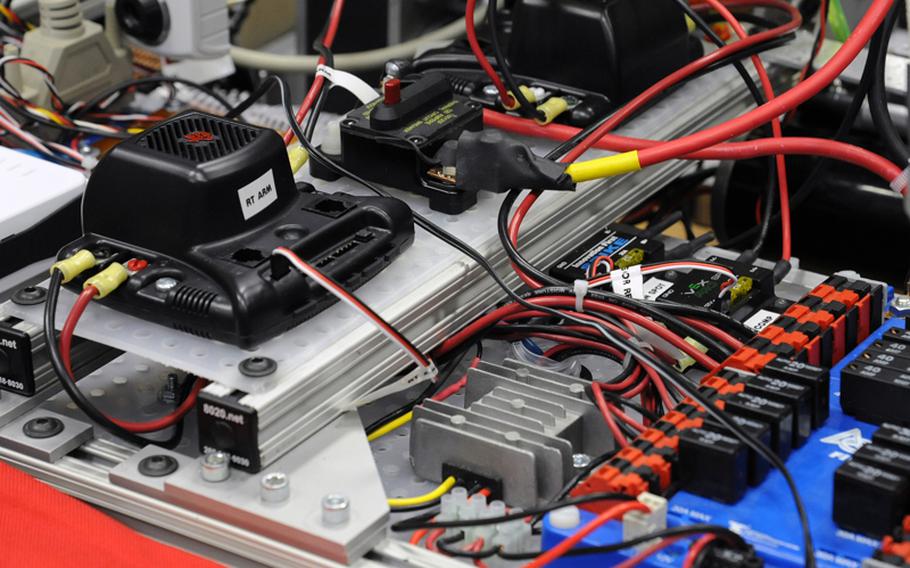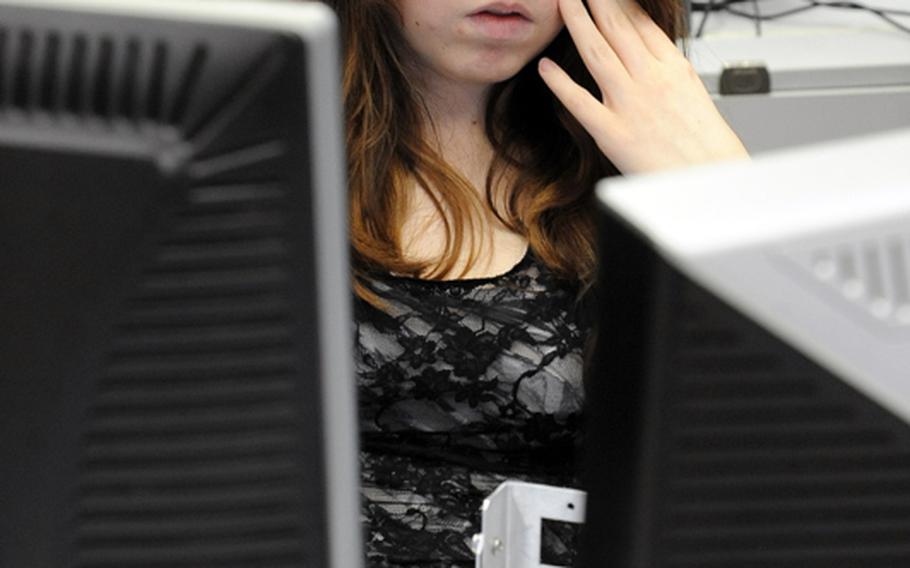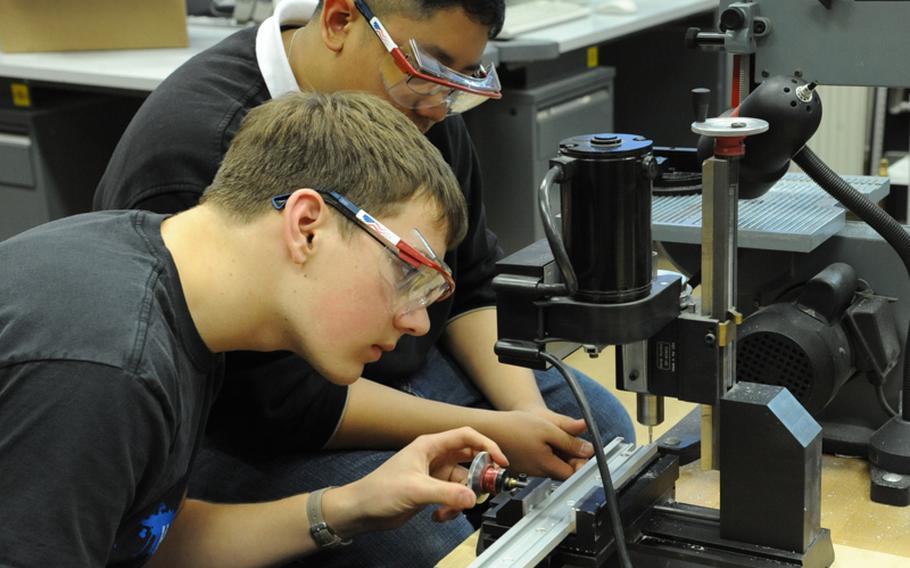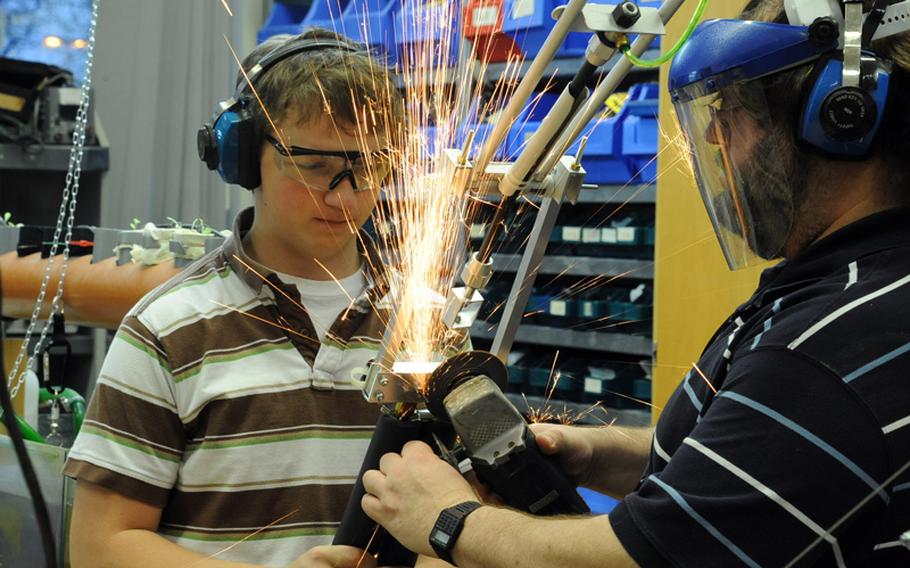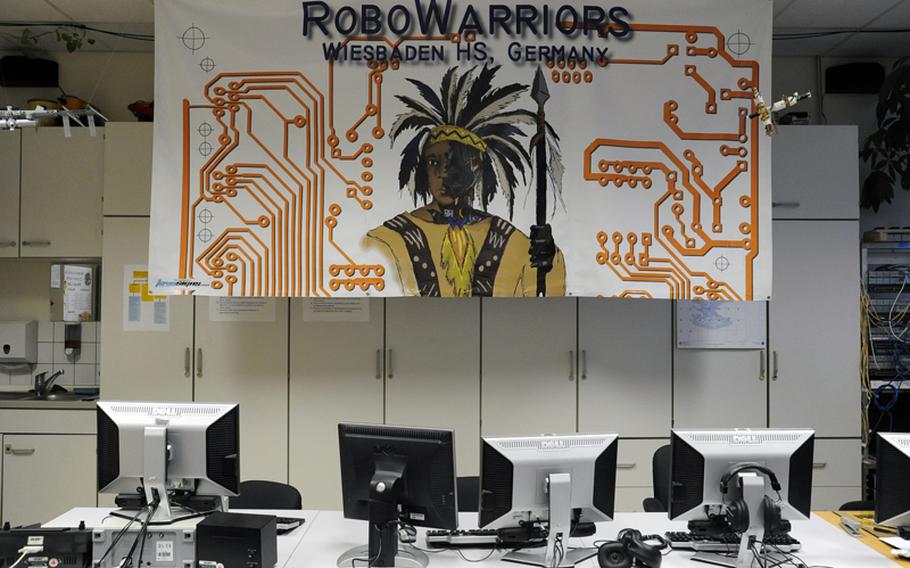 WIESBADEN, Germany -- Twenty-eight high school students from Department of Defense Dependents Schools are heading to Las Vegas at the end of this month to see if a pair of robots they built are ready to take on the best made by their peers.
The students from Wiesbaden and Vilseck high schools, both in Germany, are competing against 38 other teams in a regional qualifier for a worldwide robotics competition. They were provided a kit of parts that had to be used to build a robot and program it to perform a specific task as part of the FIRST Robotics Contest.
FIRST — For Inspiration and Recognition of Science and Technology — is a Manchester, N.H.-based nonprofit organization whose goal is to foster students' interest in engineering and technology. This is the fourth year that Wiesbaden's RoboWarriors Club has participated, while it's the first contest for Vilseck, which has teamed up with Wiesbaden for this year's entry. Schools need a robotics club to participate.
"We've got problems in this world that only engineers can solve, we need kids that can think out of the box," said Wiesbaden teacher Frank Pendzich, who is the team's adviser and coach.
This year's challenge is played on a 27-by-54-foot field where robots compete to hang as many inflated plastic triangles, circles and squares as possible on grids made of an upright board with poles and pegs during a timed period. The match ends with the team's robot deploying a minibot that races to the top of a pole for bonus points.
"This challenge is a lot more complicated than last year," said Wiesbaden senior Stephen Corey, who helped the RoboWarriors design a soccer-playing robot for last year's competition.
The work began in January when Vilseck students traveled to Wiesbaden for the announcement of this year's contest. For the next six weeks, the Vilseck team worked on the minibot. Meanwhile, the Wiesbaden students divided into groups, each working a particular piece of the overall construction. Programmers, builders, safety team members and even a virtual designer were all doing their part for the robot.
Pendzich said the team has put in about 1,500 hours of work on the robot, dubbed Frau POW! This is in addition to the hours put in raising funds. This year's team had to come up with almost $30,000 to help offset the cost of the trip.
Hanging the most objects isn't the most important part of the contest.
"It's not about winning the competition, it's about the teamwork and learning skills ... It builds an interest outside video games, movies and sports," said junior Shena Cousens, Wiesbaden's safety captain.
That means getting the robots to work the way they should.
"I don't really care if we win or not, we just care if [the minibot] makes it to the top," said Vilseck senior Franjo Lukezic.
Vilseck instructor Larry Chanin was amazed when he learned what the students were required to build, and said he hopes being mentored by Wiesbaden — which will be one of four DODDS schools worldwide piloting a robotics engineering course next year — will be the springboard for Vilseck to launch its own Robotics Club next year.
The students will head to Vegas on March 29. The preliminary rounds and finals are slated for April 1-2. There are several ways to advance to the championship, scheduled for April 27-30 in St. Louis, but the Wiesbaden team would have to finish in the top six to make the next round.
"I don't know what we would do" if the team advances, said Pendzich. "We would have to raise close to $30,000 to participate."
---
---
---
---