College profile: University of South Carolina-Columbia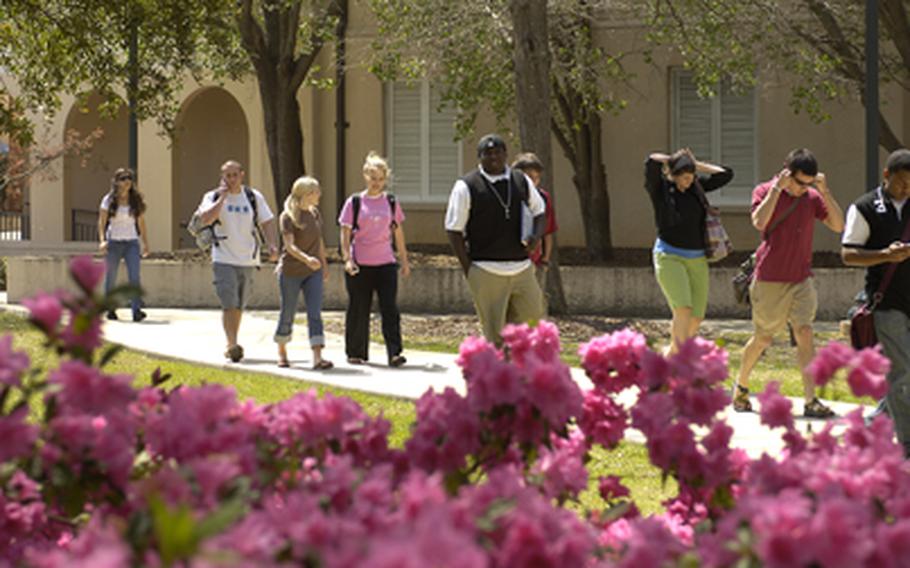 Location: Main campus located in Columbia, S.C., with four-year campuses in Aiken, Beaufort and Spartanburg and two-year campuses in Allendale, Lancaster, Union and Sumter.
Student /faculty ratio: Full time faculty, fall 2009: 1,560, Undergraduate enrollment, fall 2009: 20,494, Graduate enrollment, fall 2009: 7,987
Degrees offered: USC offers more than 350 degree programs and 70 undergraduate majors through its 14 degree-granting colleges and schools.
Percent of applicants admitted: 11,262 of 17,694 applicants admitted (3,917 ultimately enrolled).
SAT scores: Verbal, 588; Math, 604. (The Writing score is not used as part of the admissions criteria.)
Number of undergrads: 20,494Gender breakdown: 9,489 male; 11,005 female
Tuition and Fees: $9,156 (in-state, undergraduate)|Books: $936.00Room and Board: $7,328 (approx.)
Is service accepted as credit toward a degree?Up to 30 semester hours of credit toward a bachelor's degree and up to 15 hours toward an associate degree may be awarded for educational experiences in the military. The credit must be in accordance with recommendations published by the American Council on Education and be consistent with University policy on the transfer of credit. University credit also may be given for specialized and technical training performed under the auspices of the armed forces and for courses taken through the United States Armed Forces Institute/DANTES. This training may be accepted for credit by the University only if it is at the college level, if it is approved by the University, and if it is appropriate to the particular University course of study in which the student enrolls. Armed forces training will not be evaluated until the applicant has been accepted for admission; however, credentials should be submitted with the admission application.
Why does the school like military students?Students who serve or have served in the military make a significant contribution to the culture of the University. They bring with them outstanding leadership skills, life experiences and diverse perspectives that benefit their fellow students and the entire campus community.
What GI Bill/Tuition Assistance benefits are offered/available?Post-9/11 Veterans Educational Assistance Act - Chapter 33 --- Veterans who served at least 90 days on active duty after September 10, 2001 and who are still on active duty or were honorably discharged from active duty may be eligible. Individuals eligible for the GI Bill Selected Reserve or REAP and who qualify for Chapter 33 may make an irrevocable election to receive Post-9/11 benefits. Military personnel currently on active duty may be eligible to transfer their Chapter 33 Post-9/11 benefits to their authorized dependents.
Yellow Ribbon Program --- The Yellow Ribbon GI Education Enhancement Program (Yellow Ribbon Program) is a provision of the Post-9/11 Veterans Educational Assistance Act of 2008. This program allows institutions of higher learning (degree-granting institutions) in the United States to voluntarily enter into an agreement with VA to fund tuition expenses that exceed the highest public in-state undergraduate tuition rate. The University of South Carolina - Columbia has agreed to accept 50 applicants who are eligible for the Post-9/11 benefit at the 100% rate. Applicants should contact the Office of Veterans Services at 803-777-5156 for details on how to apply for Yellow Ribbon benefits at the University.
Reserve Educational Assistance Program (REAP) Chapter 1607 --- This program is for reservists who were activated for a period of at least 90 days after the attacks on September 11, 2001.
Chapter 30 --- The Montgomery G.I. Bill: This program provides educational benefits for individuals entering the military service after June 30, 1985. (Reservists and National Guard members should refer to Chapter 1606 below.)
Associate Degree Program at Ft. Jackson
Chapter 31 --- Vocational Rehabilitation for Service-Disabled Veterans: This program is for individuals who have a compensable service-connected disability, and for whom the U.S. Department of Veterans Affairs has determined that training and rehabilitation services are needed to overcome an employment handicap.
Chapter 32 --- Post-Vietnam Veterans Educational Assistance Program (VEAP): This is a voluntary contributory matching program for individuals entering service after December 31, 1976.
Chapter 35 --- Dependents Educational Assistance Program: This program is for dependents (spouse or children) of individuals who die or are permanently and totally disabled from service connected causes.
REPS --- Reinstated Entitlement Program for Survivors: The REPS program pays benefits similar to Social Security after Social Security payments cease. Certain survivors (spouses and unmarried children over age 18) of deceased veterans who died of service-connected causes incurred or aggravated prior to August 31, 1981 are eligible.
Chapter 1606 --- Montgomery G.I. Bill-Selected Reserve (Old Chapter 106): This program is available to members of the Selected Reserve, including the National Guard. Montgomery G.I. Bill-Selected Reserve (Old Chapter 106): This program is available to members of the Selected Reserve, including the National Guard.
Free Tuition for Certain SC War Veterans: http://www.govoepp.state.sc.us/VA/benefits.html
Federal Tuition Assistance eligibility
Active Duty Military --- students receive a special Active Duty Rate for tuition and fees charges
Do you offer online degrees/distance learning programs? Yes. Please visit: http://saeu.sc.edu/OnlineCredit/index.html
What programs/services are available specifically to military students?The USC Fort Jackson Program is designed for and awards Associate of Arts and Associate of Science degrees to active-duty military personnel (all branches), their family members, Department of Defense civilian employees, National Guard members, reservists, and veterans. In addition, the University of South Carolina (Columbia) has a Veterans Student Services Advisory Committee - http://registrar.sc.edu/html/veteransadvisory.stm-- that seeks to improve services for military veterans who are students. The committee hosts events such as the Veterans Information and Resource Fair.
What is your policy on involuntary activation for military service?University Policy ACAF 3.05 (http://www.sc.edu/policies/acaf305.pdf) allows individuals to withdraw without academic or financial penalty if activation occurs during the semester.
---
---
---
---