College profile: Cameron University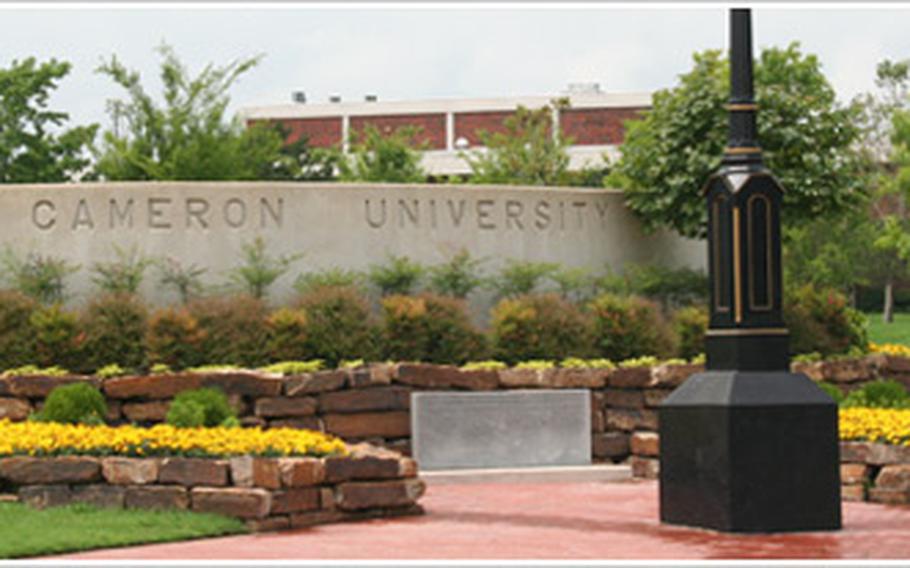 Location: Lawton, Oklahoma 73505Student /faculty ratio: 19/1Degrees offered:Associate in Science: Interdisciplinary Studies, BusinessAssociate in Applied Science: Applied Technology, Computer Aided Drafting, Computer Information Systems, Criminal Justice, Electronic Engineering Technology, Information Technology, Multimedia Design, Respiratory CareBachelor of Arts: Art, Communications, English, English Education, History, International Languages, Mathematics, Mathematics Education, Music, Political Science, Romance Languages Education, Social Studies Education, TheatreBachelor of Science: Agriculture, Biology, Biology Education, Chemistry, Chemistry Education, Computer Information Systems, Computer Science, Criminal Justice, Elementary Education, Early Childhood Education, Health and Physical Education, Information Technology, Interdisciplinary Studies, Medical Technology, Multimedia Design, Natural Science, Physical Education, Physics, Psychology, Sociology, TechnologyBachelor of Accounting: AccountingBachelor of Music: MusicBachelor of Business Administration: Business AdministrationMaster of Science: Behavioral Science, Educational LeadershipMaster of Education: EducationMaster of Business Administration: Business Administration
Percent of applicants admitted: Open enrollment; 100 percent of applicants were admitted last yearSAT/ACT scores: reading, math, writing No minimums required for admission
Number of undergrads: 5700 (Fall 2009)Gender breakdown: 60 percent women/40 percent menTuition and Fees (costs below are based on 2009-2010 costs. 2010-2011 rates are not yet available.): Oklahoma Resident: $137 per credit hour undergraduate; $164.80 per credit hour graduate. Non-Oklahoma Resident: $332.50 per credit hour undergraduate; $399.50 per credit hour graduateBooks: approximately $31 per credit hourRoom and Board: $3534.00 Is service accepted as credit toward a degree? Yes. Why does the school like military students? Cameron University is the University of Choice in southwest Oklahoma. Located in the heart of the Lawton-Fort Sill community, Cameron provides an outstanding education, personalized attention and the complete college experience. Cameron has more than 100 years of experience in tailoring services to meet the needs of a diverse student population, including a significant number of those in the military and veteran community. We are proud of our ability to serve those who serve our country and to provide educational opportunities to service members and their families. What GI Bill/Tuition Assistance benefits are offered/available? Active duty service members may attend Cameron University at the in-state rate and military family members stationed in Oklahoma may also attend the university and pay only the in-state rate. In addition, Cameron University is one of only a few public universities in the state of Oklahoma who currently participates in the Yellow Ribbon program for veterans. Cameron's Office of Veterans Affairs provides assistance to students to apply and use the various chapters of Veteran's Educational Benefits including but not limited to the following chapters: 30, 30A, 30S, 32, 32A, 1606, 1607, 35, 31, 107 and Post 9/11 GI Bill Benefits. Please go to www.cameron.edu/veteran_affairs for more information. Do you offer online degrees/distance learning programs?YesWhat programs/services are available specifically to military students?
-Cameron University has an office on post at Fort Sill to serve soldiers and military family members as well as offering courses on-site on post for service members.
-Application fee is waived for active duty military students.
-Cameron offers the Freedom to Learn program to any active duty member of the United States Armed Forces who is enrolled in six or more hours of online course work. Freedom to Learn provides the service member with a laptop computer, free of charge, so they may continue their education anywhere in the world. For more information about Freedom to Learn go to www.cameron.edu/freedomtolearn
-Cameron is a participant in the Go Army Ed portal, the Servicemembers Opportunity College (SOC), and CONAP programs.
-Cameron participates in the Warrior in Transition program at Fort Sill offering opportunities for wounded soldiers to participate in a designated number of courses at Cameron as part of their rehabilitation in that unit.
-College Level Examination Program testing and Dantes Subject Standardized Test are offered free of charge to active duty military.
-Cameron offers students personalized academic evaluation of prior college credit as well as a military credit evaluation.
-Cameron offers student access to counseling services on campus and referrals off campus, career assistance and various other student services.
What is your policy on involuntary activation for military service? Service members who are activated during a term and have to be deployed immediately are allowed to be withdrawn from their classes without negative academic or financial ramifications with documentation of their deployment.