1,100 grads earn degrees from UMUC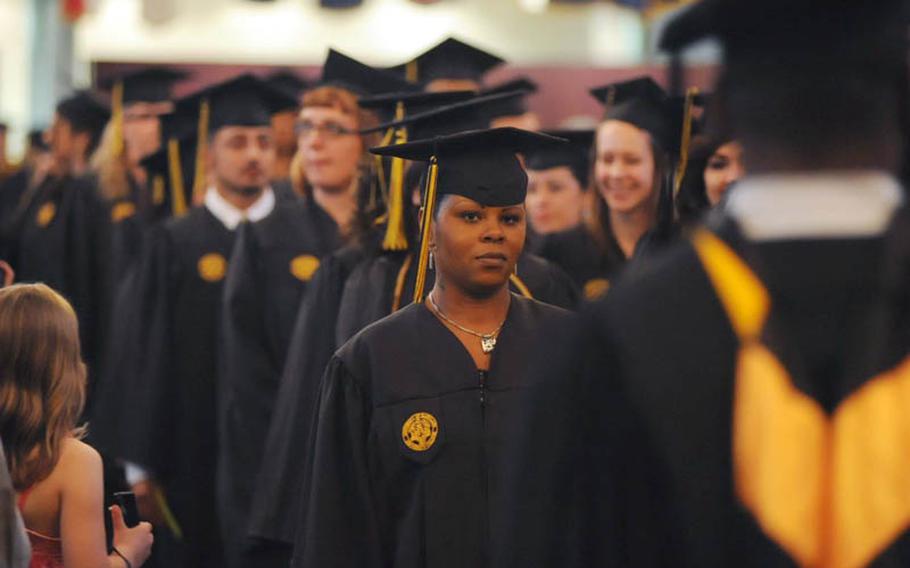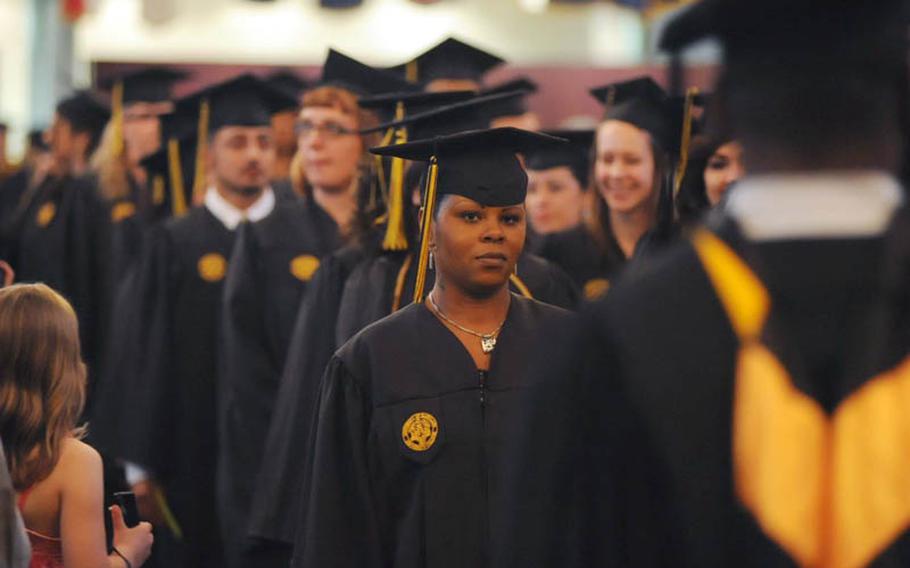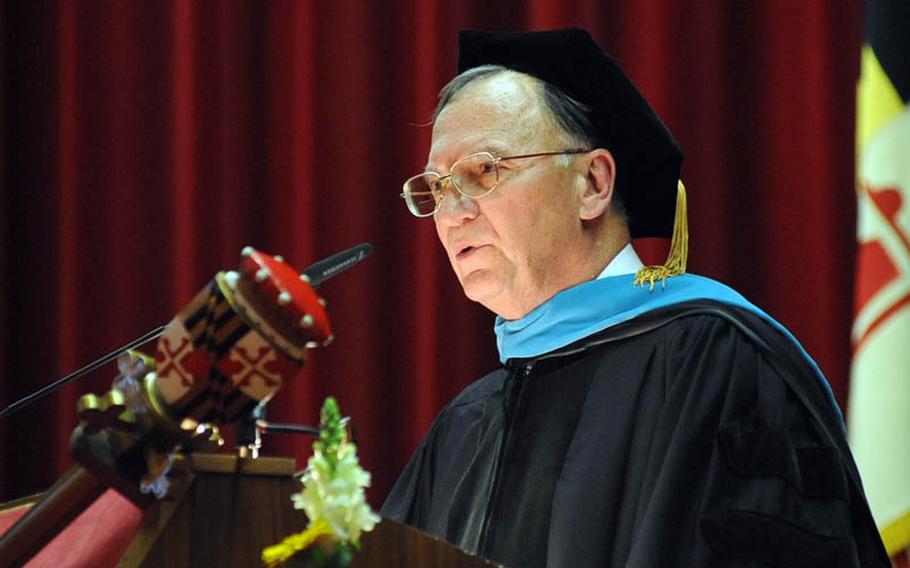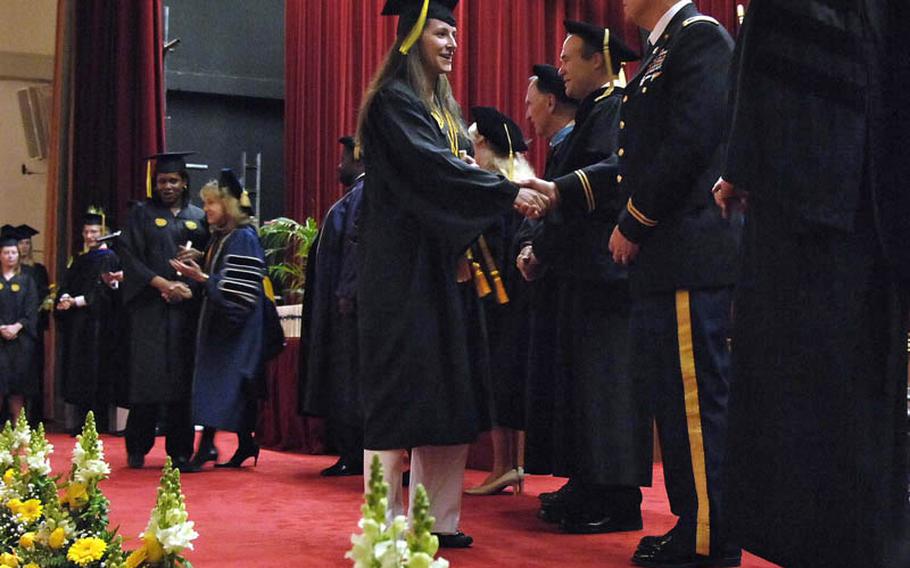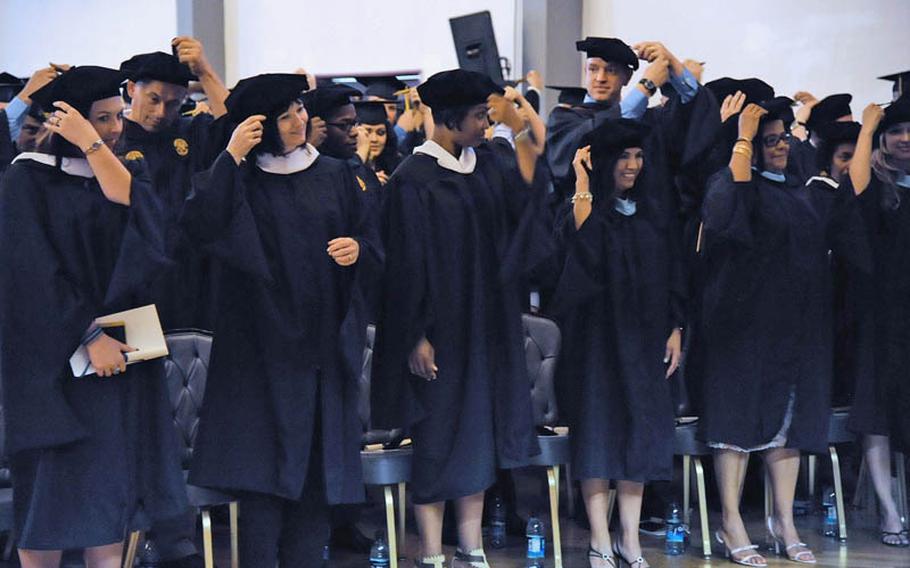 HEIDELBERG, Germany — About 200 graduates collected diplomas from the University of Maryland University College Europe during a ceremony Saturday afternoon in the Village Pavilion at Patrick Henry Village in Heidelberg.
The grads represented more than 1,100 students who earned master's, bachelor's or associate degrees from the university and its partner institution, Bowie State University, during the past year, according to a news release from the university.
They include active-duty military members from the Army, Navy, Air Force and Marines, as well as family members and U.S. government civilians. They are stationed at bases across Europe, and nearly 100 of them are currently in downrange locations.
The commencement, UMUC's 59th, is the largest such ceremony for military-affiliated universities overseas, Maryland officials said.
Many of the graduates attending the ceremony have unusual stories. Among those mentioned by the university:
• Denise P. Jones and her son, Milton Jones, are graduating with master's degrees in management information systems and information technology management, respectively. She decided to continue with her education when Milton, stationed in Iraq, started working on his master's. Previously, they had taken classes together in Mannheim.• Edward Hutchersoncompleted his associate's degree in computer sciences during a three-year period while recovering in Baumholder from multiple surgeries after repeated exposures to roadside bomb explosions in Iraq. He said he is now looking toward a bachelor's and eventually a master's in computer science.• Shawna Brabant, a single mother, earned a bachelor of science in social sciences. She started her education while serving in the Air National Guard and continued after being recalled to active duty after Sept. 11, 2001, beginning with classes while stationed in Qatar.• Andrea Migliore is receiving two bachelor's degrees — in business administration and information systems management — earned while working full time and serving in the Army Reserves. She took classes in Hanau, Mannheim, Kaisersalutern, Ramstein and online between multiple deployments downrange.Retired Gen. William T. Hobbins, former commander of U.S. Air Forces in Europe and NATO Allied Air Command, Ramstein, and director of Joint Air Power Competence Centre, Ramstein, was the commencement speaker. An audience of about 1,200 watched the ceremony.A few facts about the grads:An estimated 547 received associate degrees.• The oldest is 55, the youngest 19• 52 percent are female, 80 percent are married and 65 percent have children• Grads come from 22 states and three foreign countries• Average length of time from first course to degree is five years; the shortest is one year and the longest 26.
An estimated 507 received bachelor's degrees.• The oldest is 59, youngest is 19• 55 percent are female, 79 percent are married and 61 percent have children• Grads come from 35 states and four foreign countries•Average length of time from first course to degree is eight years; the shortest is one year and the longest 32.
An estimated 88 received master's degrees• The oldest is 58, the youngest is 24•59 percent are female, 86 percent are married and 77 percent have children.• Grads come from 14 states and one foreign country.• Average length of time from first course to degree is four years; the shortest is one year and the longest seven.
— From University of Maryland University College
---
---
---