Navy revises rules in wake of linguist's death in Syria
by
Claudia Grisales
February 6, 2019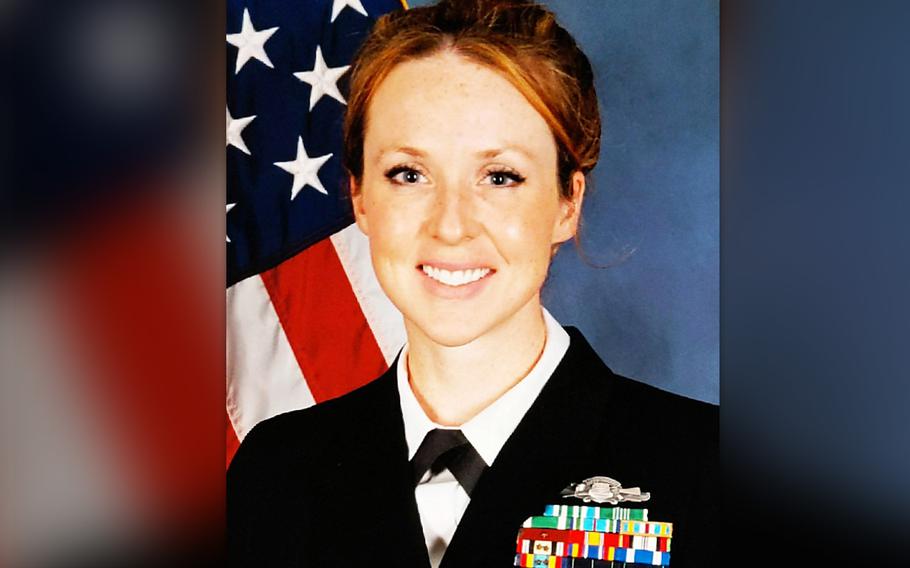 WASHINGTON — Navy officials said they have made several changes to a flawed commissioning and waiver process that led to the deployment of a linguist killed in Syria last month.
Navy Chief Petty Officer Shannon Kent, a 35-year-old mother of two, was killed Jan. 16 by a suicide bomber at a restaurant in the Syrian city of Manbij. It was her fifth combat tour.
Last fall, Kent was slated to attend a clinical psychology doctoral program in lieu of the deployment. But the Navy reversed the move because she previously had cancer, rejected her waiver applications and she received orders to deploy to Syria instead.
She was killed less than two months later.
"I have reviewed and discussed every aspect of the policies and processes in place during Shannon's application to become a clinical psychologist," Adm. William Moran, vice chief of naval operations, wrote in a Feb. 5 letter to the Kent family. "There were many shortcomings in Shannon's case, mainly in our communications throughout and in fundamental flaws in our waiver and appeal process – I offer no excuses."
In his letter, Moran explains the changes installed by Navy officials will give the highest waiver consideration to sailors who are deployed. He also wrote the changes include establishing a standardized appeal process with an option of seeking a second medical opinion, requiring peer review of waivers to boost quality assurance and consistency and requiring all medical authorities operate on the same software system to ensure continuity.
Moran also noted while the Navy did not have a robust waiver process in place, there have been improvements in response to Kent's situation. Moran said the number of waivers approved for enlisted commissioning applications has risen 15 percent since the fall.
"We believe this new policy will improve the quality, fairness, and consistency of the medical waiver process for all enlisted to officer commissioning programs, and I will report back to you in one year to inform you of our progress," Moran wrote.
The changes come less than two weeks after the Kent family requested the move in a Jan. 24 letter to Moran.
"In your letter, you informed me Shannon was fighting to change the regulations which prevented many qualified enlisted sailors from commissioning as naval officers," Moran wrote. "Her drive to bring fairness and consistency to this process highlighted areas where we, as a navy, needed to improve in order to maintain the trust of our enlisted teammates."
Moran said four new rule changes are now reflected within provisions of Chapter 15 of the Navy's Manual of Medical Department, which covers physical standards for medical examinations, and lists several health conditions, including cancer, that can disqualify servicemembers from receiving a commission.
"To formally correct our waiver process, and to honor Shannon's legacy, the Department of Navy's surgeon general signed out a policy, dated Feb. 1, 2019, to address the informal process improvements started last fall," Moran wrote.
The changes will now provide a better path for enlisted sailors to seek a medical waiver to become an officer, said Lt. Christina Sears, a Navy spokeswoman. It will ensure consistency, quality assurance, and an appeal process for medical waivers and ensure all reviewers have access to the same information and are provided standardized training.
"Perhaps most importantly, the policy memo firmly states the surgeon general's strong expectation, shared by all Navy leaders, that the highest consideration should be afforded to those already serving in a deployable status," Sears said.
Kent's husband and father to their two young sons said the family was satisfied with the moves.
"The Navy has done all they can and moved rather quickly," Joe Kent, 38, said Wednesday. They "changed as much of the commissioning process and waiver process as they can in their capacity as an individual service."
Now, the family is fighting to change a larger, overarching Defense Department rule that thwarted Kent's plans to become an officer.
The Department of Defense Instruction 6130.03, the "Medical Standards for Appointment, Enlistment, or Induction into the Military Services," requires servicemembers meet higher medical standards reserved for joining the service versus the requirements for remaining an active servicemember.
In Kent's case, that Defense Department provision ruled her out from the program because of previous thyroid cancer.
"We would like to build on the momentum the Navy and the lawmakers have built to get the greater DOD regulation changed in Shannon's honor," Joe Kent said.
Last week, several congressional lawmakers wrote to top Pentagon officials demanding they explain how they would update the Defense Department and Navy medical rules and waiver process that led to Kent's deployment.
"It is difficult to understand why the department would require a long, drawn-out waiver process when she was cancer-free and in remission," the lawmakers who represent Kent's home states of New York and Maryland asked acting Defense Secretary Patrick Shanahan and Navy Secretary Richard Spencer in the letter. "If CPO Kent was fit to deploy to a war zone, we believe she was fit to serve her country as a clinical psychologist."
The letter dated Friday was signed by Senate Minority Leader Chuck Schumer, D-N.Y., Sens. Ben Cardin, D-Md., Chris Van Hollen, D-Md., and Kirsten Gillibrand, D-N.Y., and House Reps. Walter Jones, R-N.C., Anthony Brown, D-Md., and Dutch Ruppersberger, D-Md.
Kent, along with 18 others, including another U.S. servicemember, a Defense Intelligence Agency civilian and a Defense Department contractor, were killed in the Jan. 16 blast in Syria. Kent was the first female U.S. servicemember killed in Syria since the U.S.-led coalition's campaign against the Islamic State began there in late 2014.
"Shannon's strong desire was to ensure that future enlisted sailors who aspire to serve as commissioned officers were treated by a fair and equitable process," Moran wrote. "Thanks to her determination, this will be another part of the fabric of her legacy as a leader and a friend to so many."
"She dedicated her adult life to the Navy and the defense of our nation," Moran continued. "Our Navy and our nation are better because of her service. I also know that future sailors will look to Shannon as a source of inspiration."
Kent, a Pine Plains, N.Y., native, enlisted in the military in December 2003 shortly after high school, fueled by the 9/11 attacks and her service-oriented family. She spoke seven languages, including four dialects of Arabic.
Last year, Kent was slated to attend the Navy's doctorate psychology program at the Uniformed Services University of the Health Sciences, in Bethesda, Md. But after the Navy blocked the move, she lobbied lawmakers on Capitol Hill for change. But her efforts to alter the rule stalled.
Kent wanted to attend the psychology program so she could help servicemembers suffering from post-traumatic stress disorder, her husband has said. With that, she could also be closer to her children because there would be less chance that she would deploy into combat zones.
Kent got initial Navy clearance to attend the program in early February 2018, but they reversed plans by the end of the month.
"This is purely a bureaucratic process procedure issue," said Lawrence B. Brennan, a law professor at Fordham University School of Law and a retired Navy captain who served in the Judge Advocate General's Corps. "Basically, if you are changing from enlisted to officer, you have to rejoin the Navy in a procedural way."
Subsequently, the waiver process never worked properly for Kent, which fuels wide variations in the procedure, he said. The new Navy changes are a patch, but not a cure to an overall problem that has to be addressed by the Defense Department or likely Congress, Brennan said.
Jones, a longtime vocal opponent of the post-9/11 wars who is now in hospice care battling his own health issues, had asked Spencer last year to revise the Defense Department rule that led to Kent's deployment.
Spencer responded to Jones on Sept. 20, writing the Navy could not change the Defense Department rule, but could address the waiver process that also stopped Kent's request.
Kent was part of a small, secretive cryptologic intelligence community. She was based out of Fort Meade, Md., and part of the Navy's Cryptologic Warfare Activity 66, a unit within Cryptologic Warfare Group 6 that focuses on national, strategic and tactical level intelligence, military officials have said.
She was killed doing intelligence legwork as part of larger efforts to track remnants of ISIS, her husband said.
Kent was due to return to the United States by April and hoped to attend Officer Development School in June followed by academic studies as part of her commissioning program in August.
Last year, the Navy essentially disqualified Kent from pursuing her doctoral studies because she had thyroid cancer in 2016. The thyroid was removed and the cancer was cured that year, followed by several scans showing she was clear of the illness, her family said.
"If we are healthy enough to deploy worldwide, why are we not healthy enough to pursue officer programs?" Shannon Kent wrote in an April 2018 letter to the then-chairman of the Senate Armed Services Committee, the late Arizona Republican John McCain, who died in August.
Last month, Kent's family wrote Moran to ask for his help to change the rule that they contend blocked some enlisted personnel from becoming officers. They had met at Dover Air Force Base in Delaware when Shannon's remains were returned Jan. 19 from overseas.
"After meeting all of you at Dover, it was quite clear to all of us in the Navy and joint force that your deep and abiding love of country and of course for your amazing daughter-in-law were forefront in your minds," Moran wrote the Kent family in the Feb. 5 letter. "Shannon was an inspirational sailor, well-respected, an expert in her field, and a courageous leader, but she was also a beloved mother, daughter and spouse. Her loss brings great sorrow to us all."
A private memorial service for Kent will be held Friday. She is slated to be interred at Arlington National Cemetery in Virginia in the coming weeks.
grisales.claudia@stripes.com Twitter: @cgrisales