'It's worse than ever': Employees of beleaguered Philadelphia VA office vent to visiting lawmakers
---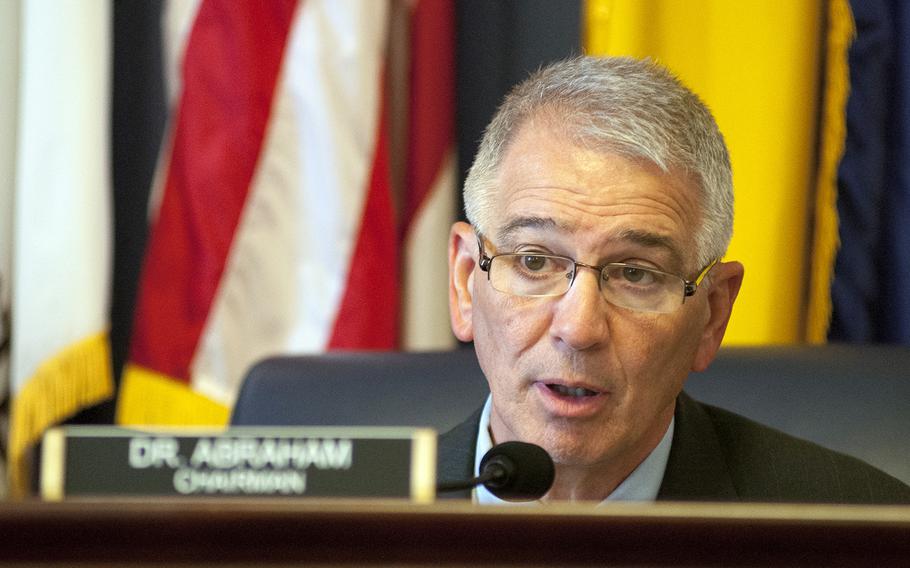 PHILADELPHIA — Two months after testifying to Congress for a third time about the Department of Veterans Affairs Philadelphia regional office, this time about a "revolving door of taxpayer waste," culture of retaliation and improper behavior — like two managers asking workers to pay one's wife to contact the dead — whistleblower Kristen Ruell said little had changed.
"I'm wondering what problems have been fixed," she said Monday, as a bipartisan delegation of congressmen showed up to grill managers about the scandal that has engulfed the office, which oversees benefits to more than 800,000 veterans in three states. "I'm seeing the same things, and it's worse than ever. Employee morale is at an all-time low."
Nine congressman and one senator inspecting the office Monday said they heard a similar message during a closed-door meeting with Ruell and other employees — very different than the upbeat assessment from managers in a separate meeting.
"It seems to me there's a bit of a disconnect between what management is saying and what many people who are working here are saying," Rep. Charlie Dent, R-Pa., said at a press conference outside the office. During the press conference, several lawmakers pointed to an administrative investigation board report expected June 30 that will "name names" of those responsible for the scandal.
"We're going to make some major changes — maybe fire people," Rep. Ralph Abraham, R-La., said in an interview with Stars and Stripes.
Among the other issues employees complained about were ongoing nepotism in hiring and promotion, a continued culture of retaliation and a lack of action taken against leaders responsible for the scandal, according to lawmakers and staff who attended the meeting.
Employees "want to hold the management staff accountable," said Joe Malizia, president of the local chapter of the American Federation of Government Employees, which represents the VA employees. "That's a big word in VA, but it doesn't seem to be in action here."
The VA did not make regional office leaders available for comment. Allison Hickey, the VA's undersecretary for benefits, handed out a press release called "Top 15 Things the Philadelphia and Wilmington Regional Offices are Doing to Improve Service to Veterans, their Families and Survivors" and spoke to Stripes after the employee meeting.
She said that there was still work to do, but that the office had fixed many of the problems laid out in damning findings from the VA Office of Inspector General. The report mentioned tens of thousands of unanswered inquiries from veterans; returned mail, some of which had been there for years; employees working in a decrepit, rodent-infested building; and two senior leaders who were accused of asking employees to pay $35 each to have one leader's wife communicate with the dead.
Both managers have been removed while allegations are being investigated.
Hickey said the office has reduced its backlog of benefits claims, resolved all but four cases in which veterans were getting double payments, and relocated all of the employees in the infested building to the office's main building.
"Today, despite all of the things that were identified in the IG report, this regional office has done an awesome job," she said. "Though we know and we own that we have some work to do on these 35 initiatives. ... I think that we are on the right path."
Hickey called out Congress, saying lawmakers have not done enough to help the VA add positions to the woefully understaffed, overworked department.
But Hickey has taken heat for some of the problems, after picking Diana Rubens as director of the office. Rubens has come under scrutiny by the IG for receiving a nearly $300,000 relocation package to move from Washington, D.C., to Philadelphia. Hickey defended her director and the moving package, which Hickey said is available to every federal employee.
"I do see her as part of the solutions," she said. "I sent her here because I needed one of the singularly most mature, experienced leaders I could find in our system."
Some lawmakers have disputed Hickey's point about the compensation package, saying the program is designed as an enticement for positions that are hard to fill, pointing out that Rubens has close family in the Philadelphia area and didn't need lucrative perks to bring her to the city.
The issues with the Philadelphia office are part of a more than yearlong scandal that has embroiled the VA and cost its former secretary, Eric Shinseki, his job. A parade of whistleblowers has come forward from VA medical centers and offices from around the country to report patients dying while on secret wait lists, abusive bosses, unsafe practices and gross mismanagement of veterans' claims. Current VA Secretary Bob McDonald has vowed a massive reorganization of the second largest department in the federal government and a change in a culture that many have described as "toxic."
druzin.heath@stripes.com Twitter: @Druzin_Stripes
---
---
---
---