House VA committee's top Republican will not seek reelection
by
Steve Beynon
January 3, 2020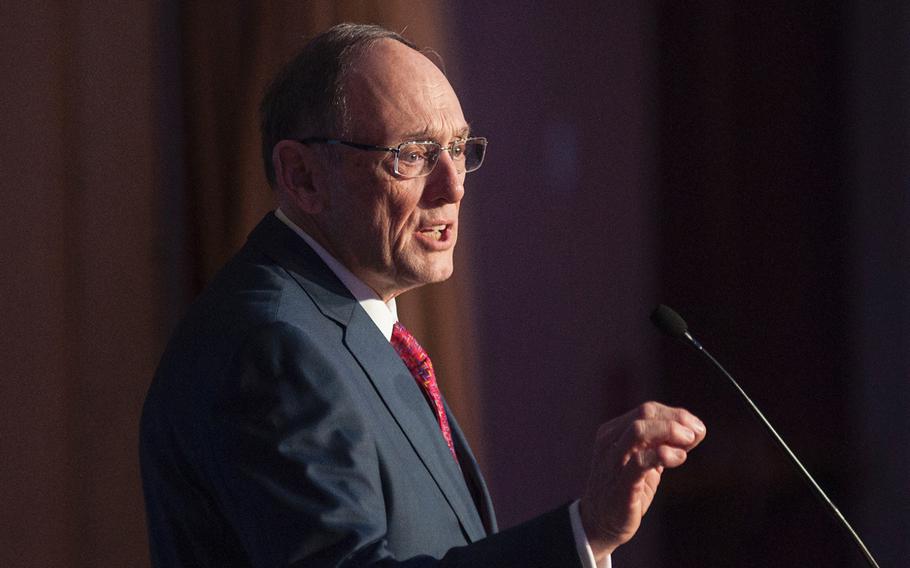 WASHINGTON — Rep. Phil Roe, the ranking Republican of the House Committee on Veterans' Affairs, announced Friday that he will not seek another term in Congress.
"As someone who practiced medicine for over 30 years, I said I would serve five or six terms because I never intended this job to be a second career. After prayerful consideration, I have decided to retire at the end of the 116th Congress," Roe said in a statement. Kathleen McCarthy, a spokeswoman for Roe, declined to comment further on the reason for his retirement.
During Roe's time on the VA committee, the Tennessee congressman played a critical role in high-profile legislation on veterans care including the Mission Act, a landmark effort to help veterans seek care outside VA facilities. He said he will finish his current term, which ends in January 2021.
"As a veteran, I was honored to be selected to chair the House Committee on Veterans' Affairs in 2017," Roe said. "I had one, three and six-year legislative goals for the committee: to increase access to care, improve the electronic health records system, review VA assets to ensure an effective use of resources, and bring true accountability to the department."
With the ranking member's departure, the VA committees in both chambers of Congress will see new Republican leadership. It was unclear Friday who will take the top GOP seat on the House VA committee. The rising suicide rate among veterans and the health consequences of burn pit exposure will be some of the top priorities of the committee, according to multiple lawmakers. Sen. Johnny Isakson, R-Ga., chairman of the Senate VA Committee, retired at the end of 2019 due to his battle with Parkinson's disease. Sen. Jerry Moran, R-Kan., is slated to take over the GOP-led VA committee in the Senate.
"I never could have imagined that we would accomplish all that in my first term leading the committee — in large part because of the leadership of President [Donald] Trump," Roe said. "In particular, I was proud to author the Mission Act — a transformative piece of legislation to ensure veterans have the ability to receive the best possible care now, and in the future — and the Forever GI Bill — to ensure veterans never lose access to the education benefits they have earned."
At least 25 other Republicans are retiring at the end of the 116th Congress in January 2021, compared with nine Democrats, according to congressional data.
Roe, 74, previously served as chairman of the VA committee before Democrats took majority control of the House in 2018. He represented one of the country's most reliably Republican districts, Tennessee's First District, which has had a Republican in office since 1881.
"Great man. A doctor and veteran himself, he was the leader HVAC needed when veteran health care access was at a crisis point," said Joe Chenelly, AMVETS executive director. "His dedication and knowledge will be missed on the committee and very tough to replace."
Roe earned a degree in biology with a minor in chemistry from Austin Peay State University in 1967 and went on to earn his medical degree from the University of Tennessee in 1970. After graduation, he served two years in the Army medical corps. Before serving in Congress, Roe was mayor of Johnson City, Tenn., from 2007 to 2009. He also ran a medical practice for three decades as an OB-GYN, according to his office.
In 2017, Roe was diagnosed with early-stage prostate cancer but later announced that he was cancer free.
"Congressman Roe has been a staunch supporter of our veterans, service members, military families, and the Veterans of Foreign Wars throughout his career as both a veteran and public servant," said VFW National Commander William "Doc" Schmitz. "Today, we thank Congressman Roe and his wife, Clarinda, for their outstanding service to the state of Tennessee and our great nation. Without him, the Mission Act, Forever GI Bill and other significant legislation may not have been achieved for our nation's heroes."
Beynon.Steven@Stripes.com Twitter: @StevenBeynon