House lawmakers argue proposed change to food stamps would harm veterans
by
Nikki Wentling
October 3, 2019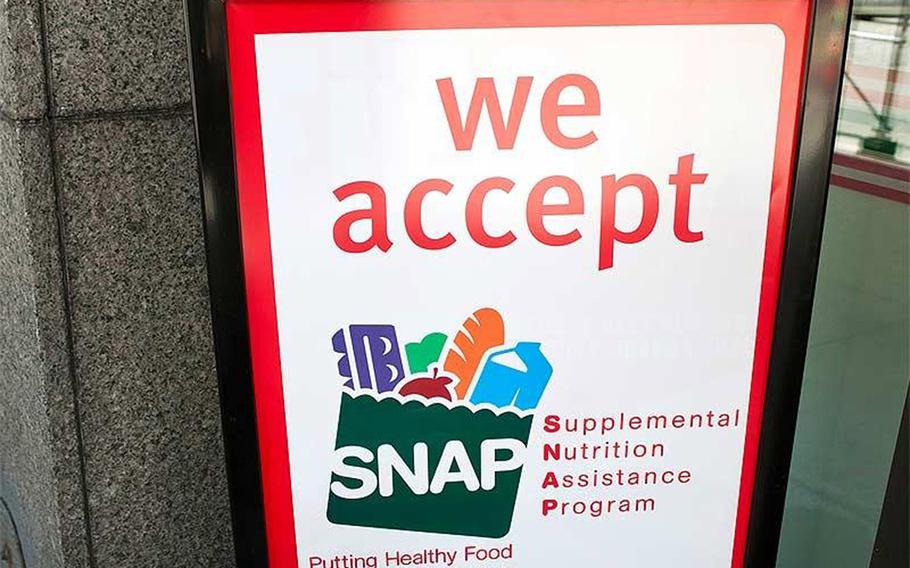 WASHINGTON — Veterans could be disproportionately harmed by potential changes to the Supplemental Nutrition Assistance Program, also known as food stamps, a group of Democratic House lawmakers argued Wednesday.
President Donald Trump's administration is proposing changes to SNAP that would result in an estimated 3 million people losing food assistance — a savings of $2.5 billion each year, according to the U.S. Department of Agriculture.
Thirty-nine lawmakers signed onto a letter Wednesday to Agriculture Secretary Sonny Perdue, arguing the veterans on SNAP could be negatively affected. They pleaded with Perdue to withdraw the proposal.
"USDA should be doing more to increase SNAP participation for veterans who experience food insecurity, rather than proposing new restrictions that worsen hunger among those who have made great sacrifices for our country," they wrote.
Rep. Mike Levin, D-Calif., orchestrated the letter. He serves as chairman for the subcommittee on economic opportunity, which is part of the House Committee on Veterans' Affairs. It was also signed by Rep. Mark Takano, D-Calif., chairman of the full committee.
The Democrats asked the USDA to send information about how many veterans would be impacted by the proposed changes. Based on previous studies, the lawmakers argued it could be disproportionate to the rest of the population.
They cited a 2018 study from the Center on Budget and Policy Priorities, a progressive think tank, that found nearly 1.4 million veterans live in households that receive food assistance. Florida was found to have the highest number of participating veterans at 120,000. Oregon had the highest percentage of its veterans on SNAP, with 13 percent.
Democrats also cited a study from the Department of Veterans Affairs in 2015 that found high food insecurity among Iraq and Afghanistan veterans.
"Previously undocumented, the problem of hunger among our newest veterans deserves attention," the VA wrote at the time.
In July, the USDA first proposed to remove what the agency described as a "loophole" that allows states to raise the income level for food assistance eligibility. The federal policy, known as "broad-based categorical eligibility," gives states flexibility to consider local economic factors.
Perdue said in a statement that the policy "has been used to effectively bypass important eligibility guidelines."
"Too often, states have misused this flexibility without restraint," Perdue said. "That is why we are changing the rules, preventing abuse of a critical safety net system, so those who need food assistance the most are the only ones who receive it."
The proposed rule change was posted to the Federal Register in July. A public comment period about the change ended in September.
The Democrats called on Perdue to drop it.
"Restricting categorical eligibility would make it more difficult for veterans to qualify for needed nutrition assistance through SNAP, thus putting their health and well-being at risk," they wrote. "We urge USDA to withdraw this proposal, which would take our country in the wrong direction in terms of caring for America's veterans."
wentling.nikki@stripes.com Twitter: @nikkiwentling
---
---
---