GALLERY
Healing at new heights: Winter sports clinic helps vets mend minds, bodies
---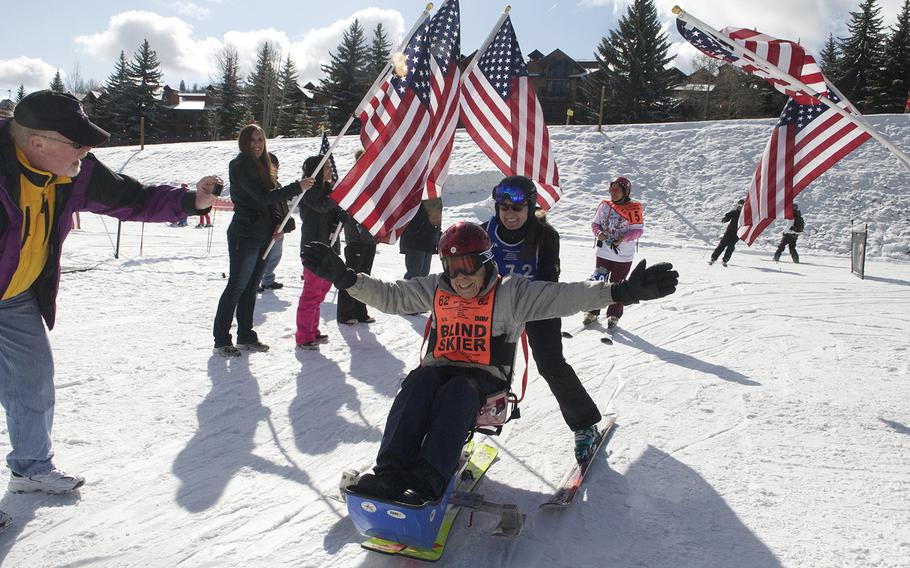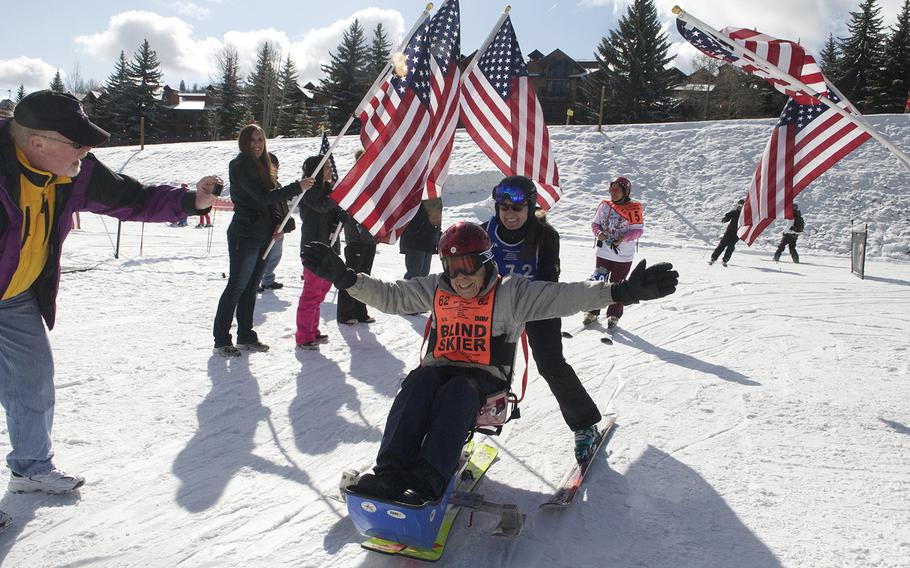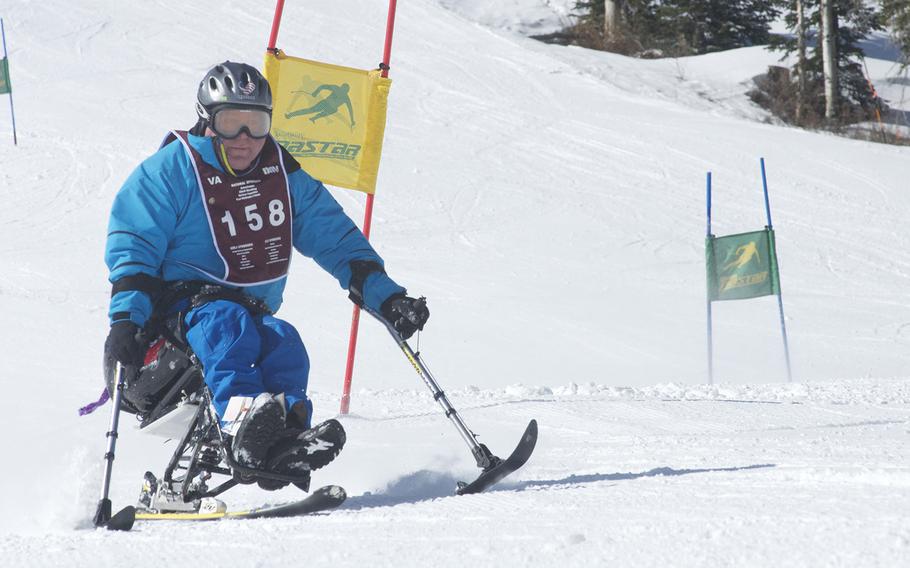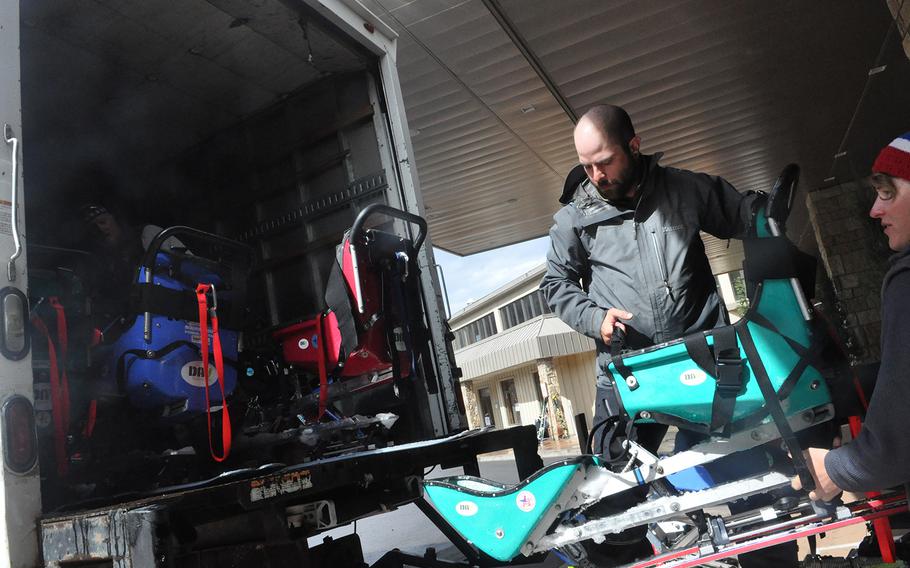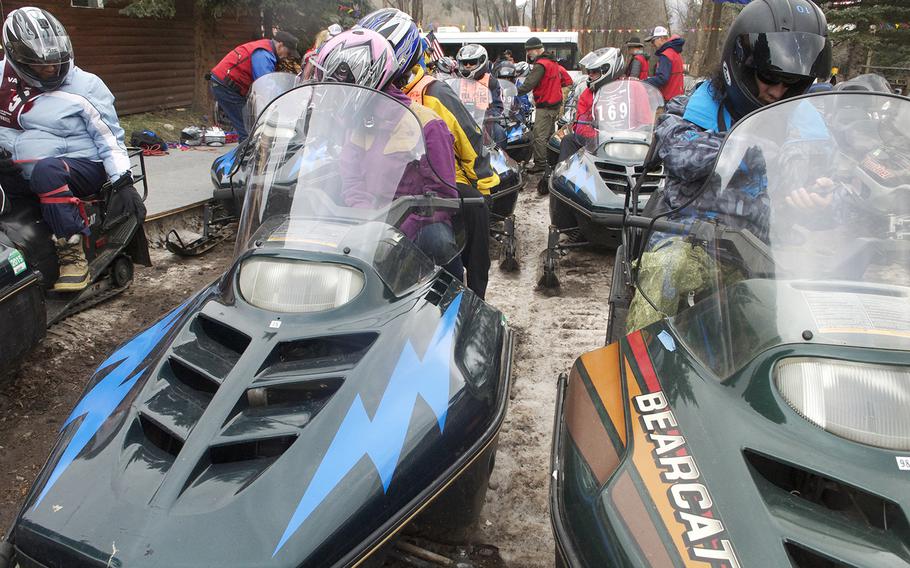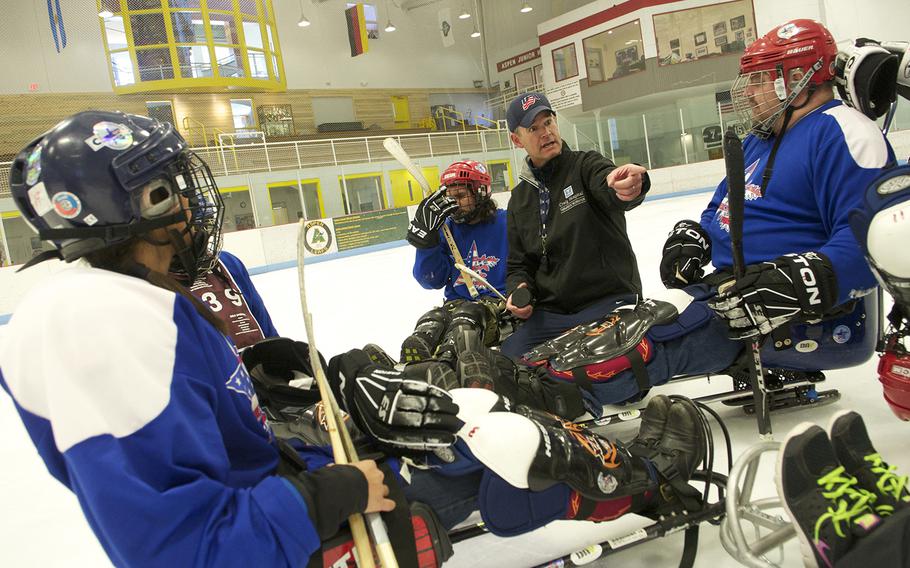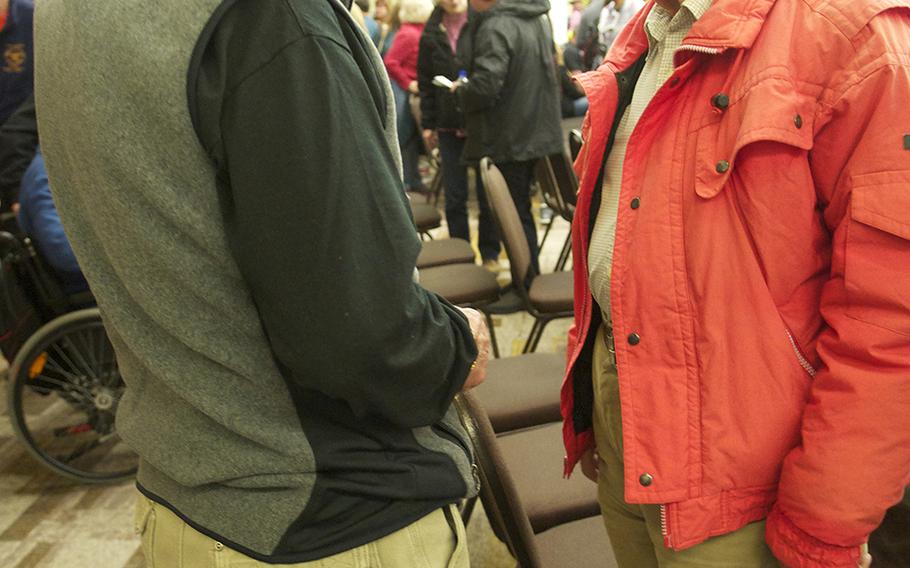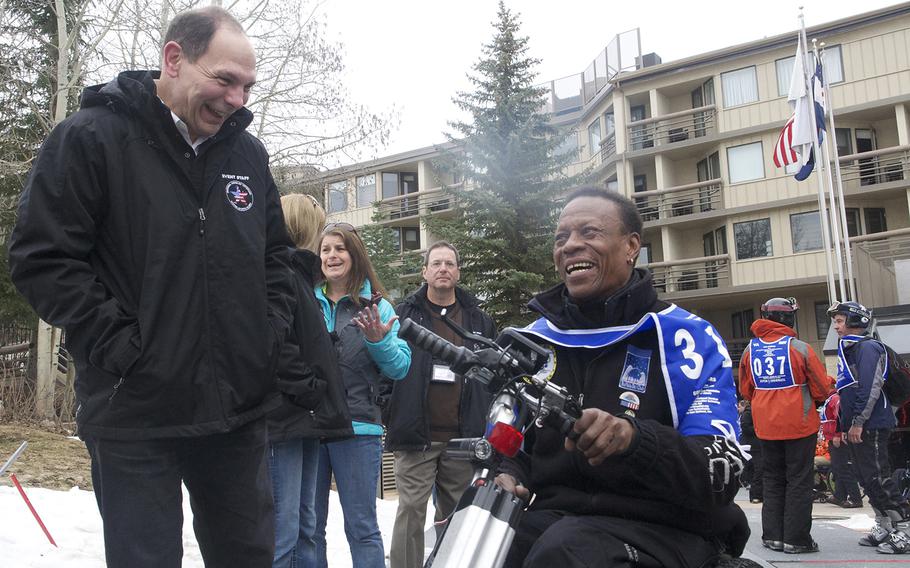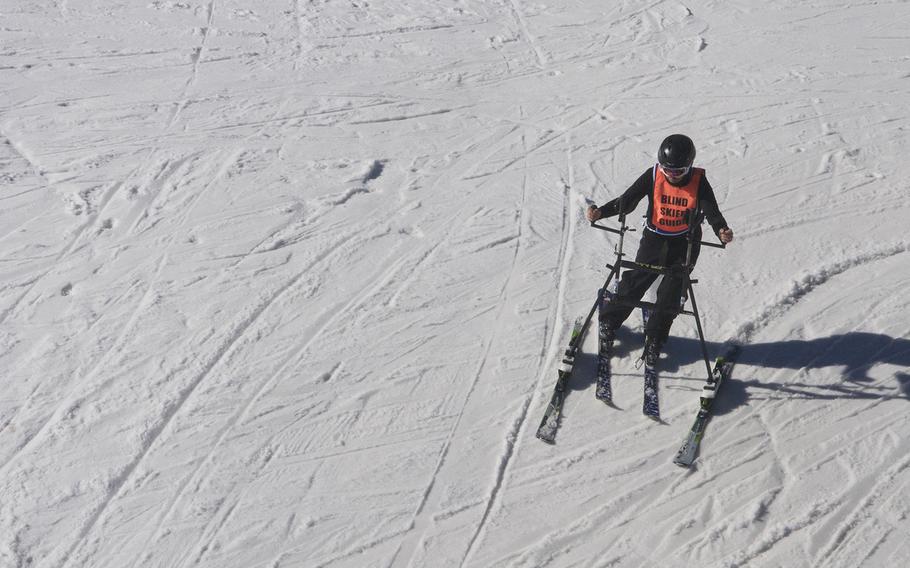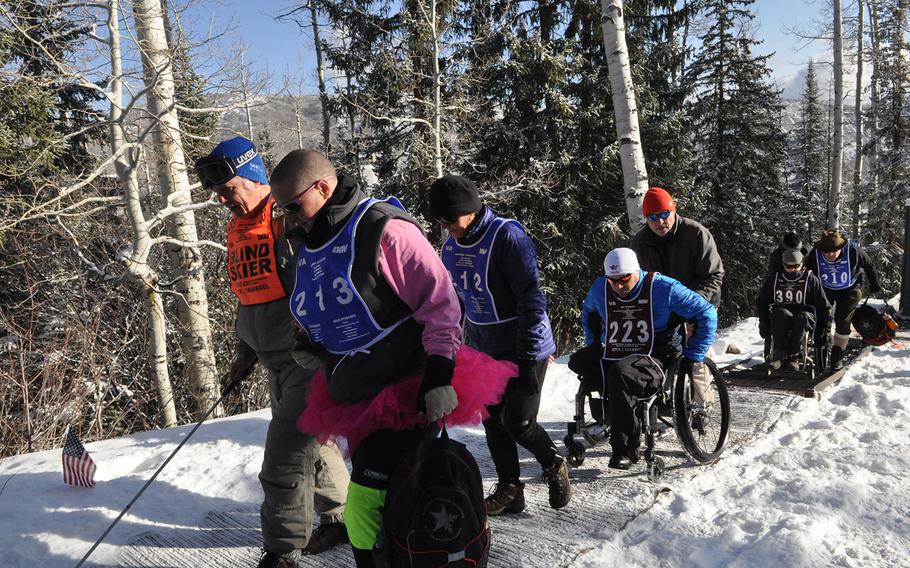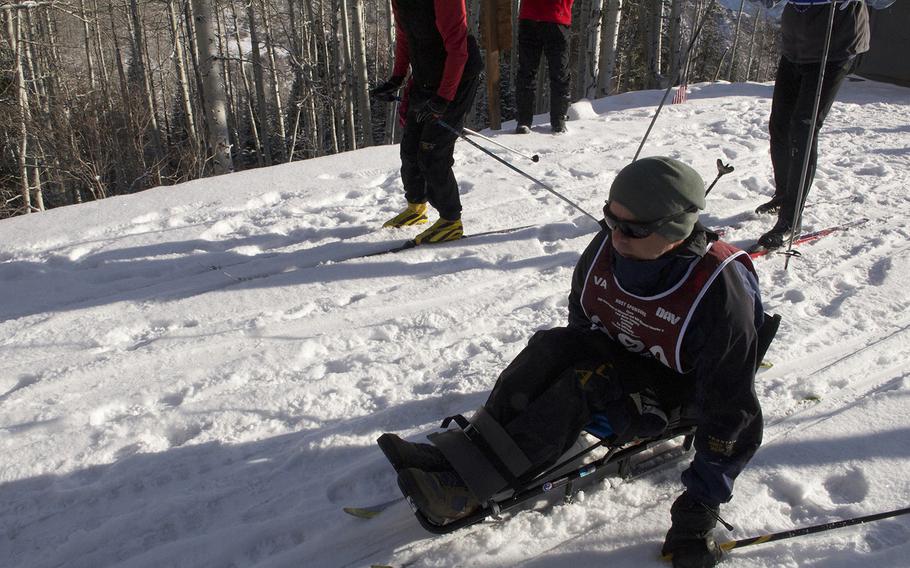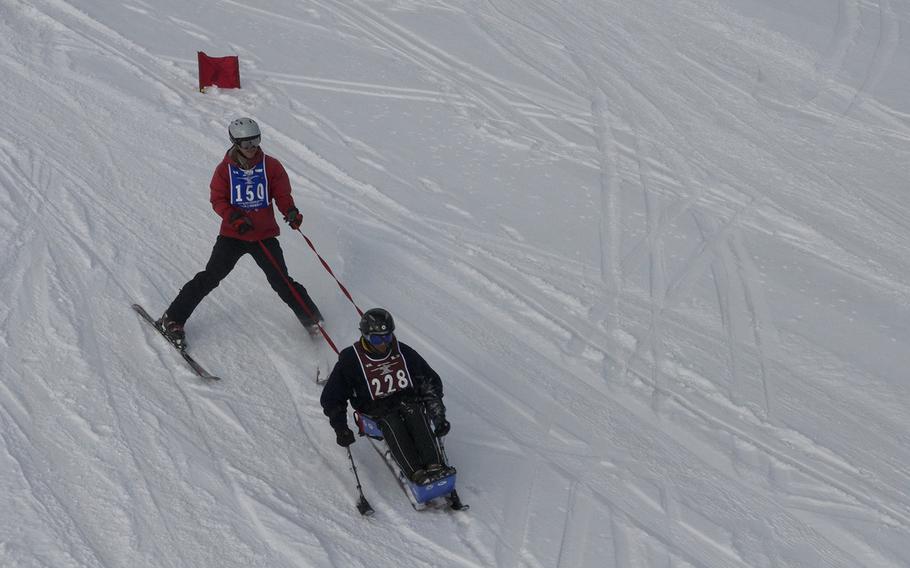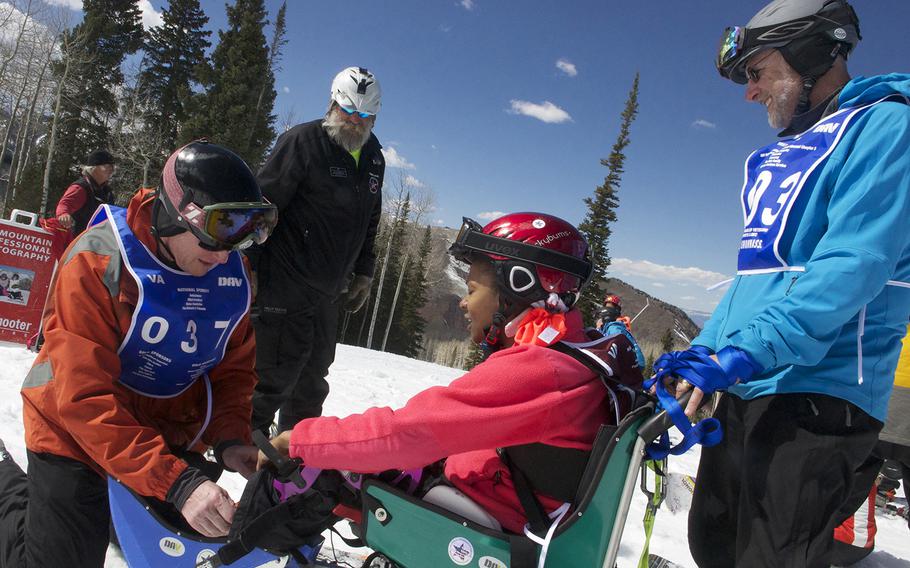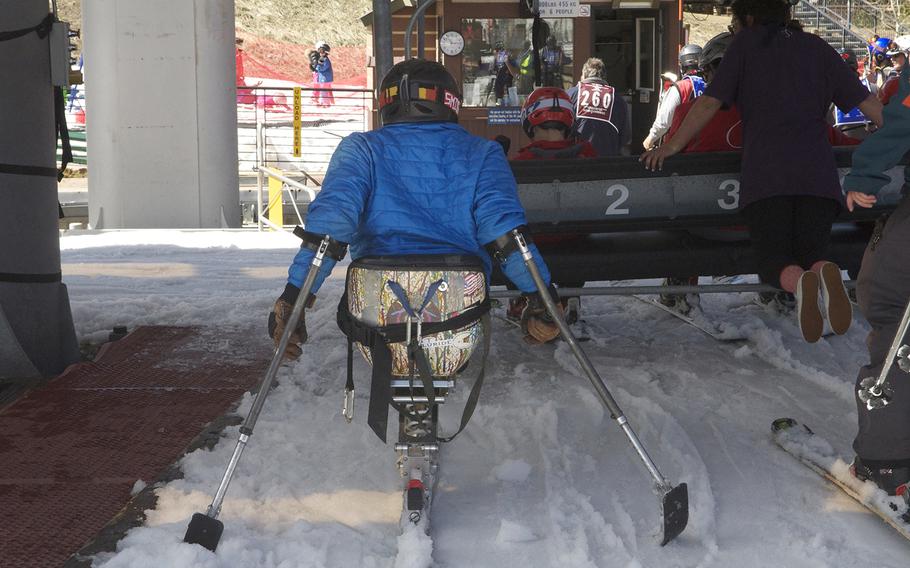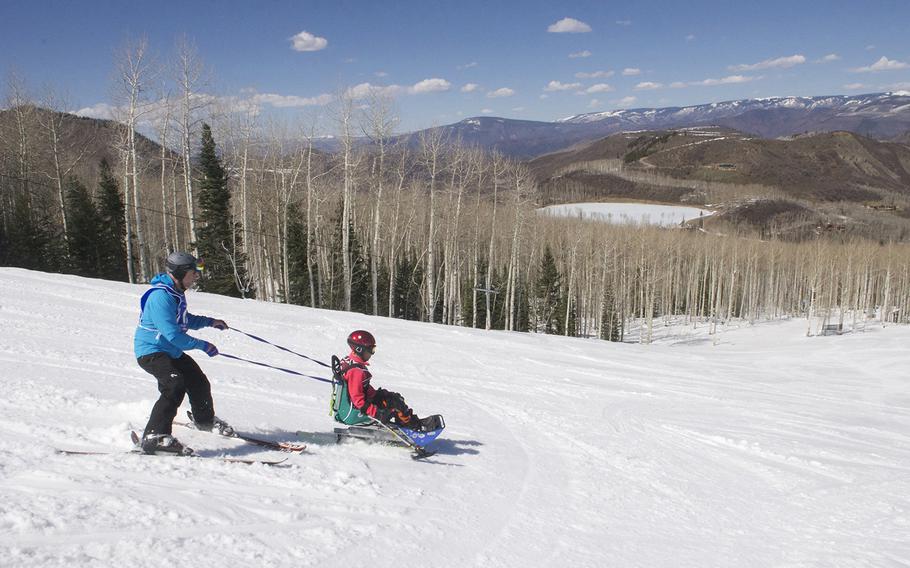 SNOWMASS VILLAGE, Colo. — Each spring, two miles high in the Colorado Rockies, the Aspen Snowmass resort becomes an open-air rehabilitation clinic for disabled veterans, for whom simply surviving is no longer enough.
With the sun glinting off the snow and a panorama of craggy peaks, hundreds of veterans gathered at the National Disabled Veterans Winter Sports Clinic this year for six days of lift-serviced medicine.
"It gives you your breath back," said Shanda Taylor-Boyd, a 53-year-old Army veteran who suffered a serious brain injury in a car accident 11 years ago and now comes to Snowmass every year to ski with fellow vets.
Here, the "new normal" for severely injured veterans is simply normal — for one week there is only encouragement to do more, rather than concern about what they can't do. This year, disabled veterans skied, snowboarded, kayaked, played hockey and scaled climbing walls.
The clinic represents the striking contemporary reality for disabled veterans, the bittersweet fruits of improved battlefield care and technology that mean many more survive horrific injuries. And many expect more out of their post-injury lives.
Each spring, more than 300 veterans attend the event, which is co-sponsored by the Department of Veterans Affairs and Disabled American Veterans. Some have never participated in winter sports, some haven't tried since their injury and others have been coming here for decades.
For Bill Davenport, a 92-year-old WWII veteran who was a navigator in a B-24 bomber on D-Day, skiing at the free clinic has helped him cope with losing his vision.
"When you get down, there's always someone there to help," he said.
'The best family reunion' More than 50,000 troops have been wounded in action in Iraq and Afghanistan, thousands maimed for life — a staggering toll often obscured by the relatively low number of troops killed in wars that have stretched over more than 13 years. As improvised explosive devices, or IEDs, have become the signature weapon of the post-9/11 wars, amputations and traumatic brain injury are the signature wounds. The Department of Defense estimates that about 1,600 Iraq and Afghanistan veterans have suffered major amputations and 7,600 have severe brain injuries. Tens of thousands more have been diagnosed with less severe brain injuries.
More troops survive than their predecessors in Vietnam and earlier wars, and they don't let their injuries define them. They climb mountains and ski down them, race bicycles, run marathons and sometimes return to active duty. Many credit activity with not only physical health, but a rescue from the depths of depression that often accompany a devastating injury.
"I think of rehabilitation from a physical standpoint, but I also think of rehabilitation from an emotional and a mental standpoint," VA Secretary Bob McDonald has said. "The two are symbiotic — you can't really have one (without) the other."
Theresa Parks first came to the clinic in 1998, while working as a VA recreation therapist, to lead a team of mentors and instructors. She took the full-time post of director in 2003. The wife of a Marine and daughter of a soldier, Parks said she has made life-long friends among the veterans and volunteers who come year after year. She choked up when talking about her nearly two decades at the clinic.
"This is the best family reunion I ever go to," she said. "You just don't come here and get this experience and not want to continue to do it forever."
In addition to an emotional lift for participants and volunteers, the clinic is a hands-on laboratory for the rapidly changing technology that allows more severely disabled veterans to participate in a growing number of activities. Relatively simple shortened hockey sticks with metal cleats on one end allow paralyzed athletes to push across the ice; sit-down skis have advanced suspension. Veterans and winter sports industry leaders use the clinic to test new advances. This year, a triple amputee tried out a custom prosthetic arm he had made to allow him to hold an outrigger ski for his sit-down rig.
"We're always working with the industry to make things better," Parks said.
Respect, not pity Dr. Kenneth Lee has seen and experienced the change in care and outcomes for disabled veterans represented at the clinic. The chief of the spinal cord injury unit at the Milwaukee VA Medical Center has treated the wounds of war before and after 9/11. He has a more intimate knowledge than most — Lee was injured during a deployment in 2004, when a suicide bomber rammed his convoy in Baghdad, leaving him with severe shrapnel wounds and a traumatic brain injury.
Too often, he says, people mistake pity for kindness, and someone recovering from a severe injury benefits more from a push. This is especially true for recently injured troops, who have lost physical ability and the basic structure of military life.
"They're used to being soldiers, so let's treat them like soldiers," Lee said. "They don't feel like soldiers anymore. They don't feel like anything anymore."
Lee, who volunteers at the winter clinic and is the medical coordinator of the National Veterans Wheelchair Games, says his experience helps him connect and empathize with wounded veterans. But that doesn't mean he coddles them.
"When they say, 'Can you call a cab for me?' I say, 'What, do your fingers not work?' " he said. "Part of the rehabilitation is for them to become independent."
That's the kind of confidence that clinic participant and Army veteran Joel Hunt got from hitting the slopes after suffering a traumatic brain injury while working as an ordnance disposal specialist in Iraq. When he got into ski racing in 2009, he said, no one bugged him to keep dates and numbers straight or to come up with the right word. All he had to do was fight through double vision to navigate between gates as fast as possible.
"For once in my lifetime, I didn't need someone's help," he said.
Hunt, 36, didn't stop at getting back on skis — he trained hard, made the U.S. Paralympic Team and raced at the 2014 Paralympic Games in Sochi, Russia.
Better care, better outcomes Veterans have also benefited from a major shift in how doctors approach disabilities.
As a VA recreation therapist for 23 years and a clinic volunteer for two decades, Jose Laguna has seen that change. When he first joined the VA, paralyzed veterans would spend six to nine months in the hospital. Now it's four to six weeks.
"The longer you're institutionalized the harder it is to break through that thinking," he said. "We don't want people to get comfortable with the idea of being institutionalized."
For Hannah Nishimoto, an Army veteran and adaptive ski guide who has volunteered at the clinic for 25 years, seeing the metamorphosis that veterans go through in less than a week keeps her coming back. Riding the lift with 88-year-old Eugene Puckett, a WWII veteran who rode a sit-down ski during this year's clinic, Nishimoto said many disabled veterans show up at the clinic having withdrawn from the world, depressed about their limitations.
"It's great to see the spirit unlock in people who have decided to rejoin life," she said.
Therapy for mind and body The transformation starts the first morning of the clinic, when dozens of veterans — some paralyzed, some missing limbs, some with unseen brain injuries — line up to be paired with guides and adaptive skis. Many use the sit-down variety, a high-tech plastic seat with one or two skis underneath connected by a suspension system, and specially trained guides teach them how to control the rigs.
Rhonda Akers, an Army veteran from Oklahoma who has multiple sclerosis, has been coming to the clinic for 20 years. She was beaming as she prepared for a sit-down cross-country ski race. She said her annual week in Colorado is therapy for the mind as much as the body.
"You come here and you get rejuvenated — you're ready for another year," she said.
Unlike when he first came to the clinic 14 years ago, Jake Hipps, a 59-year-old paralyzed Marine veteran, doesn't need much help anymore. He tore down the mountain while making smooth, arcing turns in his "bucket," as adaptive skiers refer to the sit-down skis. Hipps said the confidence he gained from learning to tackle the mountain reverberated well past the week of the clinic.
"It allows you to go back home and think about the other things you can do," he said. "You stop sitting around watching TV."
druzin.heath@stripes.com Twitter: @Druzin_Stripes
---
---
---
---