Four decades later, Vietnam veteran receives Bronze Star
by
Joe Gromelski
April 21, 2012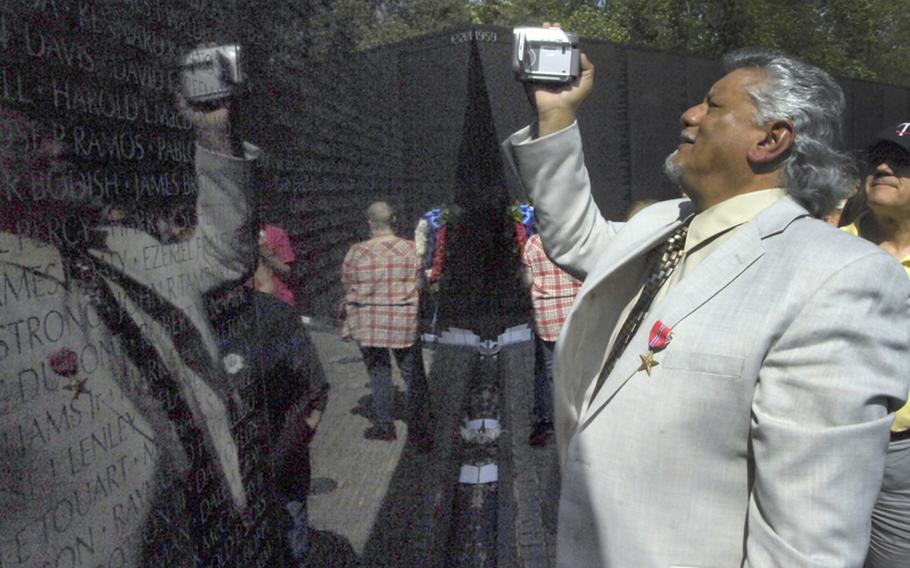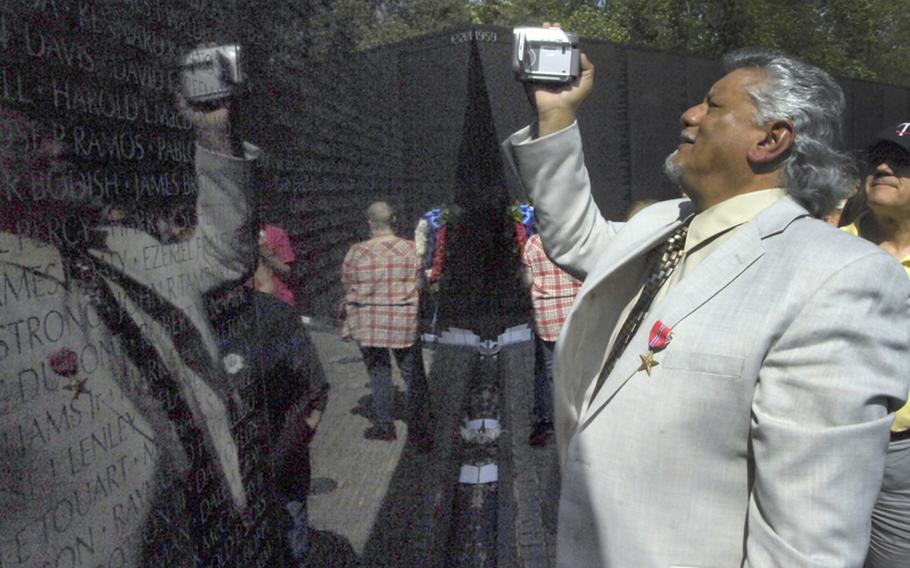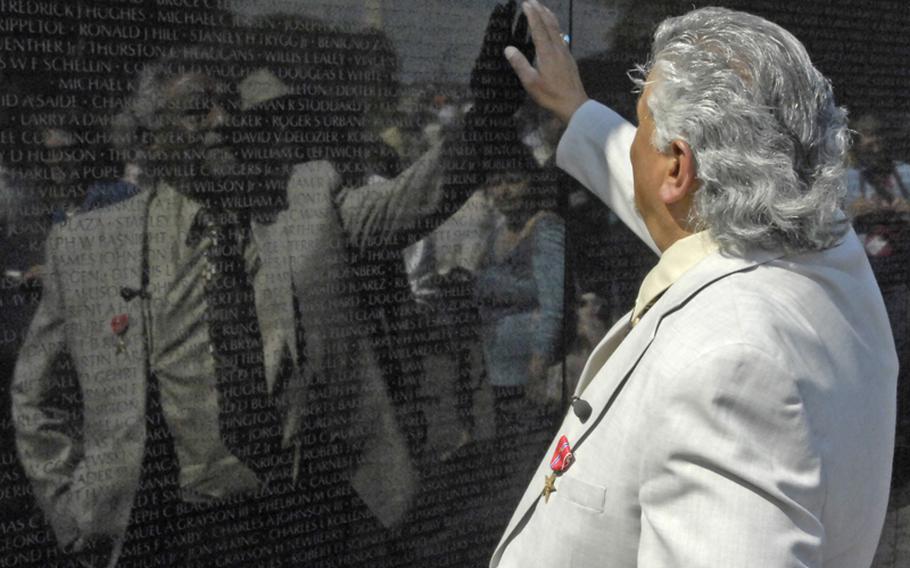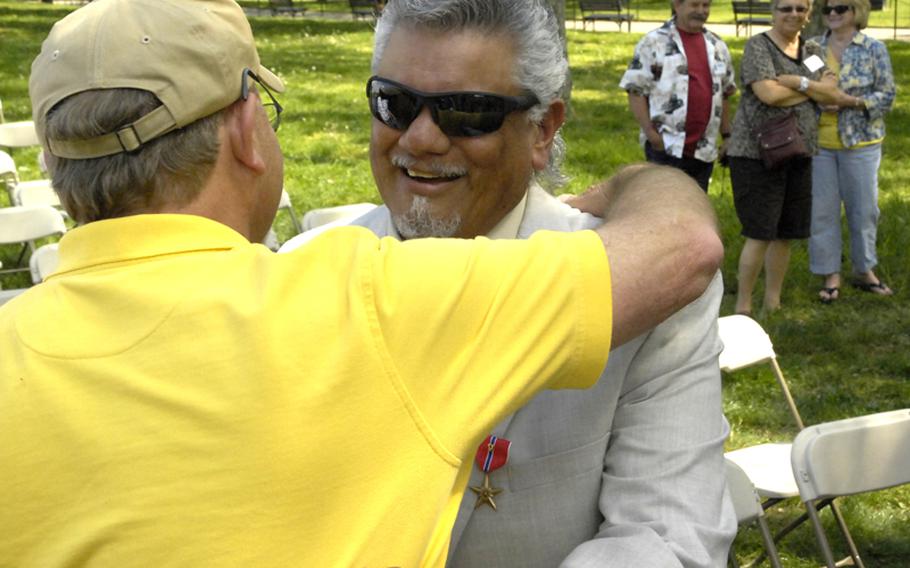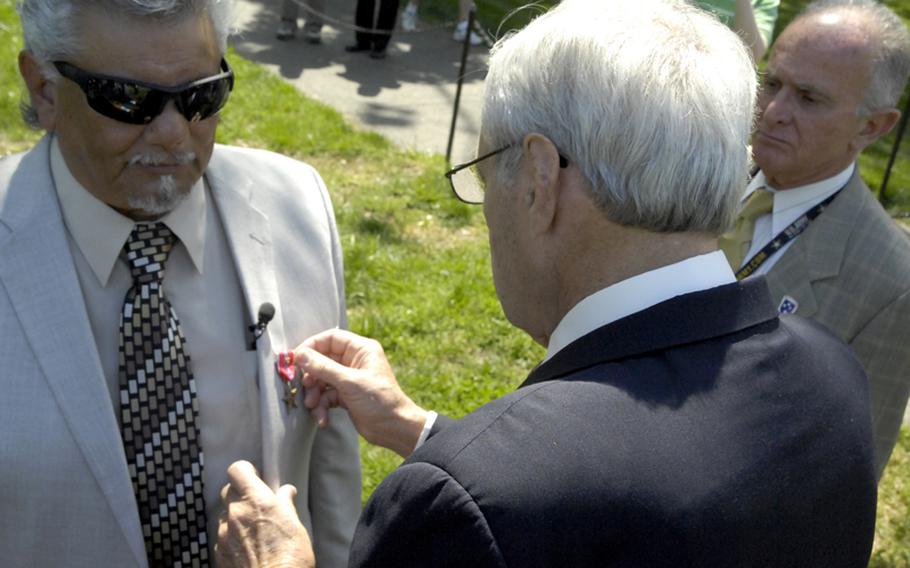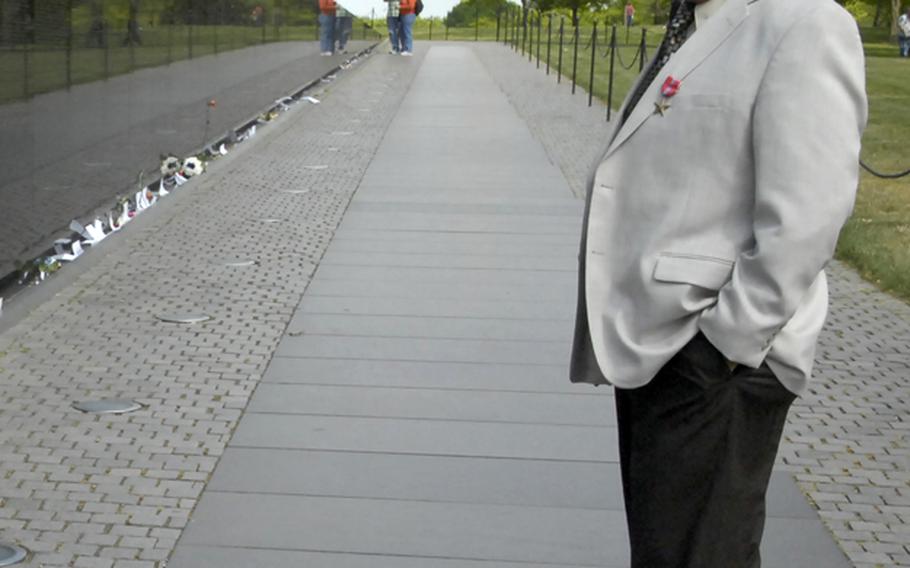 WASHINGTON — As he was belatedly honored for his actions in a battle near Duc Pho, Vietnam, 42 years ago, Antonio Martinez chose to put the focus on fellow soldiers who never made it home.
"I lost a brother that day," Martinez said Friday after receiving the Bronze Star with "V" for valor in a ceremony at the Vietnam Veterans Memorial. "His name was Joe McNett. Joe saved my life that morning.
"Joe and I had shared a meal right before we went out on patrol. As we were getting ready to go out on patrol, he asked me to trade places with him. And, well, I'm here and his name is carved on the Wall, with two other brothers, Cpl. William Reed and Pfc. David Nudenberg. They also lost their lives that awful day."
Friday's ceremony was held in conjunction with a reunion of "Big Bad Bravo" — Company B, 4th Battalion, 21st Infantry Regiment, 11th Infantry Brigade, Americal Division. And it came after a three-year effort that started at a gathering in St. Louis, when John Iappini, the company commander at the time of the Nov. 12, 1970, battle, heard the story of Martinez's bravery. He and other members of Company B began collecting evidence and submitting paperwork, and with Congressional help from Rep. Lloyd Doggett of Texas and Massachusetts Sen. John Kerry, among others, Texas resident Martinez was finally recognized.
On Friday, Iappini, too, remembered McNett.
"On one arm he had a tattoo in the form of a confederate flag," Iappini said. "So we all assumed he was from Mississippi, and we called him 'Mississippi Kid.' We found out years later ... that he was from Iowa.
"What it speaks of is, in Vietnam we all thought we knew each other, but we were afraid to get to really know each other because we never knew whether we were all going to come back to the States. We just didn't know." So reunions like this week's enable the veterans to "finally get to know each other and get reacquainted with our old friendships."
The Bronze Star citation from Secretary of the Army John McHugh was read by Vernon Sones, who served as 4th Battalion commander during its stand down in 1971.
"Spec. 4 Martinez displayed exemplary bravery by exposing himself to heavy enemy fire in order to help evacuate wounded soldiers," the citation said. "His calm and quick thinking in a chaotic environment enabled him to assess the situation and make critical decision. Spec. Martinez moved through enemy mines to collect the remains of several soldiers."
---
---
---
---