Family seeks damages after veteran's suicide inside VA mental health unit
by
Nikki Wentling
August 21, 2020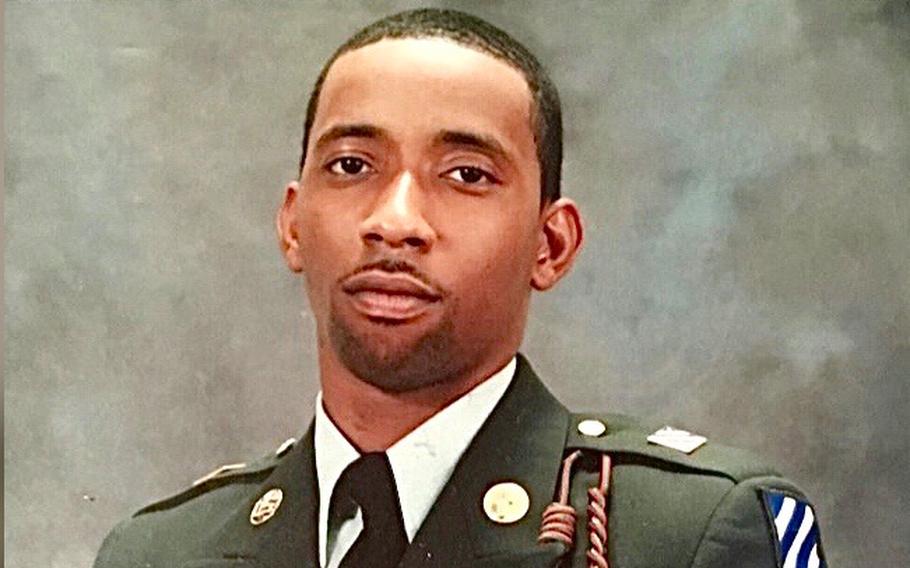 WASHINGTON — The family of Sgt. Brieux Dash, a veteran who died by suicide in a Department of Veterans Affairs mental health unit last year, filed a claim against the VA on Friday, arguing that the agency's "deliberate indifference" and "complete disregard for patient safety" contributed to Dash's death.
Dash, 33, hung himself March 14, 2019, on a door in the locked mental health unit at the West Palm Beach VA Medical Center. His death prompted an investigation by the VA Office of Inspector General, which found unsafe practices in the unit.
Managers of the unit didn't pay enough attention to training requirements, the IG's office wrote in its report. There was also a lack of oversight from regional and national offices, as well as staffing issues, inoperable cameras and too much time between nurses' safety rounds. In addition, no one had recognized the risk posed by corridor doors.
Dash's wife, Emma, and their three children, ages 17, 15 and 5, are pursuing wrongful death claims under the Federal Tort Claims Act "because the VA breached its duty to provide Brieux with a place of safety and prevent his suicide," reads the claim, filed Friday by Bertling Law Group.
Dash was an Army veteran who had deployed twice to Iraq, once in 2007 and again in 2009. He had a 50% disability rating with the VA for his depression and post-traumatic stress disorder.
"Brieux had a difficult time transitioning to civilian life," the claim reads. "The realities of war made him a different man."
He attempted suicide twice before, once in 2016 and again March 11, 2019. After Dash tried to use a belt to hang himself March 11, his wife called emergency responders, who took him to the West Palm Beach VA. Emma Dash worked as a pharmacy technician at the VA hospital and told officers that's where he should go.
"She now experiences deep remorse and guilt for making that recommendation," the claim says.
At the unit — a 25-bed, high-intensity, locked mental health area — Dash was red-flagged as being at high risk for suicide. During his multiple days in the unit, Dash was cooperative, social and sleeping and eating well, the IG reported. He agreed to take prescribed antidepressants and was eventually designated as "low risk" for suicide.
However, when Dash's discharge was delayed on the fourth day of his hospital stay, he became agitated and screamed that he wanted to go home.
"In a fit of rage, Brieux isolated himself behind the closed door of room 235-1, where he wrapped a self-made noose around his neck and hung himself from the corridor door," Emma Dash's claim reads.
A fellow patient found Dash, who was later pronounced dead in the hospital's emergency room.
Following the IG report last year, the hospital initiated a plan that included more frequent and random safety rounds in the unit. The hospital director told the IG that they would install over-the-door-alarm systems and working cameras.
At the time, the IG's office asserted that hospital leaders deflected responsibility, failed to perform their duties and "lacked awareness of patient safety requirements."
"Facility leaders and managers only started to respond aggressively to longstanding deficient conditions after" Dash's suicide, the IG's report states.
In addition to the unsafe practices at the hospital, Emma Dash's claim says VA employees didn't contact her in a timely manner to plan for her husband's discharge.
"This critically important communication failure resulted in a significant delay of Brieux's discharge and caused further destabilization of his physical and mental condition," according to the claim.
Emma and Brieux Dash met at West Potomac High School in Alexandria, Va., at age 14, the claim says. They had their first child in 2002 and were married in 2006, the same year Dash joined the military.
Before his suicide, Dash had recently lost his job and said for several days that he thought his family would be better off if he were dead.
Four days before his hospitalization, he received a notice from the VA, stating that the agency had overpaid him nearly $20,000 in benefits and would be stalling any future payments until the amount was paid. Emma Dash's claim says the letter "sent Brieux into a downward spiral of depression, anxiety, emotional distress and fragility."
The family has "sustained an indescribable loss since Brieux died by suicide," the claim concludes. "The VA should do the right thing by admitting liability and reasonably compensating the estate of Brieux Dash for the damages it has sustained."
Peter Bertling, the family's attorney, planned to file separate claims for Emma Dash and each of the three children.
wentling.nikki@stripes.com Twitter: @@nikkiwentling