Drawing on experience: Veterans' accounts of combat get graphic art treatment in Full Mag
by
Wyatt Olson
February 4, 2020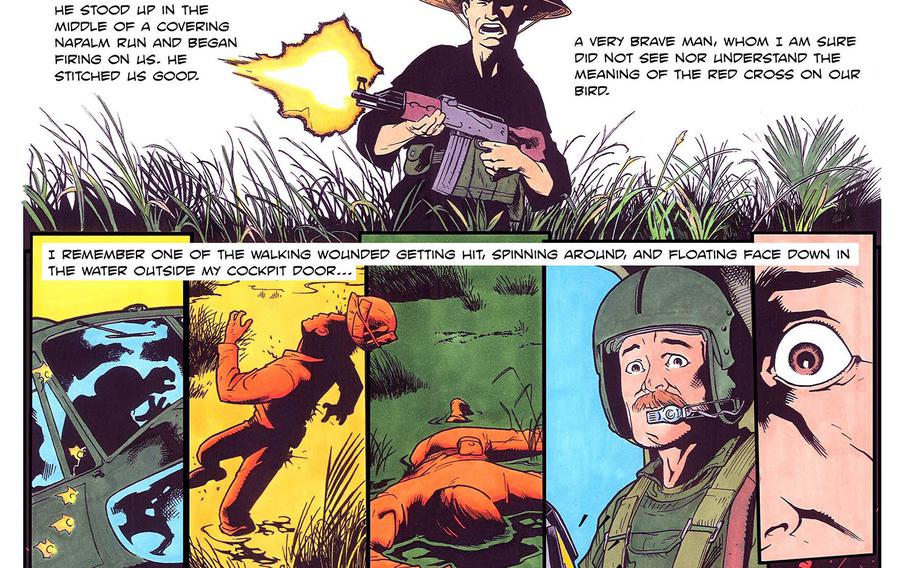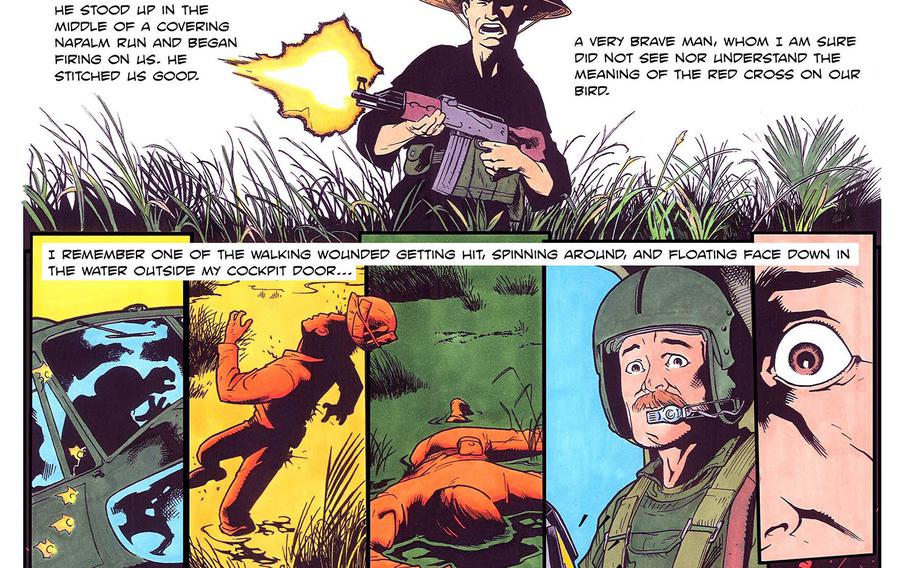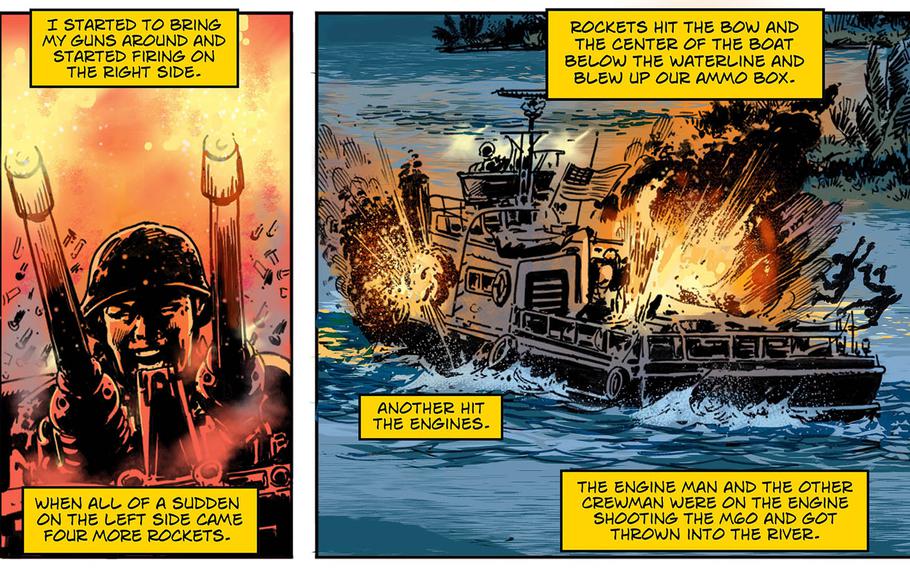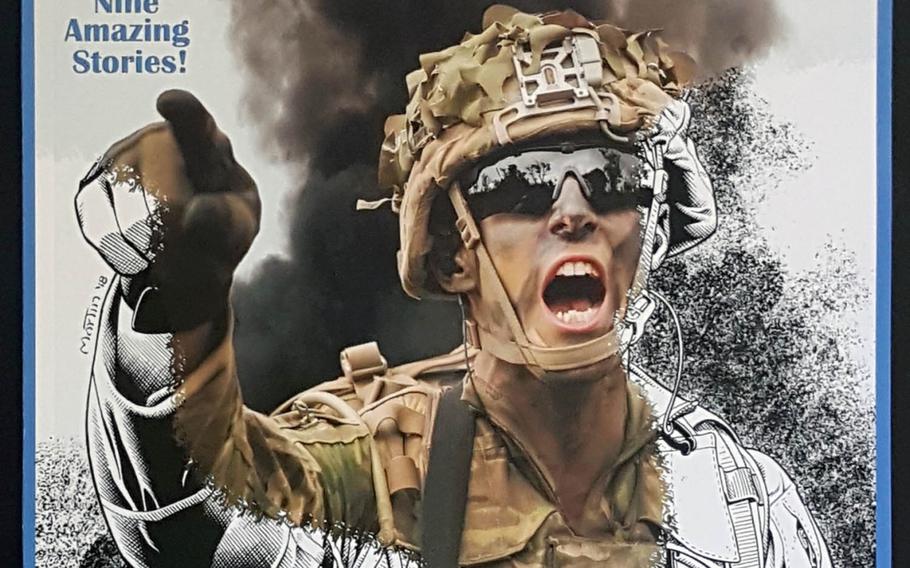 Brian Prahl saw he was flying into big trouble.
Piloting an air ambulance in South Vietnam in 1970, the chief warrant officer was approaching a landing zone near Cai Be and saw an entire company of South Vietnamese troops hunkered behind a dirt mound to avoid enemy gunfire.
Moments after Prahl landed the Huey helicopter, a Viet Cong fighter leapt to his feet out of tall grass and began peppering the chopper and its American crew with rifle fire. A wall of napalm flames suddenly consumed the gunman.
Under fire, Prahl and his crew scrambled to load the wounded onto the chopper. At one point, Prahl hauled a wounded soldier on one shoulder and carried his .38-caliber pistol holster and radio over the other. He stepped into a muck-filled blast crater and found himself neck deep in water. He held onto his patient but lost his gun and radio.
Prahl was later told that he and his crew were being put in for a Bronze Star for their actions that day. That came to nothing, but a few weeks later Prahl received a bill for the pistol and radio he lost in combat.
Prahl's firsthand account of combat is among those told in volume one of Full Mag: Veteran Stories Illustrated, which mixes graphic art and prose in each volume relating veterans' war experiences. The 56-page volume one was published in fall 2017, followed by an 84-page volume two in spring 2019. A third volume is slated for release this fall.
"It's more like a bookazine, if you were looking to categorize it," said August Uhl, the 47-year-old father of three who conceived and edits Full Mag. "It's on par with a thicker comic you'd call a graphic novel — but we don't use the term 'comic' just because of the nature of the content."
First-person narrators The stories come from American combat veterans of wars from World War II through the current conflicts in Afghanistan and Iraq.
"To my knowledge, no one is doing what we're doing, as far as nonfiction, first-person accounts of veterans' stories in this kind of a format," Uhl said during a telephone interview from his home in Bozeman, Mont.
In most cases, stories are based on interviews Uhl conducted with veterans, whose first-person narration accompanies the artwork.
Full Mag features art from a mix of emerging illustrators and top-level talent who have drawn for Marvel, DC and Dark Horse comics.
Volumes are published every 13-15 months, depending upon how quickly stories, art and advertising come together. It takes Uhl more than a year to pull together the advertising, artwork and prose for a single volume, which is printed on high-gloss paper.
He primarily markets Full Mag online at fullmagazinepublishing.com and at gun shows and comic conventions. A single volume sells for about $14.
"I try to pick artists who are going to have a decent attention to detail," he said. "The military audience is going to rip you apart if you have something at all wrong. I've had artists who just don't get that. That's part of the process."
Among the most notable artists is Russ Heath, renowned for his authenticity illustrating military comics, among them DC's 1960s-era "All-American Men of War" and "Our Army at War," the latter featuring the grizzled platoon leader Sgt. Rock.
Heath, who died in 2018, illustrated stories for the first two volumes.
"A lot of the folks I've interviewed have, sadly, passed away," Uhl said. "I was the last person to interview David Thatcher, who was one of the last Doolittle Raiders."
Thatcher, who lived in Missoula, Mont., died in 2016 at age 94.
Cheering beachgoers In a Q&A in volume one, Thatcher described flying over a group of beachgoers as his bomber reached Japan's coast during the April 1942 bombing mission.
"We were flying so low I could see the expressions on their faces," he said.
"They were cheering," he said with a chuckle. "We were over their heads and gone by the time they could recognize the Air Corps insignia on the bottom of the right wing."
World War II veteran Obie Wickersham provides an account in volume two of the harrowing crossing of the Waal River, Netherlands, during the failed Operation Market Garden in 1944.
Wickersham and fellow soldiers of the 504th Parachute Infantry Regiment were ordered to cross the Waal on makeshift plywood-canvas skiffs in broad daylight under withering fire from German defenses.
In a bird's-eye drawing of the boats below, Wickersham narrates: "The river was rough and too many of our boats were out of control. Jenkins was in with Captain Burris in the boat next to mine. He got hit and so did Morris. Jenkins was hanging over the boat and making it go round and round. Morris pushed him out of the boat. We never found his body."
Uhl, an Air Force veteran, works at Montana State University in a sector that provides supply-chain development services to U.S. armed forces.
"I'm not an artist," he said. "I got my degree in history, so I've always had an interest in history and military history. When I was young, I was interested in comics during the comics boom in early 1990s."
The origin of Full Mag began in early 2016 in Uhl's campus office, where his boss noticed framed original art of the Marvel character Sgt. Fury.
His boss suggested promoting some of their sector's products by using similar art.
Working artists Uhl commenced communicating with comic artists for that project, and while reviewing some of their works in progress at home, his wife took an interest in them, he said.
"You should do veterans' stories in this kind of art," Uhl recalled his wife, Elizabeth, saying.
He took her advice.
"So, I decided to go out and start interviewing these veterans," he said. Half the stories in the first two volumes came from veterans living in Montana, allowing Uhl to interview them in person.
Other interviews were by phone, a few by submission.
Uhl is now working on volume three, with artists commissioned for stories about an airman shot down over Italy in WWII who was captured and then escaped; a Marine who fought in the Battle of Saipan; and a Battle of the Bulge veteran who spent time in a German stalag. Other stories are set during wars in Korea, Vietnam and Afghanistan.
Uhl prides himself on paying artists competitive rates for their work.
"I've never had to pay for any of the written content, but I wanted this to sink or swim by paying decent page rates to artists," he said.
"It's part of my philosophy — creating page-paying work," he said. "If I am breaking even, well, I don't see it like that, because look how much work I've created for artists."
He expects it will remain a labor of love.
"There's no way to support a family losing money on graphic novels," he said with a laugh.
olson.wyatt@stripes.com Twitter: @WyattWOlson