Connecting through the generations: A tale of two WWII veterans and one family
---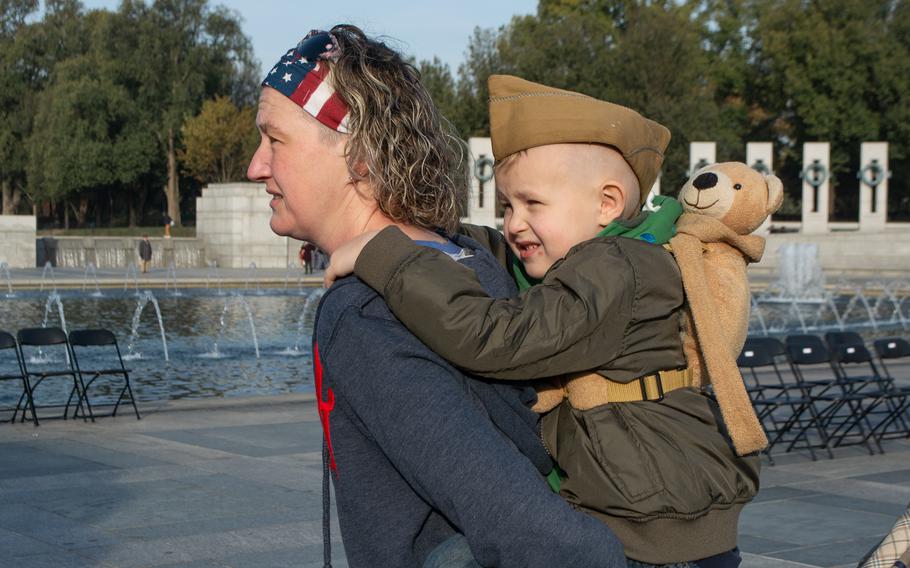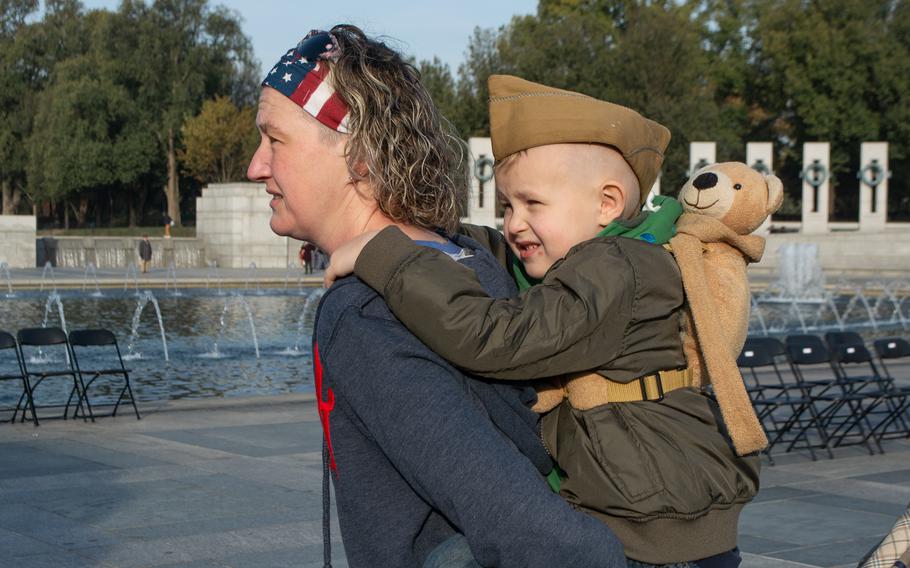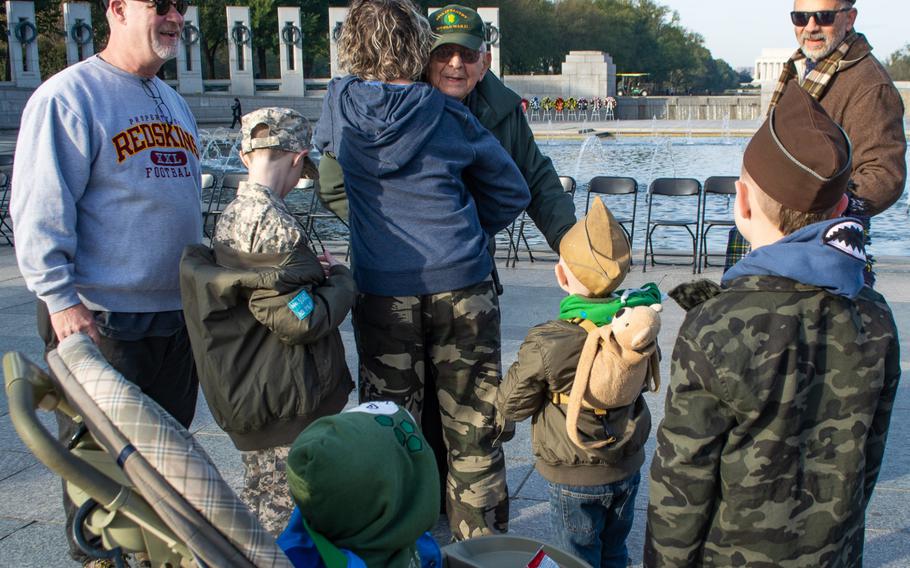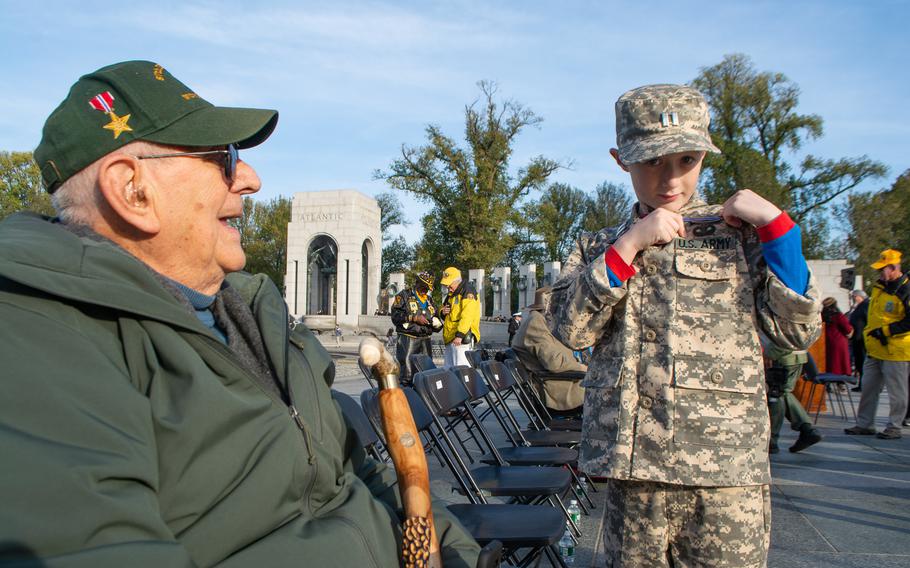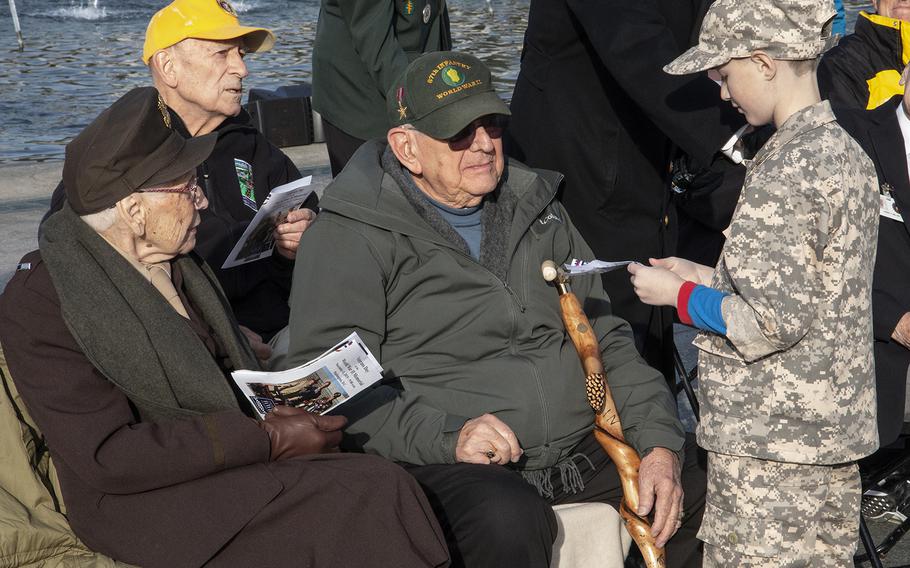 WASHINGTON — A. Russell Hinchee found himself surrounded by the Nazi SS troops in an open field. Taken prisoner, he would just miss participating in the Battle of the Bulge. While he was in the POW camp, his wife divorced him.
Great-grandson Ryder Witherington knows the story well. He recites Hinchee's story without hesitating, even describing the conditions of the camp.
"It wasn't one of the worst ... The Russians freed him and, like, scared all the Nazis away and let him free," Ryder said.
Hinchee made it home from the war and started a new family with a new wife. His granddaughter, Karen Witherington, visited the National World War II Memorial on Veterans Day in 2019 with her family that includes four boys — one of whom is Ryder. There was a ceremony with a "Parade of Heroes" highlighting a dozen living World War II veterans. Ryder's great-grandfather wasn't among them (he died when Karen Witherington was 6), but a friend of the family was: Charles "Bob" Swain.
"When I joined the Division, I was a young man," Swain said. "I joined them in the Battle of the Bulge. It's where I got my first action combat. It was a pleasure to serve. I don't want to talk about the other stuff, it upsets me."
Swain, who was drafted in 1944 and served with the 87th Infantry during the Ardennes and Rhineland campaigns, was excited to be at the memorial. "It's just an honor and pleasure to see people here that you know," he said.
Ryder was sporting various military insignia. He had an authentic Combat Infantryman Badge from Swain; his godfather's captain bars that were worn in Iraq; and his father's jump wings that were also worn in Iraq as part of the 82nd Airborne Division. Two of his younger brothers were wearing Swain's WWII hats as well.
"(Hinchee) didn't speak much about his time as a soldier," Karen Witherington said. "But we found all his Western Union telegrams talking about his capture that had been sent home to his parents. And we have a bunch of his postcards that he was able to write home, and all the writing on them is German (across the top). So it's really cool.
"We found a lot of stuff after he passed, that we were able to piece everything together."
Ryder was with his family — his Gulf War veteran father George, his mother, and his three younger brothers: Rydge, Ryver and Ranger.
"We have a really cool shadow box made," history buff Ryder said. "We also have the flag that was over his casket. We have a picture of him. It looks really really nice."
tibbetts.meredith@stripes.com twitter: @mjtibbs
---
---
---
---