Ahead of 2020 election, lawmakers alarmed over foreign agents targeting veterans on social media
by
Steve Beynon
November 13, 2019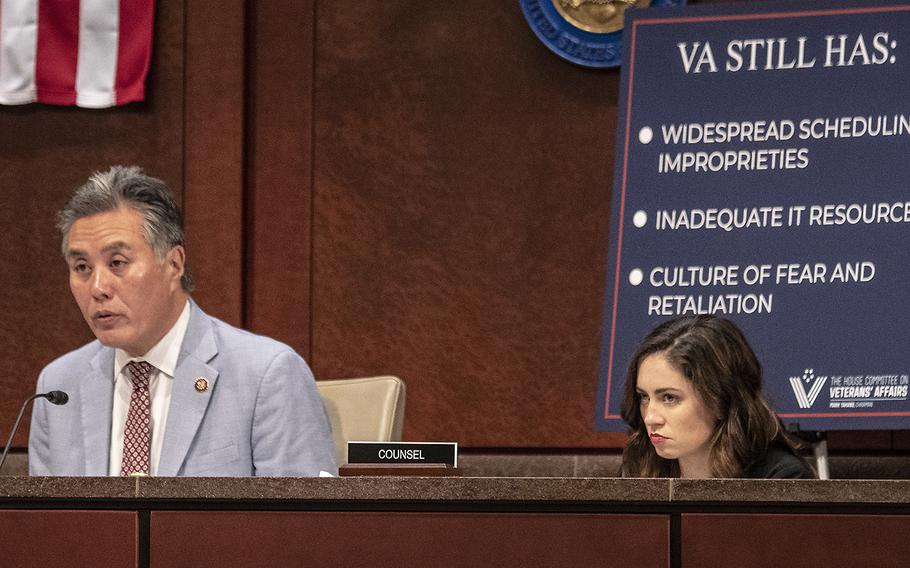 WASHINGTON — Veterans are a key target for online fraud and attempts to meddle in U.S. elections, with bogus web pages and charities aimed at the military community pushing propaganda and disinformation to gin up political discord, tech industry leaders and lawmakers said Wednesday.
"Veterans wield considerable influence and credibility in their communities," said Rep. Mark Takano, D-Calif., chairman of the House Committee on Veterans' Affairs, at a hearing about the issue. "That esteemed trust in our veterans is now being hijacked by foreign imposters online and used to spread harmful disinformation, political propaganda and fake news. Foreign actors are stealing veterans' voices and images in order to influence political opinions heading into an election year."
In September, Vietnam Veterans of America, a nonprofit veterans advocacy group, released a report that found veterans are a big target of foreign agents who spread disinformation, sow political division, attempt financial scams through bogus charities and recruit spies.
Election meddling and disinformation campaigns online have increased since 2016, representatives from some social media giants said Wednesday at the House hearing. Most fraudulent accounts are terminated via automatic tools employed by Facebook and Twitter before any user has a chance to see them, according to representatives from both companies. However, foreign agents are able to operate accounts undetected and potentially interact with hundreds of thousands of people online. Sometimes misrepresenting themselves as legitimate organizations.
"Some bad actors create multiple pages, some of which may represent veterans organizations," said Nathanial Gleicher, head of security policy for Facebook. "Others might impersonate organizations that focus on politically sensitive issues."
The social media representatives told lawmakers that their companies don't have a good way to judge the scope of scams on their platforms or nefarious foreign agents looking to rattle the cage with voters. However, Twitter identified 50,258 Russian-linked accounts tweeting political content during the 2016 election. But those accounts are fewer than 0.02% of total accounts on Twitter at the time, according to the company's data. At the same time, these malicious accounts sent out 2.12 million tweets.
Social media giants such as Facebook and Twitter have made efforts to squash foreign interference, they said. But in general, lawmakers on Capitol Hill have not been satisfied with the tech industry's progress, though social media companies contend it can be challenging picking out propaganda outlets.
"We certainly want to avoid a whack-a-mole situation," Kevin Kane, public policy manager of Twitter, said Wednesday about being careful over who gets banned from the social media platform. "Twitter engages in intensive efforts to identify and combat state-sponsored and non-state-sponsored hostile attempts to abuse our platforms. Our work on this issue is not done, nor will it ever be."
Concerns in Washington go beyond Russian meddling in U.S. elections. According to the VVA's findings, Russians have posed as Islamic State terrorists to intimidate journalists and veteran advocates.
"It's important to note that the military families were not chosen at random," said Kristofer Goldsmith, chief investigator and associate director for policy and government affairs for the VVA, at the House hearing. "One was a reporter at Military.com, the others were prominent members of the community of military and veteran advocates. I want to emphasize this point: Russian hackers who were pretending to be ISIS sent terroristic threats to advocates and reporters."
The VVA had found a foreign-backed social media page with twice the amount of followers than its own page using the veterans group's logo and name. The foreign page posted a plagiarized Stars and Stripes story reporting a proposal from President Donald Trump to cut veterans' benefits to expand access to private health care. The article was basically true, but when foreign agents posted it four months later, the date was altered and the original reporter's byline was removed to make it look more immediate and urgent, in hopes of stirring up aging veterans into a false panic, according to the VVA.
beynon.steven@stripes.com Twitter: @StevenBeynon
---
---
---