A 'perfect storm' of GI Bill problems is costing veterans, taxpayers
by
Nikki Wentling
November 14, 2018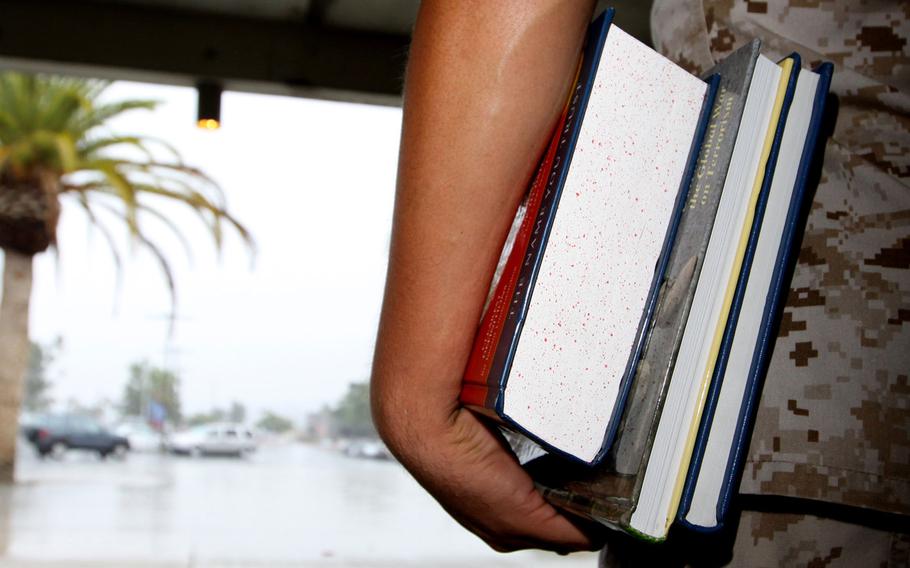 WASHINGTON — Widespread information technology problems at the Department of Veterans Affairs continue to affect thousands of student veterans who have gone without housing payments months into the fall semester.
While it has caused unease among veterans who need the monthly stipends to pay their rent and other bills, the problems are also costing taxpayers. To handle a large workload of veterans' education claims, the VA ordered mandatory overtime and brought on 202 additional employees.
VA officials told the House Committee on Veterans' Affairs that the cost of the overtime has reached about $300,000 each week since Aug. 1, a committee staff member said. That adds up to approximately $4.5 million.
The errors causing the delays haven't yet been fixed.
The House committee is searching for more details this week – about costs to taxpayers, as well as when the problems will be corrected and how many veterans have suffered delays. Lawmakers are scheduled to meet at 4 p.m. Thursday to question VA officials, including Undersecretary for Benefits Paul Lawrence.
"I continue to hear from a number of student veterans who are facing hardships due to VA's failure to implement necessary changes to its system," Rep. Phil Roe, R-Tenn., chairman of the House Committee on Veterans' Affairs, said when announcing the hearing. "It is of upmost importance that we hold this oversight hearing to get to the bottom of this problem."
53,500 outstanding claimsThe problems started when the VA began to implement measures from the Forever GI Bill – legislation Congress passed last year to expand veterans' education benefits. Part of the legislation called for a change to how veterans' housing allowances are calculated. When the VA went to alter its information technology systems to account for the change, the systems failed.
The VA had a deadline of Aug. 1 to implement the change. Student Veterans of America, which pushed for the Forever GI Bill in Congress, foresaw as early as April that there could be roadblocks with the agency's IT systems. That month, the group sent a letter alerting the VA to the potential challenges.
VA officials told the House Committee on Veterans' Affairs in July that there were critical IT errors when testing the new system.
As of now, the agency is still testing its modified software.
The problems resulted in about 450,000 student veterans receiving housing stipends for amounts less than what they're owed. The VA first reported the number of students receiving incorrect payments to be about 340,000.
It became apparent in October that thousands of veterans weren't receiving their housing payments at all.
It's unclear how many veterans in total have been affected by the IT issues. At the beginning of October, about 183,000 claims for education benefits were still pending. Earlier this week, NBC News reported there were still 82,000 outstanding claims. That number had dropped to about 53,500 as of Wednesday, VA Press Secretary Curt Cashour said.
The VA is now taking an average of 15 days to process the claims – not far off from their 14-day goal, Cashour said. Of the claims still pending, 895 are more than 60 days old.
'Perfect storm of issues'Roe sent committee staff to Muskogee, Okla., where some of the claims for education benefits are processed. They met with employees Oct. 24-25 and discovered the IT systems had been "freezing and crashing" since April.
Roe detailed the visit in a letter to VA Secretary Robert Wilkie. During a live demonstration, committee staff saw the system crash five times in a 10 minutes, Roe wrote.
"Tasks that used to take five minutes are now taking 45 minutes," he wrote. "Staff complained about receiving a 'blue screen of death,' a screen that appears when all of the systems lock up."
Roe is concerned senior management within the VA's Office of Information and Technology aren't giving the problems the appropriate attention. When committee staff asked about the problems, they were told by IT staff only that they were "known errors."
"Moreover, [Office of Information and Technology] staff was unable to provide my investigators with a solution or a plan to fix any of the identified IT problems," Roe wrote.
The VA hasn't provided the committee an update about when a new, fixed system is going to be in place.
Now, lawmakers and veterans advocates are looking toward the spring semester, when the VA will receive a rush of new education claims. At the same time, the VA must also go back to all veterans paid this fall – hundreds of thousands of them – and correct their wrong payments.
"Mr. Secretary, I am worried this could set up a perfect storm of issues that may impact student veterans for months to come," Roe wrote.
Lack of communicationRoe has implored Wilkie to get personally involved in the issue – to oversee fixes to the IT systems and better communicate with schools and students about the delays.
But it will be Lawrence who will face lawmakers Thursday, along with two senior IT officials and Robert Worley, director of the VA's education service. Also scheduled to appear is Richard Crowe, senior vice president of Booz Allen Hamilton – the technology firm contracted by the VA to help update its systems.
Now is the time to hear the VA's plan for the spring semester, said Lauren Augustine, vice president of government affairs for Student Veterans of America.
"We really need to pivot to start talking about what they're doing to prevent the same thing from happening in the spring," she said. "Congress needs to come in, too, with what they're going to do to prevent this."
Schools affected by the delays have cited frustration over the VA's lack of communication this semester. Marc Barker, director of adult learner and veterans services at Colorado State University in Fort Collins, said student veterans were flooding his office with questions about the incorrect payments. The VA wasn't communicating with students and hadn't provided the school with concrete answers to share with them.
At East Tennessee State University, Antonio Banchs, the school's director of veterans affairs, said the VA was only sharing "bits and pieces" of information.
Though the VA knew of potential roadblocks as early as April and saw a surge of education claims in August, the agency didn't post a notice on its website about the problems until Oct. 10. It urged veterans facing delays to call the Education Call Center at 1-888-442-4551.
For the spring semester, the agency needs to do better, Augustine said.
"They need to proactively communicate about what schools and students should be doing," she said.
'Positive traction'Lately, Student Veterans of America has witnessed some improvement.
"We are starting to hear more people are getting paid. We've been seeing that starting around the end of October," Augustine said. "Certainly, we are aware of outstanding payments, and we don't want to ignore that fact. But we're starting to hear positive traction."
Navy veteran Michael Krause, who attends Kansas State Polytechnic, told Stars and Stripes in October that his payment was off by about $700. Krause received a correct amount this month, he said.
The same goes for Nick Sorenson, an Army veteran attending Utah Valley University, who said he received only a partial payment in October.
However, Air Force veteran Bryce Remkes said this week that he's still receiving checks for hundreds of dollars less than what's owed. His wife Catherine is using his GI Bill benefits for a master's program at Georgia State University. Their housing allowance has been for "random amounts" so far this semester, Remkes said. The latest payment was off by $325.
"Our [Basic Allowance for Housing] checks are still wrong despite their assurance that it was fixed," Remkes said. "We called last week, and they said the entire IT system was having problems, and to call back again in a week."
Rep. Mark Takano, D-Calif., argued the problems highlighted the need for more congressional oversight of the VA and President Donald Trump's administration. With the House majority flipping to Democrats next year, Takano is likely to become the next chairman of the House Committee on Veterans' Affairs.
At Thursday's hearing, Takano wants to get "answers on how the VA plans to provide much-needed relief to student veterans and develop concrete solutions to fix this problem," he said in a statement.
The Senate has also taken notice. On Wednesday, five Democrats in the Senate wrote a letter to Wilkie, demanding two-week updates until the problems were resolved. It was signed by Sens. Patty Murray, D-Wash., Sherrod Brown, D-Ohio, Richard Blumenthal, D-Conn., Michael Bennet, D-Colo., and Debbie Stabenow, D-Mich.
"We will not stop pressing for information and action until every veteran receives the benefits they earned," the letter reads.
wentling.nikki@stripes.com Twitter: @nikkiwentling