Volunteers lay wreaths on all 14,500 veterans' graves in National Cemetery of the Alleghenies
By
The Tribune-Review, Greensburg
December 18, 2021
---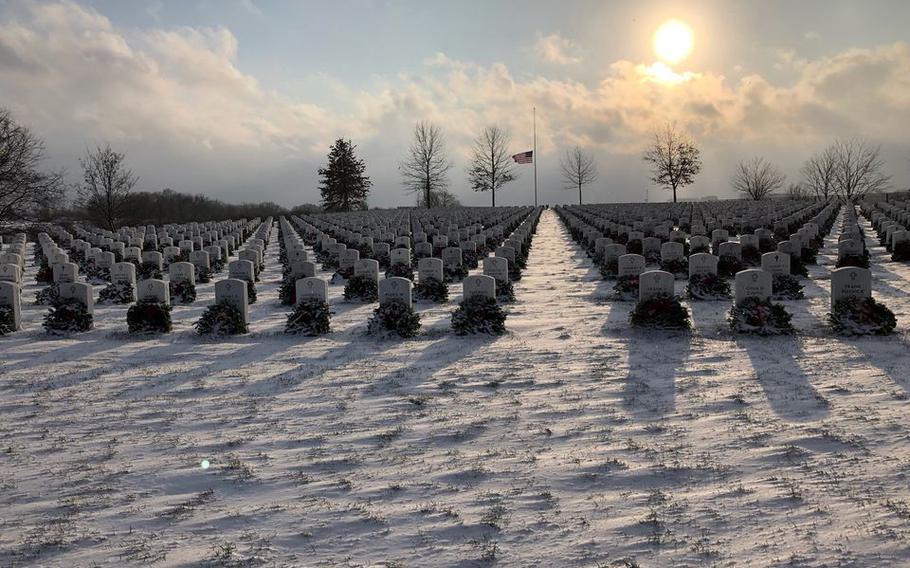 (Tribune News Service) — Green wreaths with red bows lay against the white tombstones.
As they place the greenery at each of the 14,500 veterans graves at the National Cemetery of the Alleghenies in Cecil, Washington County, this weekend, volunteers will say the deceased's name. They will take a moment to pause and thank him or her for their service to this country.
The event is called Wreaths Across America.
"The wreaths are not decorations," said Edward Hajduk, the director of the National Cemetery of the Alleghenies for the U.S. Department of Veterans Affairs at a memorial service Friday. "They are wreaths of remembrance. This can be a hard time of the year for families who are missing a loved one.
"We come out here to remember those we lost, to honor those currently serving and to bring our children here to teach the next generation to value their freedom — the freedom we all have because of these veterans."
In front of Hajduk, wreaths were displayed representing each branch of the service — Army, Marine Corps, Navy, Air Force, Coast Guard, Space Force, Merchant Marine — as well as POW/MIA.
A brief ceremony was held to recognize each veteran in the cemetery, which encompasses 292 acres. It opened in 2008. The ceremony was on Facebook Live because of covid-19 concerns.
The tombstones are in a straight line.
"They are all in formation," said Hajduk, who served in the U.S. Navy. "Anyway you look, the graves are straight."
Volunteers began laying wreaths on Friday afternoon.
Event continues Saturday
It will continue from 9 a.m. until late morning on Saturday. On Friday, 1,000 boxes, each containing nine wreaths, was unloaded by some of the 3,000 to 4,000 volunteers who will be at the cemetery throughout the weekend.
Three of those volunteers are Bonnie Wishner, of Strabane; Dave Richards of Chartiers; and Mike Yanchak of North Strabane. They are members of the Red White and Blue Team from Washington County, which includes the Blue Knights, the local Masonic lodge and local fire department. The group hosts a motorcycle ride in the summer that raises money for the wreaths.
Wishner, the team leader, said her wish every year is for every veteran to have a wreath. Richards said it is so important to volunteer and to help others, especially veterans who have given so much.
Yanchak recalled placing wreaths in all weather — from ice and snow, to wind and rain, and temperatures in the teens.
"I remember one year we couldn't get the boxes of wreaths open because they were frozen," he said.
Saturday is National Wreaths Across America Day. The mission is: Remember those we lost. Honor those currently serving. And teach the next generation about freedom.
Wreaths Across America was begun by Maine businessman Morrill Worcester in 1992. He owns Worcester Wreath Co. of Harrington, Maine. He donated extra wreaths to Arlington National Cemetery in Virginia.
Each wreath costs $15. Everyone of them was sponsored for this year's Wreaths Across America event — the 16th for the National Cemetery of the Alleghenies, said Brynnly Schwartz, Wreaths Across America coordinator. "This is not political, and it's not religious."
"This is the cost of freedom," Hajduk said as he looked out over the graves. "They are from all backgrounds and walks of life. They made the ultimate sacrifice. We will not forget. We will never forget what these men and women gave to our country."
National Cemetery of the Alleghenies is one of 2,700 cemeteries participating in all 50 states. There are more than 2 million volunteers nationwide.
On Jan. 22, volunteers will remove the wreaths.
"We are forever grateful for the thousands of supporters who dedicate their time and effort to fulfilling our mission on a local level," said Karen Worcester, executive director, Wreaths Across America in a statement. "These individuals and their communities know the value of remembering the fallen, honoring those who currently serve and teaching the next generation about the sacrifices made for our freedom every day. And without their continued support, Wreaths Across America would not exist."
"This is more than a wreath," Wishner said. "It's important to say their name. And thank them. Spend time at their grave. Remember them."
JoAnne Klimovich Harrop is a Tribune-Review staff writer. You can contact JoAnne at 724-853-5062, jharrop@triblive.com or via Twitter .
___
(c)2021 The Tribune-Review (Greensburg, Pa.)
Visit The Tribune-Review at www.triblive.com
Distributed by Tribune Content Agency, LLC.
---
---
---
---