Veterans point to value of Stars and Stripes amid proposal to strip funding from news organization
by
Steve Beynon
February 14, 2020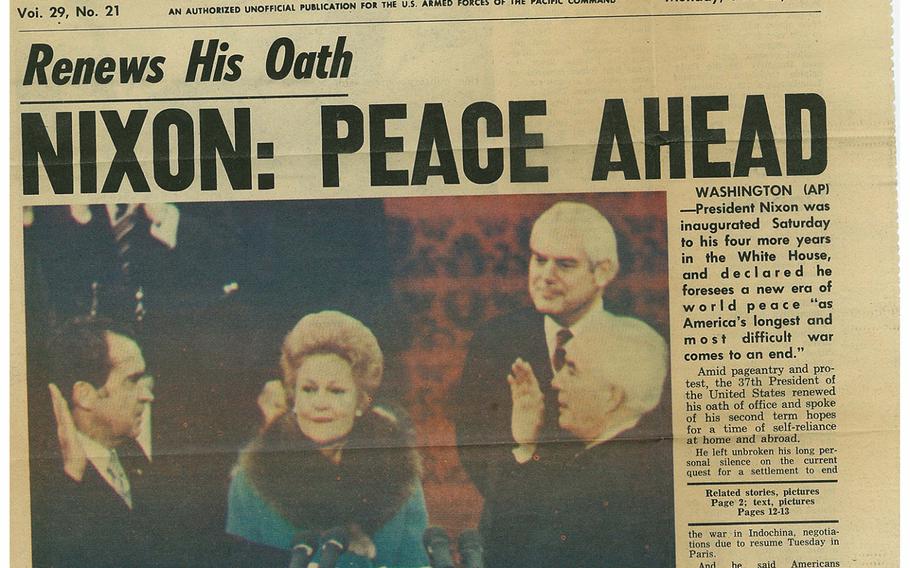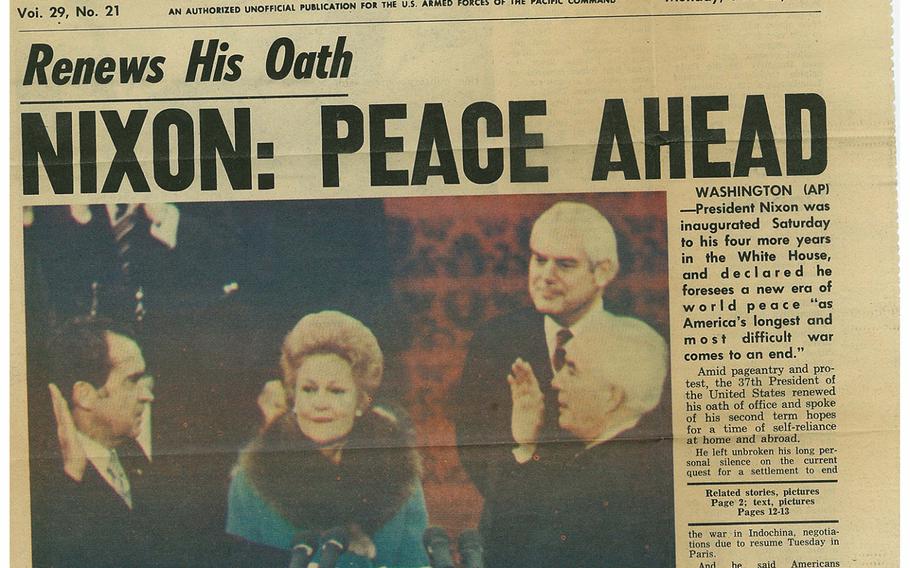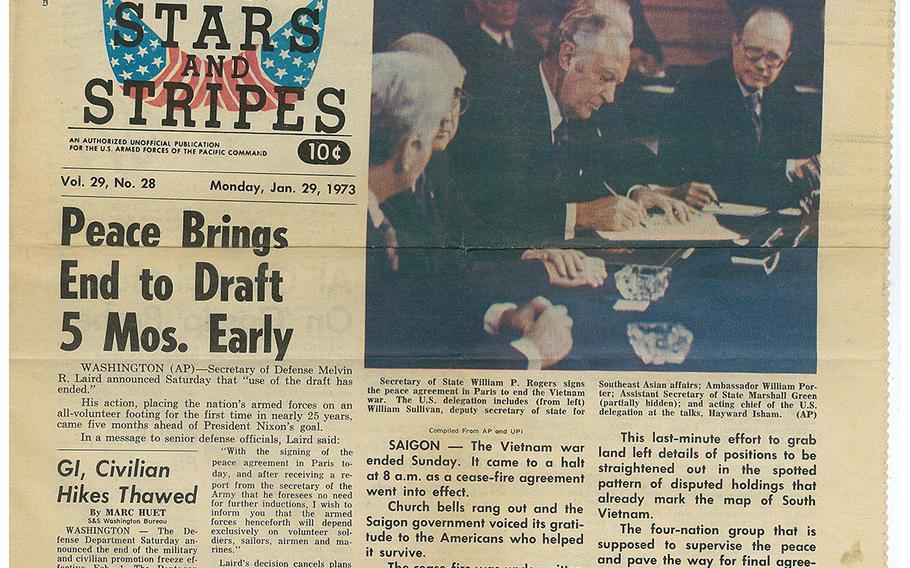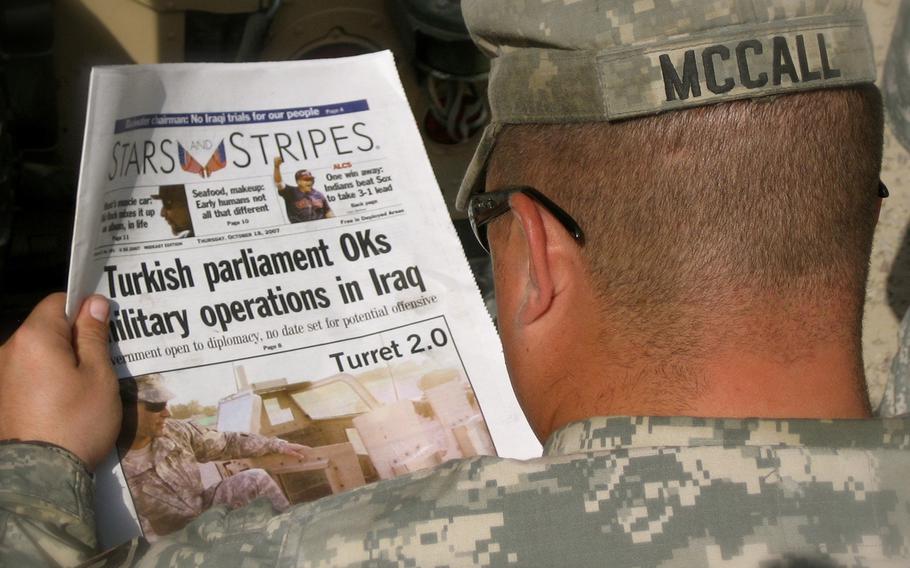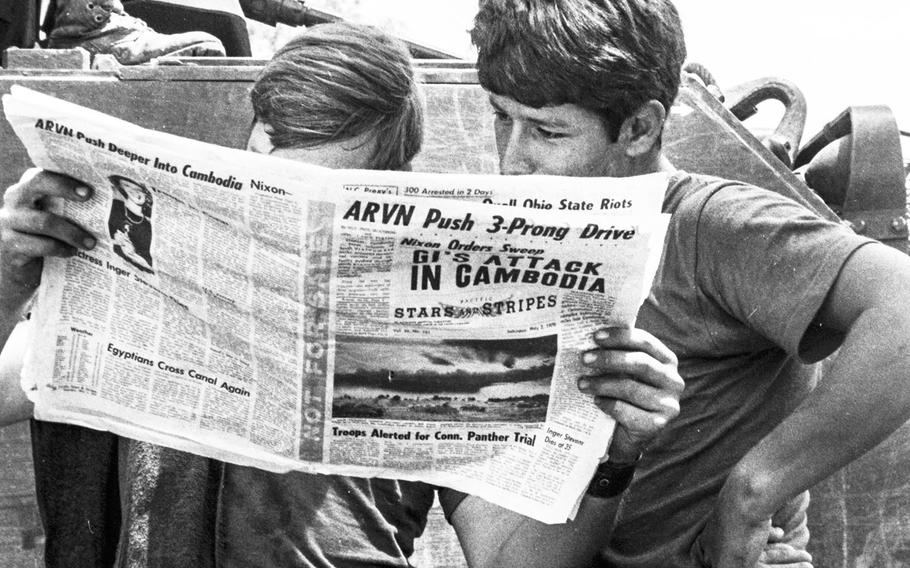 EDITOR'S NOTE:The writer served two tours as an Army cavalry scout in Kunar, Paktika and Helmand provinces of Afghanistan.
WASHINGTON — Many veterans are speaking out about the importance of Stars and Stripes as a news source for troops in light of the Pentagon's decision this week to gut the historic news agency of its annual funding to free up more money for what it considers to be crucial warfighting expenses.
Stars and Stripes began operations in the Civil War and has been a critical, and often the only, means for troops on the front lines to keep up with the news back home. Even with the post-9/11 wars occurring in the internet age, thousands of troops have been fighting in war zones where digital access is either inconvenient or nonexistent.
"We were mostly on a mountain near the Pakistan border during the deployment," said Michael Gerstmann, who served in the Army as a cavalry scout in Afghanistan in 2009 and left the military as a staff sergeant in 2011. "You know, there's nothing to do in these [combat outposts]. If you aren't doing missions or working out, not much is going on. Stripes was a good way to connect to home, even with some of the guys not being big news people, it was still something to do. Anything to take your mind off stuff was always good."
In Afghanistan and Iraq, the U.S. military set up dozens of combat outposts where small numbers of troops would operate out of in the most remote parts of those countries. In many cases, service members lived in austere conditions sometimes devoid of plumbing and cooked food and had few recreational amenities. In rural Afghanistan, these outposts were sometimes located at the bottom of a valley, conceding the high ground to the Taliban, making them prone to constant attack.
Even in cases where troops served in larger, more established bases with amenities such as coffee shops and fully equipped gyms, the internet could still be a luxury, making it difficult to keep up with current events. In a lot of cases at bases such as Camp Leatherneck and Kandahar Airfield in Afghanistan, troops would have to go to recreation centers and wait in a line for time-limited internet use on a slow connection. In those cases, service members mostly used the time to communicate with their families.
"I grabbed hard copies of Stars and Stripes outside the [dining facility] on [Combat Outpost] Speicher [in Iraq], and it was a lifeline to what was happening back home. Read it front to back every day I could," said John Ismay, a former Navy lieutenant commander who handled bomb disposals and now is a New York Times reporter. "Having a copy in my hands made me feel connected to all those earlier generations of American service members I'd seen photos of holding their own copies in earlier wars."
The Defense Department has proposed in its $705.4 billion budget for fiscal year 2021 to cut Stars and Stripes of its more than $15 million annual subsidy, which equals about half of the news organization's annual funds to pay expenses. Stars and Stripes remaining money comes from sales, subscriptions and advertising.
Defense Secretary Mark Esper on Thursday defended the Pentagon's decision to strip Stars and Stripes of its federal funding, telling reporters in Europe that the independent news organization is not a priority.
"Their hard work and dedication in reporting on issues that matter the most to the military community continues to be of value," Esper said. "However, as we look forward to the current budget proposal and beyond, the DOD must prioritize spending to support our warfighters in the most critical areas of need. Therefore, the department has made the difficult decision that, beginning in fiscal year 2021, it will no longer provide appropriated funds to Stars and Stripes."
The Defense Department still needs to get its proposed budget through Congress. Whether congressional lawmakers will try to preserve Stars and Stripes' funding is up in the air, though some House members have signaled they will push back against the Pentagon ahead of the new fiscal year, which starts in Oct. 1.
"Stars & Stripes was a link to home when I was in Iraq and Okinawa," tweeted Rep. Ruben Gallego, D-Ariz., a Marine veteran. "It's an A+ indie take on everyday DoD news, f*** ups, and Administration & General Officer BS. No wonder this President [Donald Trump] wants to cut it. He's got a fight on his hands."
Kevin Miller, a former Marine Corps infantry sergeant who served in Iraq, called the proposal to cut funding to Stars and Stripes a "travesty." Miller works for Swords to Plowshares, a San Francisco-based nonprofit that provides services to veterans facing homelessness and unemployment or struggling with disabilities or substance abuse.
"They do such incredible work covering the DOD and [Department of Veterans Affairs], which are our two largest bureaucracies," Miller tweeted. "Without their report, many advocates would be left in the dark about what is going on in these two vital government agencies."
Kristen Rouse, a logistics officer who deployed to Afghanistan in 2006, 2010 and 2012, said Stars and Stripes was a way to connect with home and was one of the only news outlets reporting on stories relevant to troops serving in combat zones.
"Consistently, I found that Stars and Stripes was the only media outlet that described the world I was living [and] operating in," she said.
Rouse served with the Army's 10th Mountain Division and later the Vermont National Guard's 3rd Battalion, 172nd Infantry Regiment, she is also the president of the NYC Veterans Alliance and board member of Iraq and Afghanistan Veterans of America, both are veterans advocacy groups.
Beyond the contemporary service members of the post-9/11 generation, Stars and Stripes holds historical significance to veterans of past generations.
David Nelson, a former captain in the Marine Corps who served in 1971-1973, has kept decades-old copies of Stars and Stripes. He said the newspaper is "an important part of our military culture — especially for those serving in remote locations overseas."
"From my year in Okinawa in the early 70's, I kept a number of my Stars and Stripes newspapers," Nelson said. "If I had learned of the events and stories portrayed strictly by electronic means, I would not have been able to preserve my recollections of those days."
And Nelson recounted some of historical front-page headlines from Stars and Stripes.
"Look at the memories stored on one page of the Jan. 24, 1973, Stars and Stripes — the announcements of LBJ's death, the Supreme Court decision in Roe v. Wade, the Paris peace talks preceding the end of the Vietnam War, and George Foreman's boxing knock-out of Joe Frazier," Nelson said. "What a treasure and keepsake that issue of Stars and Stripes has been to me for the past 47 years, along with many other issues."
beynon.steven@stripes.com Twitter: @StevenBeynon