VA opposes new legislation aimed at improving access to medical marijuana for veterans
---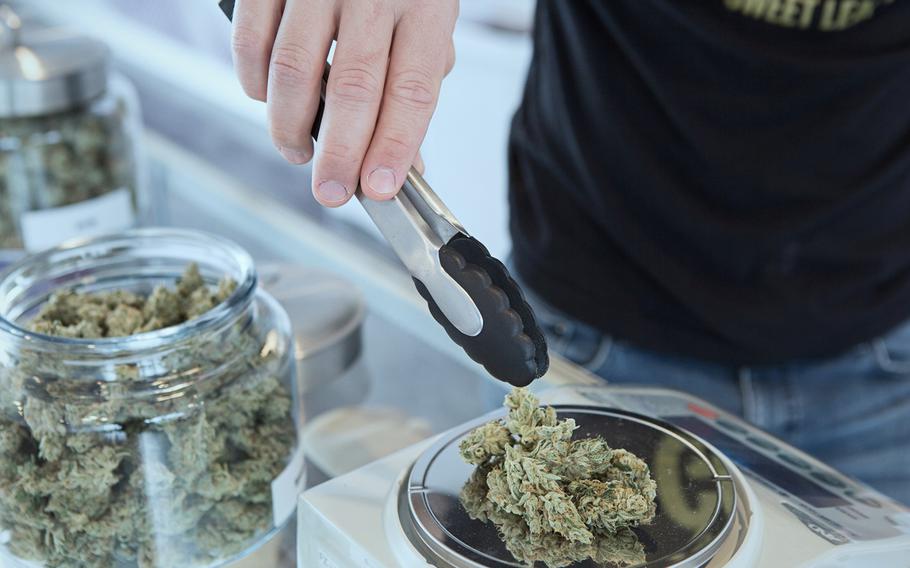 Department of Veterans Affairs officials told lawmakers Tuesday that the agency is opposed to three new legislative efforts designed to expand access to medical marijuana for veterans.
"It's overwhelmingly clear amongst the American people and amongst the veterans across the country that this is an issue that they are keenly interested in and want to have access to," said Rep. Julia Brownley, D-Calif., the chairwoman of the House Committee on Veterans' Affairs subpanel on health.
She said during Tuesday's subpanel hearing on the legislation that 33 states have some form of legal access to marijuana. However, veterans seeking treatment for ailments such as chronic pain and post-traumatic stress disorder are often caught in a divide between state and federal marijuana laws. Subsequently, veterans can find themselves forced to choose between discussing medical marijuana use with their VA physician at the risk of losing their benefits or accessing the treatment outside the VA.
The legislation includes H.R. 1647, Veterans Equal Access Act, which would authorized VA health care providers to offer recommendations and opinions to veterans regarding participation in state marijuana programs.
"One of great tragedies of our time is the failure to adequately address the needs of veterans returning home from Iraq and Afghanistan. We sent more than 2 million brave men and women to fight under very difficult circumstances," said Rep. Earl Blumenauer, D-Ore, who proposed the legislation. "We can all agree the need to provide the care to veterans when they return home with wounds both visible and unseen."
He said VA opioid overdoes are almost twice the national average, and evidence shows medical marijuana could be a less addictive solution to pain management for veterans. More than 1 million patients across the country use marijuana on recommendation of their physicians to treat conditions such as chronic pain, nausea, seizures, anxiety and PTSD.
The second bill, proposed by Rep. Lou Correa, D-Calif., was H.R. 712, VA Medicinal Cannabis Research Act of 2019, which directs the secretary of the VA to carry out a clinical trial of the effects of marijuana on certain health outcomes of adults with chronic pain and PTSD.
The last bill is H.R. 2192, Veterans Cannabis Use for Safe Healing Act proposed by Rep. Greg Steube, R-Fla. It prohibits the VA secretary from denying a veteran benefits because the veteran participates in a state-approved marijuana program.
VA officials at the hearing said the agency did not support three bills.
Dr. Keita Franklin, national director of suicide prevention for the VA's Office of Mental Health and Suicide Prevention, said the research outlined in Correa's bill was too large for an initial study. In response to other two bills, she referenced the Drug Enforcement Agency's listing of marijuana as a Schedule I drug.
The Controlled Substance Act describes Schedule I drugs, substances, or chemicals as ones with no currently accepted medical use and a high potential for abuse.
Larry Mole, chief consultant for the VA's population health, further outlined the agency's stance.
"The authorization related to being able to recommend or prescribe is related to the Controlled Substance Act. As long as cannabis or marijuana remains a Schedule I drug, we are going to look to the [Drug Enforcement Agency] and the Department of Justice to get their opinion on what prescribers are able to do," he said. "This committee can make strong proposals for us to move forward with recommendations of filling out forms and such, but, in the end, we need to go back to DEA and DOJ for their opinion. I've not seen anything to suggest their opinion will change."
Representatives from three veteran service organizations had an opposing opinion.
Stephanie Mullen, research director with Iraq and Afghanistan Veterans of America, said the vast majority of their members are in favor of using marijuana for medical purposes. She said its "past time" for the VA to catch up.
Carlos Fuentes, director of National Legislative Service with the Veterans of Foreign Wars, agreed research needs to move forward, but legislation proposing VA physicians provide medical marijuana recommendations wait until the research is complete and it is available through VA pharmacies.
Joy Ilam, national legislative director for Disabled American Veterans, agreed with Fuentes.
"Research is the key. Everyone wants to make sure medicinal cannabis will be beneficial to veterans. We want to make sure there is no harm done. Research is first step to doing that," she said. "Veterans are using this as a medication to try to stem their symptoms, whether that be from chronic pain, PTSD symptoms and others. We know that they're doing that and we've heard some of the repercussions from that happening."
Some veterans have said they've been labeled as having substance abuse issues and taken off of certain medications, Mullen said.
Franklin said any veteran experiencing repercussions from marijuana use in a state where it is legal is part of a miscommunication in policy. She pledged to "double-down" to educate providers, nurses and physicians that there should be no negative ramifications for veterans.
The policy, Mole said, outlines that veterans should not be denied benefits, but marijuana use should be noted in their files to be considered when developing a treatment plan.
Rep. Gil Cisneros, D-Calif, co-sponsored Steube's bill. Both men pushed back with VA officials on repercussions, saying if there's confusion, then the VA should support the bill to clarify policies.
"Veterans are actually afraid to go to the VA to use services they are accredited to do, because if they test positive, they'll lose benefits," Steube said. "I think it needs to be very, very clear that that's not going to happen to them."
Aside from marijuana, five other veterans health bills also were discussed during the hearing. Four of them pertained to suicide prevention efforts. A VA committee hearing Monday night delved into the suicide crisis in greater detail.
Brownley said she felt the two topics were related and lawmakers should remain committed to both issues, and focus on where they intersect.
"There's a nexus here," she said.
thayer.rose@stripes.com Twitter: @Rose_Lori
---
---
---
---