US strikes five facilities used by Iran-backed militia in Iraq, Syria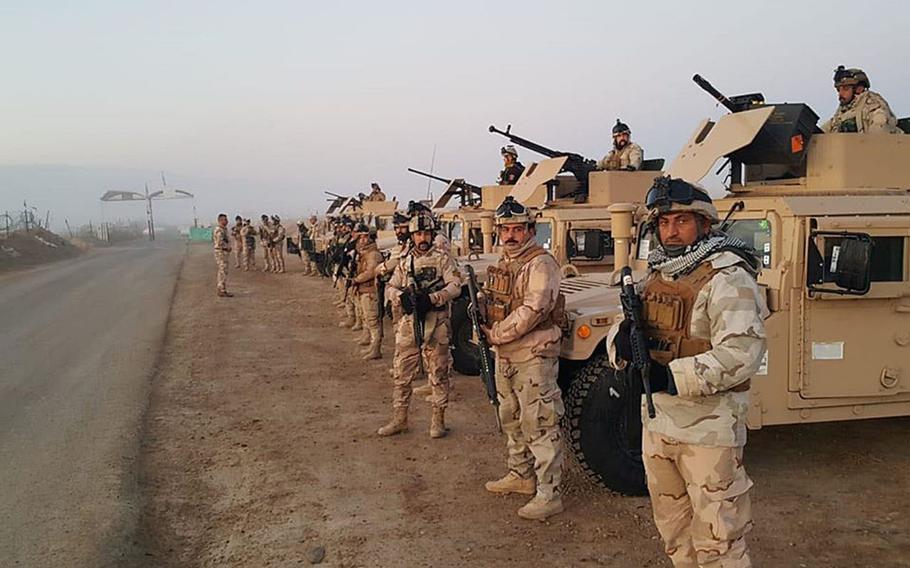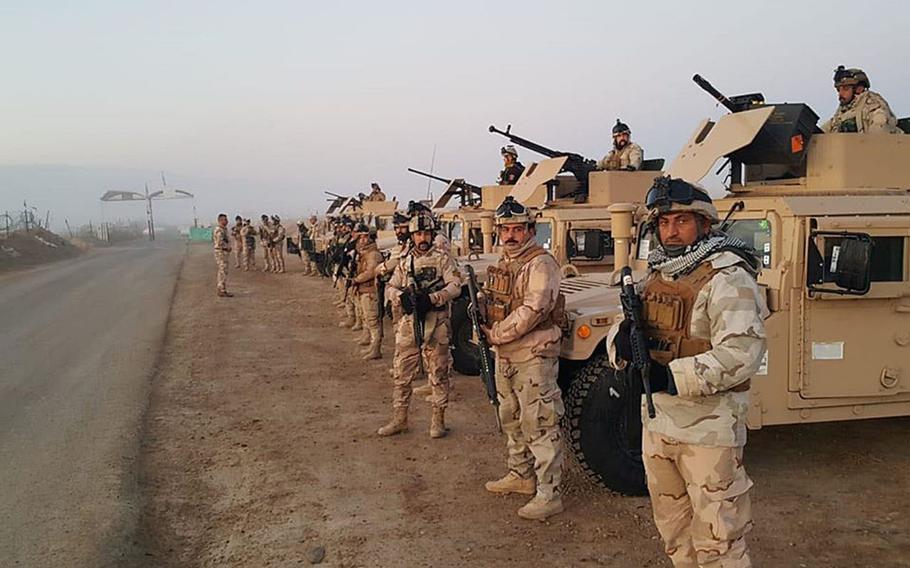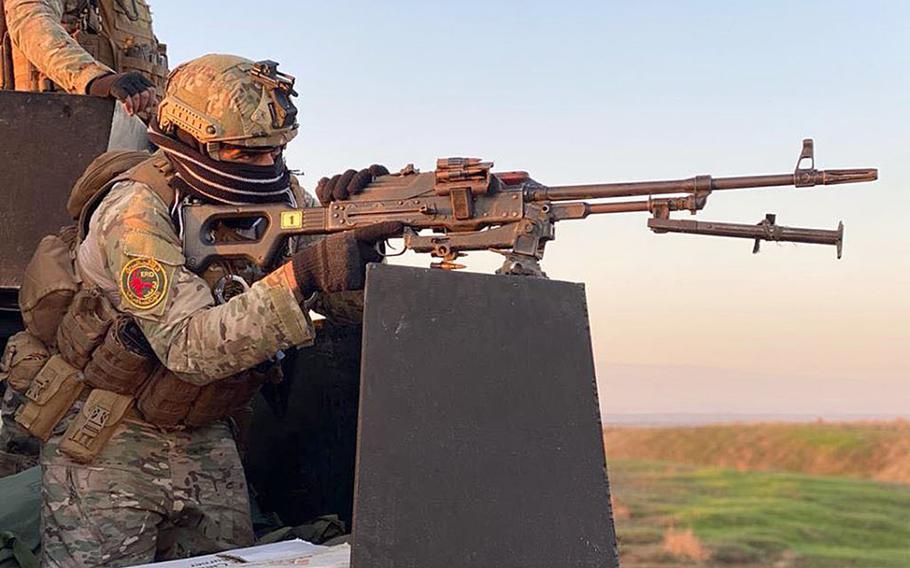 IRBIL, Iraq — The U.S. military struck five facilities used by an Iran-backed militia in Iraq and Syria blamed for a rocket attack that killed an American contractor.
The Pentagon said Sunday the move was in response to a series of such rocket attacks on Iraqi bases where American troops are deployed as part of the anti-Islamic State coalition Operation Inherent Resolve.
"These locations included weapon storage facilities and command and control locations that [Shiite militia Kataeb Hezbollah] uses to plan and execute attacks on OIR coalition forces," said Jonathan Hoffman, the chief Pentagon spokesman, in a statement.
The news comes two days after a barrage of 30 rockets struck the K1 base in Kirkuk, killing a U.S. civilian contractor and wounding four American service members and two Iraqi troops, as forces were preparing for an anti-ISIS operation.
Hoffman attributed that strike to Kataeb Hezbollah, using the initials KH.
"KH has a strong linkage with Iran's Quds Force and has repeatedly received lethal aid and other support from Iran that it has used to attack OIR coalition forces," Hoffman said calling on the group to cease its attacks or face further strikes.
U.S. officials began warning of heightened threat indications from Iran and its proxies this summer, as tensions between Washington and Tehran mounted. The threatened escalation followed harsh sanctions the Trump administration imposed after backing out of an Obama-era nuclear deal with the hard-line Iranian regime. Since then, the two sides have downed each other's drones and have traded blame over a series of attacks in the region.
An Iraqi general told The Associated Press on Sunday that security had been beefed up around the sprawling al-Asad Air Base, which hosts U.S. troops in the western Anbar desert, following a series of such rocket attacks throughout Iraq, including one on that base earlier this month. The attacks remain under investigation, Maj. Gen. Raad Mahmoud told the AP.
The U.S. strikes hit three sites in Iraq and two in Syria, Hoffman said.
The strikes hit sites in western Anbar province near the Iraq-Syria border, killing four Shiite militia members, including a commander, and wounding 30 others, the Iraqi government's security media cell said in a Facebook post.
Iran's Press TV reported that the death toll was up to 12 people.
On Twitter, Inherent Resolve spokesman Col. Myles Caggins III posted a copy of Hoffman's statement along with photos of F-15 Strike Eagle aircraft and pre-strike satellite images of compounds apparently along the Iraq-Syria border, suggesting the strike was carried out by the jets. Officials with Inherent Resolve and at the Pentagon declined to provide operational details, referring questions to U.S. Central Command. CENTCOM did not immediately respond to an query seeking further information.
Meanwhile, U.S.-backed Iraqi security forces launched their latest large-scale operation to hunt down ISIS insurgents at dawn Sunday — the eighth iteration of a campaign dubbed "Will of Victory," focused on lasting defeat of the terrorist group.
"These operations aim to search and clear areas, villages and open spaces, to track and arrest wanted persons, dry up the remnants of terrorism and maintain stability and security," said Lt. Gen. Abdul Amir Rashid Yarallah, the Iraqi army's deputy commander of operations, in a statement posted to Facebook.
Thousands of ISIS fighters and loyalists also remain active in Iraq as part of sleeper cells in towns and villages or hide in expansive western deserts or rugged northern mountain ranges, U.S. officials with Operation Inherent Resolve said late last week.
Since the loss of its territorial control — in Iraq in December 2017 and in Syria in March 2019 — ISIS has turned to insurgent tactics, carrying out assassinations, ambushes and roadside bombings against security forces and civilians.
The latest operation spans parts of Anbar, Ninevah, Salahuddin, Kirkuk and Diyala provinces, Yarallah said. It's supported by Iraqi and coalition aircraft, local militias and other security and intelligence agencies, he said.
Throughout the day, Iraq's security media cell posted updates to Facebook, touting the discovery of tunnels used by the terrorists near Kirkuk, four "terrorist nests" with supplies in Salahuddin, and in Diyala a weapons cache with eight rocket launchers, 750 rounds of heavy-machine-gun ammunition and other weapons.
Also in Salahuddin, five militants were killed inside a tunnel, and as the rubble was being removed, a suicide bomber detonated himself, injuring four Iraqi troops, the media cell said.
U.S. forces continue to assist their Iraqi counterparts battling ISIS, but U.S. offensive strikes are rare and must meet stringent requirements, said Capt. Brad Bynum, an operations officer at Qayara Airfield West, where Americans staff an operations center that supports government forces with intelligence, reconnaissance and defensive airstrikes.
It's unclear whether the strikes on the militia group's sites in Iraq were previously cleared with the government. The country's caretaker Prime Minister Adil Abdul-Mahdi called for an emergency meeting of the country's national security council, a Sky News reporter based in Baghdad reported.
Earlier this month, in a call with Abdul-Mahdi, who resigned amid anti-government demonstratons last month but continues to serve in the post, Defense Secretary Mark Esper had asked that the government do more to prevent the rocket attacks.
Abdul-Mahdi "warned that taking unilateral decisions will have negative reactions that are difficult to control and threaten the security, sovereignty, and independence of Iraq," said a summary of the call released by the prime minister's office.
U.S. troops are in the country at the request of the Iraqi government "to ensure the lasting defeat of ISIS and provide advice and assistance" to security forces there, Hoffman said, and they respect the country's sovereignty and support its independence.
"The U.S., however, will not be deterred from exercising its right of self-defense," he said.
garland.chad@stripes.com Twitter: @chadgarland
---
---
---
---