US soldier killed in Taliban suicide bomb attack was on second Afghanistan deployment
by
Wyatt Olson J.P. Lawrence
September 6, 2019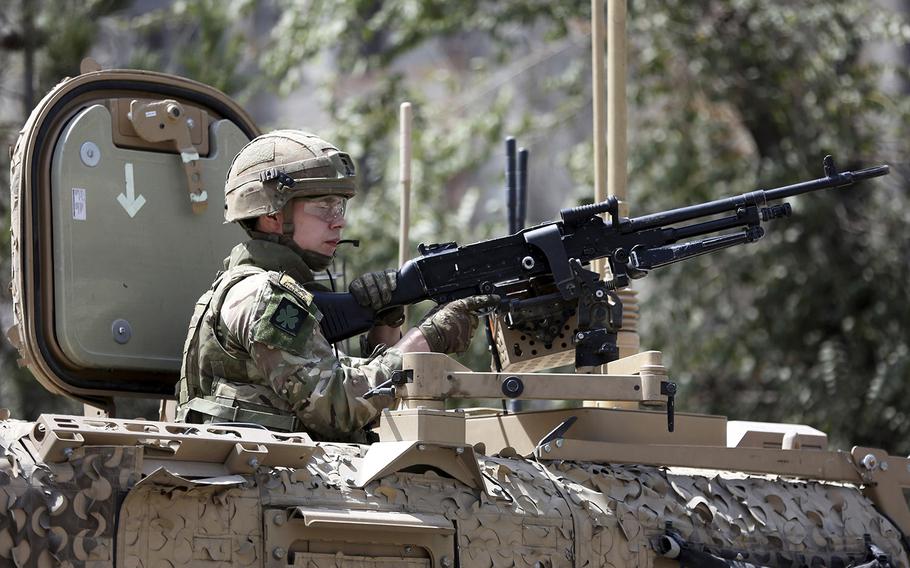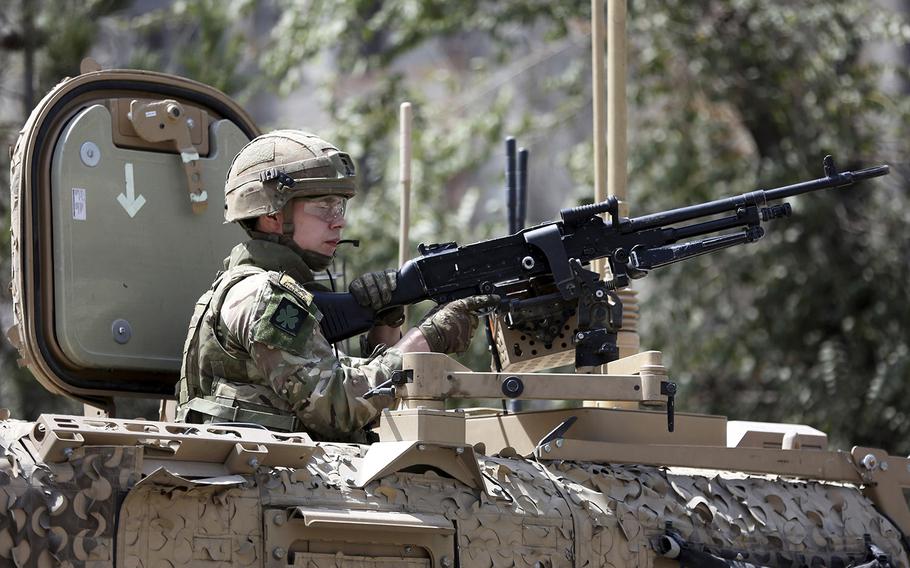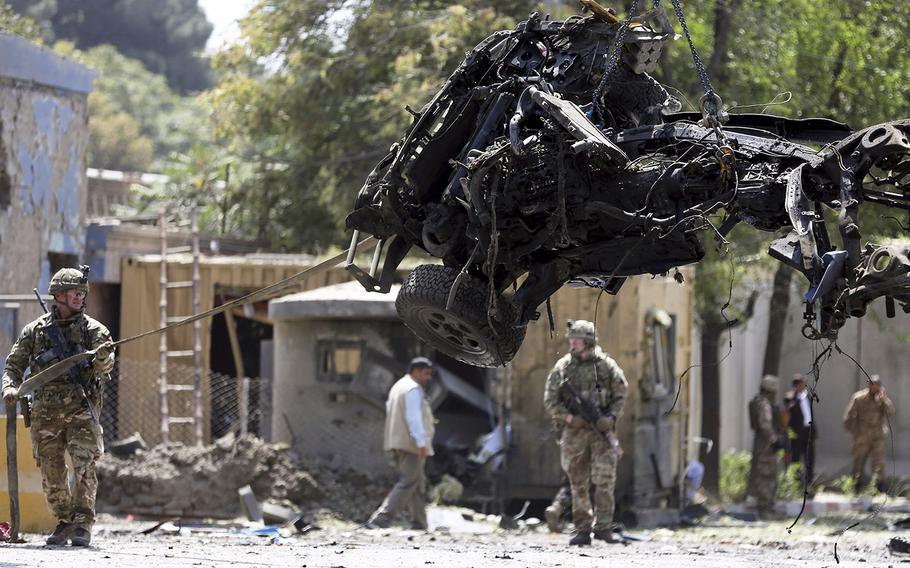 An American Army sergeant and a Romanian soldier were killed Thursday in a Taliban suicide bomb explosion in Kabul, heightening Afghan government concerns that a U.S.-brokered peace deal with the insurgents is moving too quickly.
Sgt. 1st Class Elis A. Barreto Ortiz, 34, from Morovis, Puerto Rico, died when a vehicle-borne improvised explosive device detonated near his vehicle, the Pentagon said in a statement Friday.
Barreto Ortiz was assigned to the 82nd Brigade Support Battalion, 3rd Brigade Combat Team, 82nd Airborne Division, Fort Bragg, N.C., the statement said.
The Romanian Defense Ministry identified the soldier as Cpl. 3rd Class Ciprian-Stefan Polschi, 38, a married father of two on his third Afghanistan tour.
Polschi has been promoted posthumously to second lieutenant, a ministry statement said.
Barreto Ortiz is survived by his wife and children of Cameron, N.C., the Army said in a statement Friday.
"With honor and courage, Sgt. 1st Class Barreto [Ortiz] answered our nation's call to deploy and serve in Afghanistan," Col. Arthur Sellers, commander of the 3rd Brigade Combat Team, said in the statement. "In this most difficult time, his loved ones are now surrounded by a community of love and caring by members of our Paratrooper Family Readiness Group."
Barreto Ortiz joined the Army in August 2010, completing basic combat training and advanced individual training at Fort Eustis, Va., before being assigned to the 359th Transportation Battalion, according to the statement.
In 2013, he was assigned to the 51st Composite Truck Company at Baumholder, Germany, as a Wheeled Vehicle Mechanic and deployed for nine months to Afghanistan in support of Operation Enduring Freedom.
He was assigned to the 601st Aviation Support Battalion at Fort Riley, Kan., in 2016, and the next year he graduated from Airborne School at Fort Benning, Ga. He was assigned to 82nd Brigade Support Battalion, 3rd Brigade Combat Team, 82nd Airborne Division, in January 2018.
His awards and decorations include the Purple Heart, the Bronze Star Medal and the Meritorious Service Medal, among others.
NATO's Resolute Support mission confirmed a suicide car bombing caused the two deaths near a neighborhood that includes NATO offices, the U.S. Embassy and diplomatic missions.
At least 10 people died and another 42 people were wounded in the explosion, Interior Ministry spokesman Nasrat Rahimi told The Associated Press.
The Taliban claimed the attack targeted vehicles of "foreigners" as they tried to enter a heavily guarded area near where Afghan national security authorities and the NATO mission have offices.
While the victims were mostly civilians, U.S. Ambassador John Bass in his condemnation of the attack said "members of security forces" were among the dead.
The explosion at the checkpoint, which has been targeted in the past, follows a Taliban attack against a foreign compound late Monday that killed at least 16 people and wounded more than 100, almost all of them local civilians.
That attack claimed the life of a Romanian diplomat, according to Romanian media.
Romania has sent more than 26,000 soldiers to Afghanistan, with 26 of those troops killed in action, according to the U.S.-funded news organization Balkan Insight.
Barreto Ortiz's death on Thursday became the 16th U.S. combat fatality this year in Afghanistan, as the Pentagon prepares to draw down its forces there after 18 years of war.
Afghan President Ashraf Ghani condemned the killings and criticizes peace talks with the Taliban that have thus far excluded the Kabul government. "Seeking peace with this group who is still pursuing the killing of the innocent people is meaningless," President Ghani said in a statement, according to Tolo News.
U.S. envoy Zalmay Khalilzad has been in Kabul this week briefing the Afghan president and others on a U.S.-Taliban peace deal that he says only needs President Donald Trump's approval to become a reality, the AP reported.
Khalilzad has said 5,000 U.S. troops would withdraw from five bases in Afghanistan within 135 days of a final deal. Between 13,000 and 14,000 U.S. troops are deployed to the country.
However, the Taliban reportedly want all of the approximately 20,000 U.S. and NATO troops out of Afghanistan immediately, while the U.S. seeks a withdrawal in phases that would depend on the Taliban meeting certain conditions, such as a cease-fire.
The Afghan government has questioned the deal, including in new comments Thursday as the latest attack occurred. The agreement was moving with "excessive speed," presidential adviser Waheed Omer told reporters, warning of difficult days ahead.
The Afghan government Wednesday said it shared the concerns about a U.S. troop withdrawal raised by several former U.S. ambassadors to Afghanistan in a joint letter published by the Atlantic Council on Tuesday.
The ambassadors said that a full withdrawal that moves too quickly and without requiring the Taliban to meet conditions, such as reducing violence, could lead to a "total civil war" like the one that engulfed the country in the 1990s, before the Taliban swept into power.
Since the United States first launched military operations in Afghanistan in October 2001, more than 2,400 troops have been killed and more than 20,000 have been wounded in action, according to Pentagon statistics.
The Associated Press contributed to this story.
lawrence.jp@stripes.com Twitter: @jplawrence3
olson.wyatt@stripes.com Twitter: @WyattWOlson