US commander meets Taliban officials as Afghan peace process stutters
by
Phillip Walter Wellman
April 11, 2020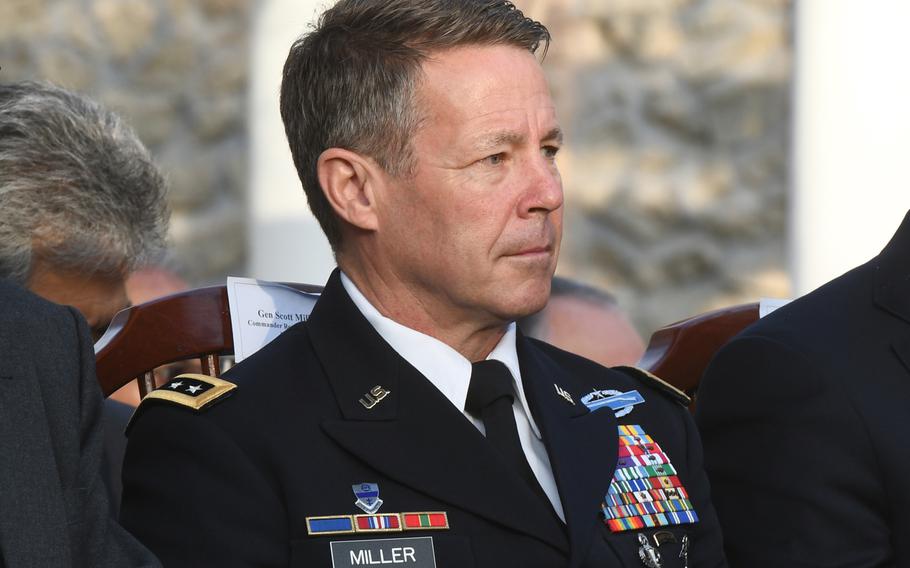 KABUL, Afghanistan — The top U.S. commander in Afghanistan flew to Qatar for urgent talks with the Taliban on Friday as concerns over the country's faltering peace process mounted, officials said.
The meeting between Gen. Austin "Scott" Miller and Taliban leaders came as both sides accuse each other of ramping up violence since signing a peace deal on Feb. 29, which could see all international troops withdraw from Afghanistan in 14 months.
An initial drawdown has begun and is expected to see U.S. troop numbers reduce to 8,600 by early July.
The meeting, which focused on curbing violence, was part of a military channel established in the U.S.-Taliban deal, the U.S. military's press office in Kabul told Stars and Stripes.
Taliban spokesman Suhail Shaheen said night raids and other operations in noncombat areas were discussed at the meeting, and Taliban officials "called for a halt to such attacks."
On April 5, the insurgent group — which continues to claim attacks against Afghan security forces in rural areas — accused U.S. forces of violating the peace deal by carrying out repeated raids and "brutal drone attacks" across the country.
The U.S. military called the accusation baseless, saying their operations have defended Afghan forces, which is compliant with the agreement.
The U.S.-Taliban deal, which spells out conditions that must be met if foreign forces are to completely withdrawal from Afghanistan within 14 months, has been plagued by setbacks since its inception.
Disagreements over the release of thousands of Taliban and Afghan government prisoners continue to delay the start of talks between Taliban and government officials.
The prisoner release and the intra-Afghan talks were both supposed to start by March 10 and are key conditions of the peace agreement.
The Taliban also have rejected the delegation chosen by Kabul to participate in the intra-Afghan talks, saying it's not inclusive enough.
An unresolved dispute between incumbent President Ashraf Ghani and his political rival Abdullah Abdullah over who won September's presidential election has also complicated peace efforts.
Secretary of State Mike Pompeo said last month, after failing to resolve the impasse during a quick visit to Afghanistan, that the U.S. would withhold at least $1 billion in aid to Afghanistan unless a solution is found.
Pompeo's visit amid the coronavirus pandemic appeared to underscore the urgency the U.S. places on the peace process and ending the country's longest war.
wellman.phillip@stripes.com Twitter: @pwwellman
---
---
---