Two contractors killed in Kabul blast were Americans
---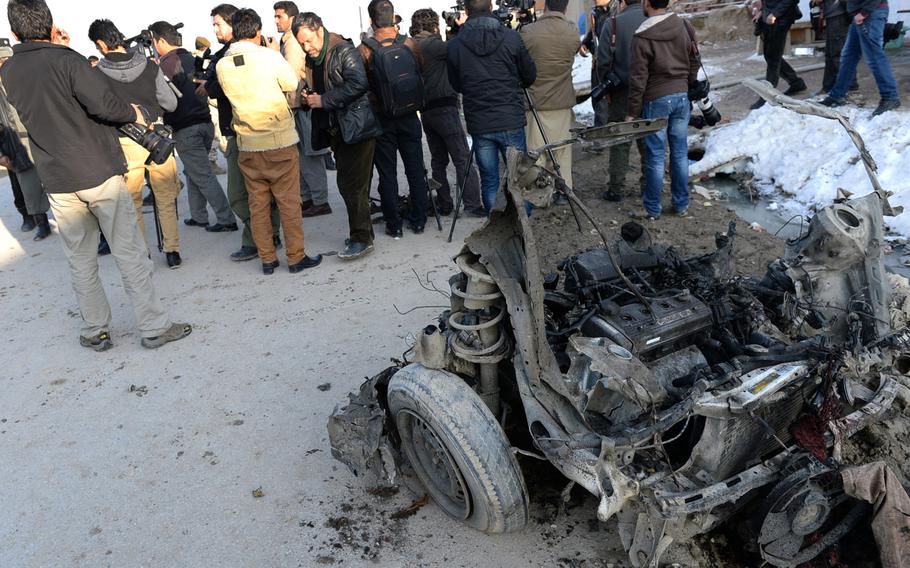 KABUL — Two security contractors killed by a suicide blast in Kabul Monday were Americans, the U.S. Embassy confirmed.
The contractors were leaving one of Afghanistan's main detention centers in the east of the capital, when a suicide bomber detonated an explosives-laden sedan next to their convoy.
An official with the National Directorate of Security said Monday that three contractors were killed in the attack. But the U.S. Embassy and the NATO-led International Security Assistance Force later said the number was two.
Insurgent group Hezb-i Islami claimed responsibility for the blast, which happened near Pul-e Charki prison.
The names of the victims have not been released.
There has been a series of attacks recently in the Afghan capital at a time of year when violence generally ebbs in Afghanistan, as many insurgents spend the winter in Pakistani redoubts.
Last month, insurgents attacked a Kabul restaurant popular with foreigners, killing 21 people. About a week later, a suicide bomb attack on an Afghan military bus killed four people and wounded 22 others.
As Afghan security forces have taken over much of the day-to-day fighting, casualties among foreign troops and contractors have dropped, although they are still targeted, especially by bomb attacks.
Analysts say high-profile attacks in the capital are aimed at undermining the population's confidence in the Afghan government and its security forces as the withdrawal of foreign combat forces gathers pace.
---
---
---
---