Work of the late Maeve Binchy forged a mother-daughter bond
---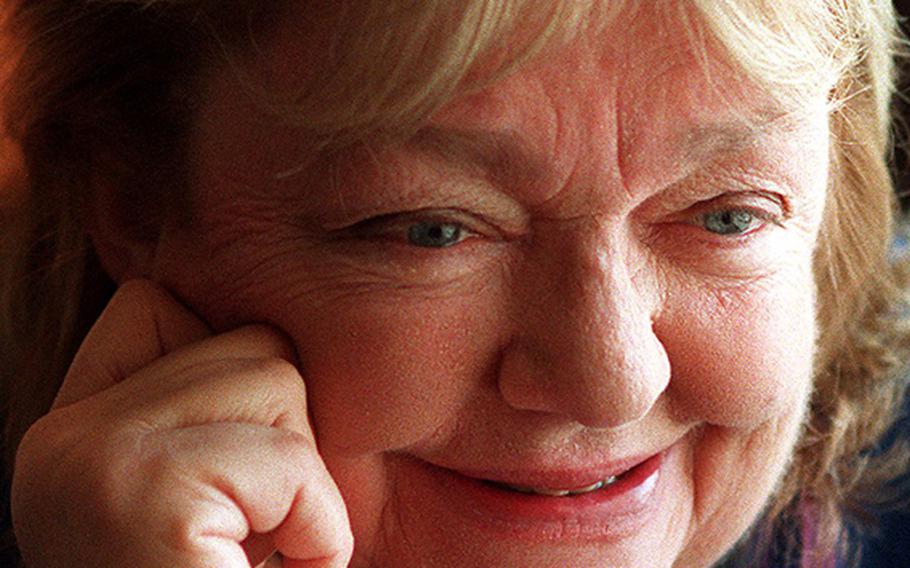 'I told Philip O'Brien he could join us, He seemed a bit at a loose end.'
'Of course he's at a loose end until he can take you to the Happy Ring House and buy you a miserable small diamond and chain you to his side.'
— Maeve Binchy, "The Glass Lake"
As we walked down Grafton Street in Dublin, Ireland, I wondered yet again whether this pilgrimage was destined to be a fiasco. My mother and I were weary from trudging around the city, wondering how it could possibly be so cold in July, and as we ran out of things to talk about, our patience was starting to fray. Suddenly I halted in my tracks and grabbed her arm, startling Mom and annoying the people behind me. "Look." I pointed across the street. "It's real."
We both gawked, open-mouthed with delight. For the moment, we had everything in common, united in our mutual pleasant surprise at stumbling on the Happy Ring House.
Like thousands of tourists each year, my mom and I had come to Dublin to retrace the paths of some favorite fictional characters, to see firsthand the locations immortalized by a writer we both loved. This wasn't a Bloomsday homage to James Joyce, though. We preferred a more accessible author: Maeve Binchy.
Binchy was best known in the States for her novel "Circle of Friends," which was adapted into a 1995 movie starring Minnie Driver and Chris O'Donnell. (And I do mean adapted — the filmmakers radically altered the ending and stripped the sprawling story of its delightful minor characters.) She died in July at age 72, and the news made our bond both stronger and weaker.
Our trip to Dublin felt to me like a story Binchy might have written. I flew in from Tokyo, the expat daughter with a battered passport full of stamps and visas. My mom arrived the next day from her hometown of Denver, Colo., the Ireland entry the first stamp in her first passport, obtained specially for this trip. Laid side by side, the passports told a story that Maeve would have told better: two women living two vastly disparate lives, bound by blood and memories but separated now by time and distance.
Binchy's novels are sometimes dismissed as "chick lit," and while many plots involve female drama — unrequited love, unplanned pregnancies, uncertain futures — Binchy elevated them with sly wit and nuanced observations about people and relationships. She populated her stories with quirky, flawed, relatable characters who (mostly) tried to do the right thing but were sometimes unsure what that was — and who hasn't been there? Her heroines often triumphed, especially at rescuing struggling businesses, but they also failed in ways big and small, from wearing the wrong thing to accidentally destroying several lives.
Since my mom first brought home a paperback copy of "Circle of Friends," we'd shared a fondness for Binchy's stories, and eagerly looked forward to her next book. When I'd wonder what to get my mom for Christmas — and regret that I didn't know her well enough to know — I could always count on getting one gift right if Binchy had a new book out. And I could always count on getting the same book in return. After several books, we agreed that reading them was no longer enough. We wanted to see Dublin for ourselves, to see how well our imaginations matched the real thing.
Without a smartphone, tracking down dozens of sites — some mentioned only as throwaway references in various books — became a one-team, citywide scavenger hunt, a literary version of geocaching.
Unlike the locations in Joyce's "Ulysses," which are pointed out by tour guides, the spots mentioned by Binchy haven't been memorialized. Some never existed, of course, and many no longer do; our biggest disappointment was discovering that the University College Dublin campus, so vividly described in "Circle of Friends" that I could see it in my mind's eye as well as I can visualize JK Rowlings' Hogwarts, has since been relocated.
But we found quite a few. We had tea in the Shelbourne, site of Aisling's disastrous wedding night in "Light a Penny Candle," and walked through St. Stephen's Green, which makes frequent appearances. We located the catering college on Cathal Brugha Street that Kit attends in "The Glass Lake," now part of the Dublin Institute of Technology, and even pinpointed the likely spot of Kit's apartment. We shopped on Grafton Street, as several characters do, and lunched in the upscale Brown Thomas department store, where "Glass Lake's" Anna buys her dress for the New Year's Eve dance.
We took a bus to Dun Laoghaire, the seaside town where Eve and Kit bond over a shared tragedy in "Circle of Friends."
We also got to clear up a few details that, as Americans, we'd never properly understood. We finally found out what Knickerbocker Glory is (an ice cream sundae) and orange squash (we know it as cordial).
A lesser writer might have scripted a fantasy ending for the trip, with me announcing an immediate move back to Denver so my mom and I could be Best Friends Forever! But Binchy knew better. Her best novels did not end with life-changing epiphanies; the characters simply moved on, as real people do. My mom and I enjoyed our trip, and moved on. We still live one ocean and two worlds apart. But when I emailed her Binchy's obituary, we again had everything in common for a moment, saddened by both the loss of our favorite writer and the loss of our shared bond.
Now I don't know what to get her for Christmas.
Karen Willenbrecht is an editor in Stripes' Tokyo office. Email her at willenbrechtk@pstripes.osd.mil.
---
---
---
---