Wildpark Potzberg puts visitors eye to eye with animals
by
Jennifer H. Svan
October 4, 2017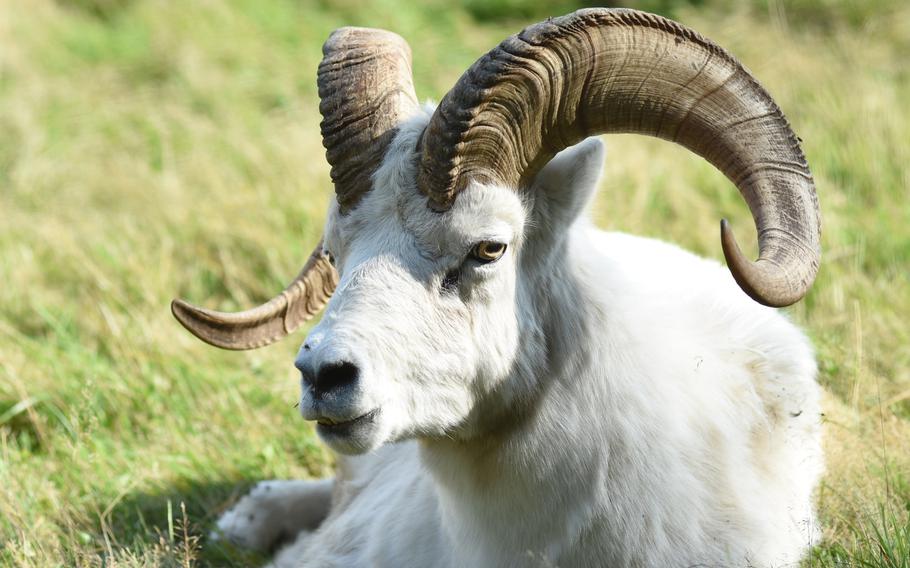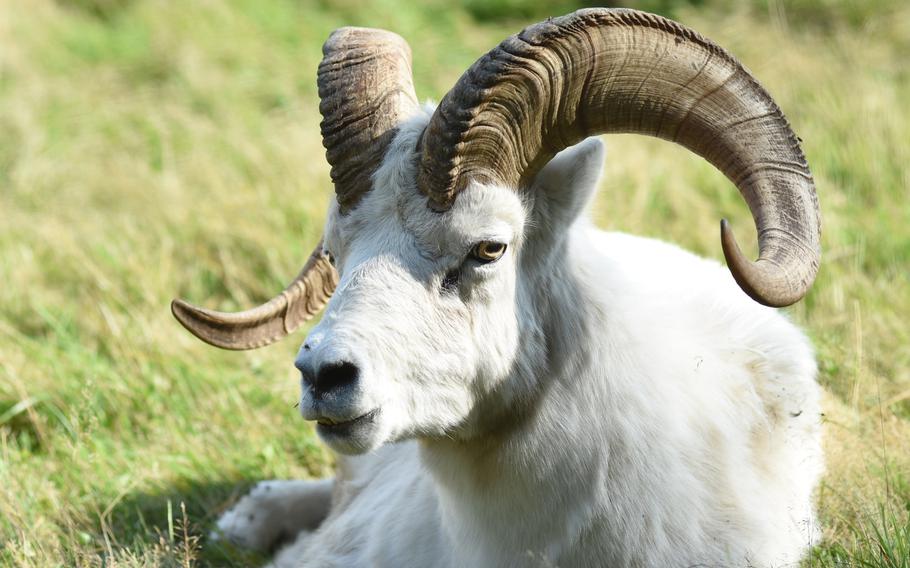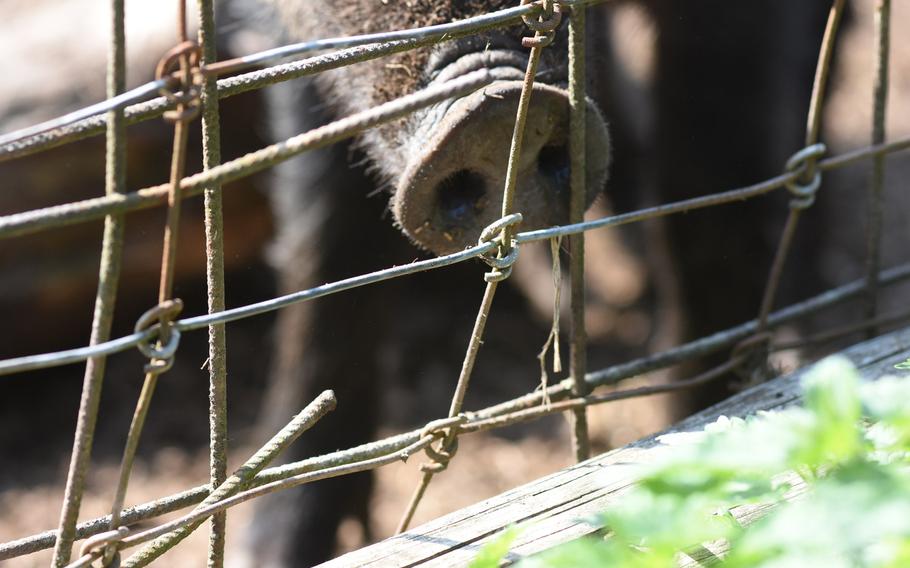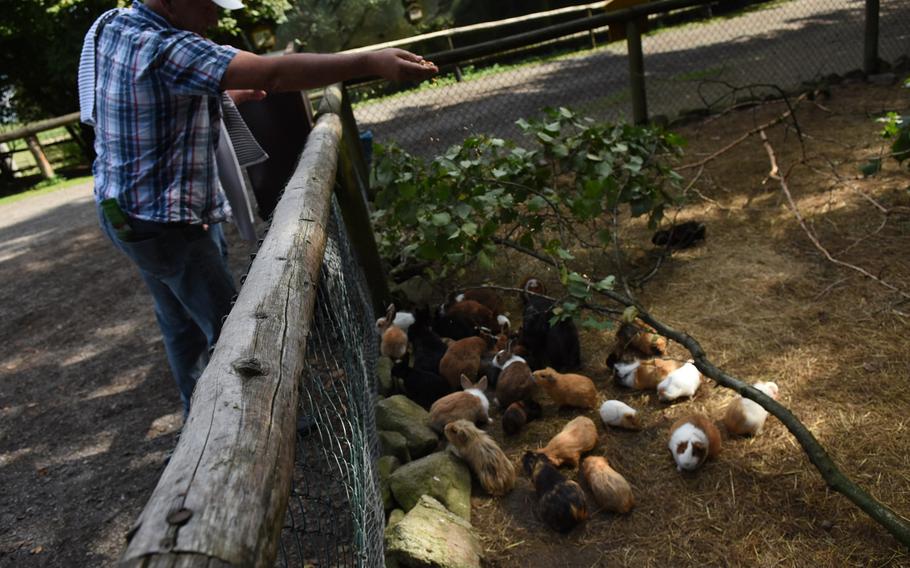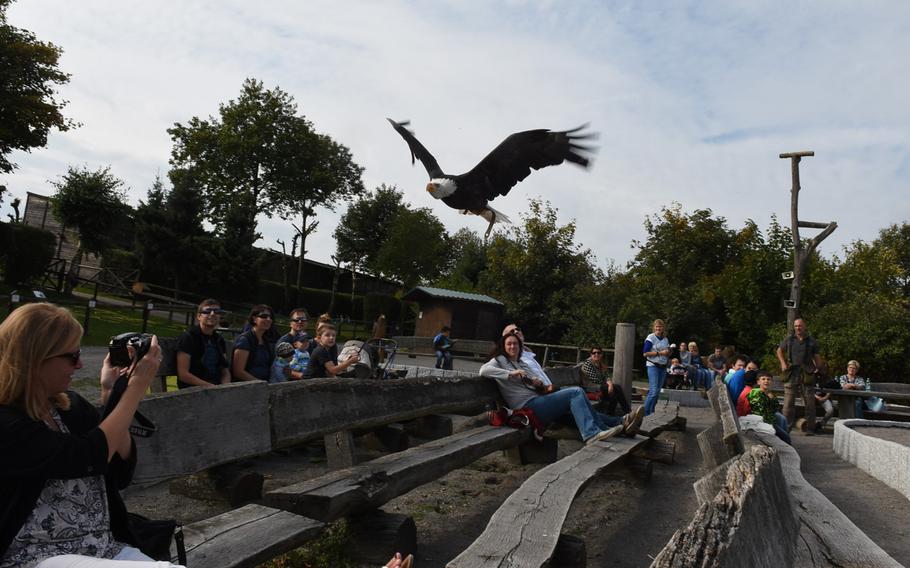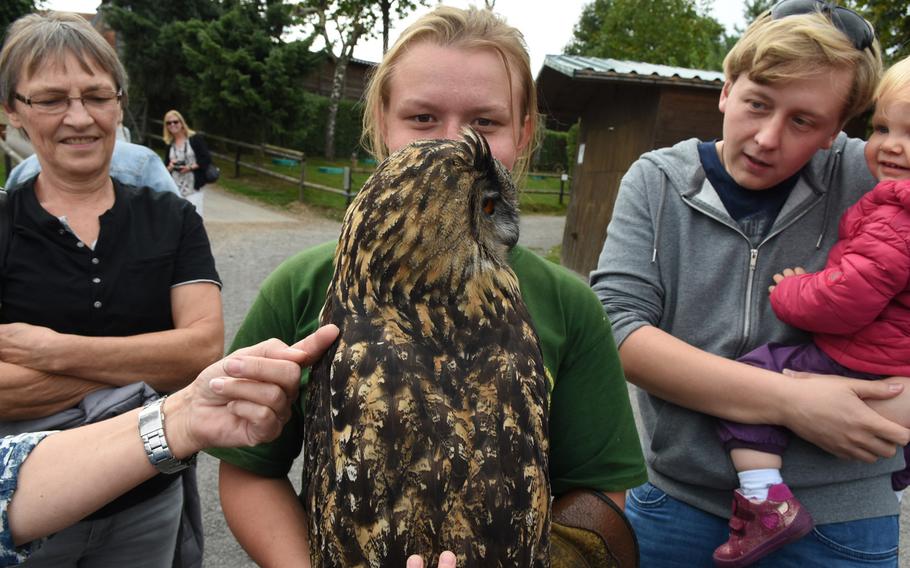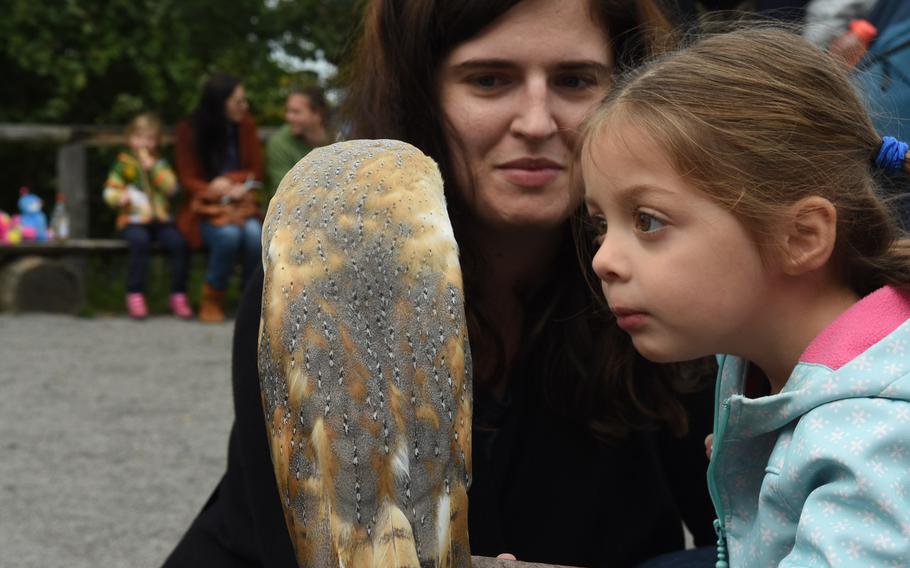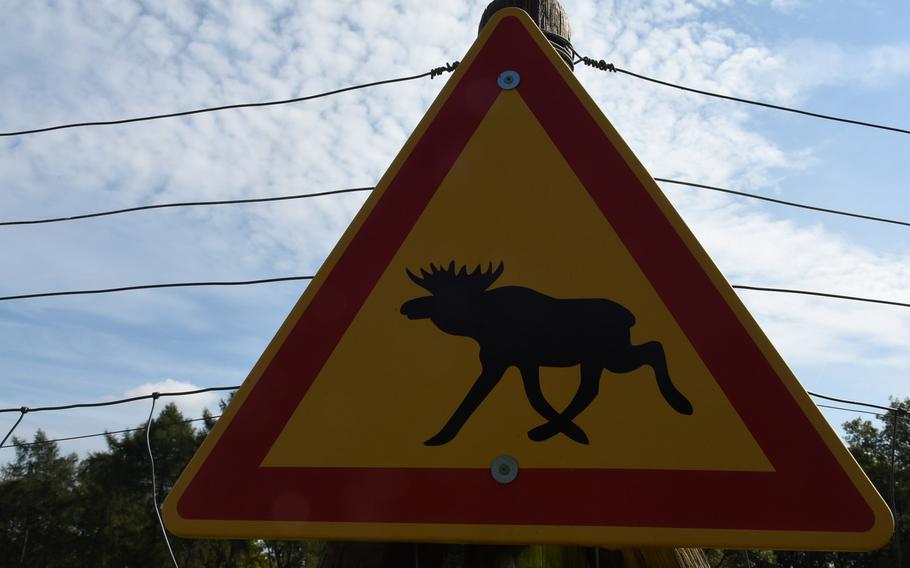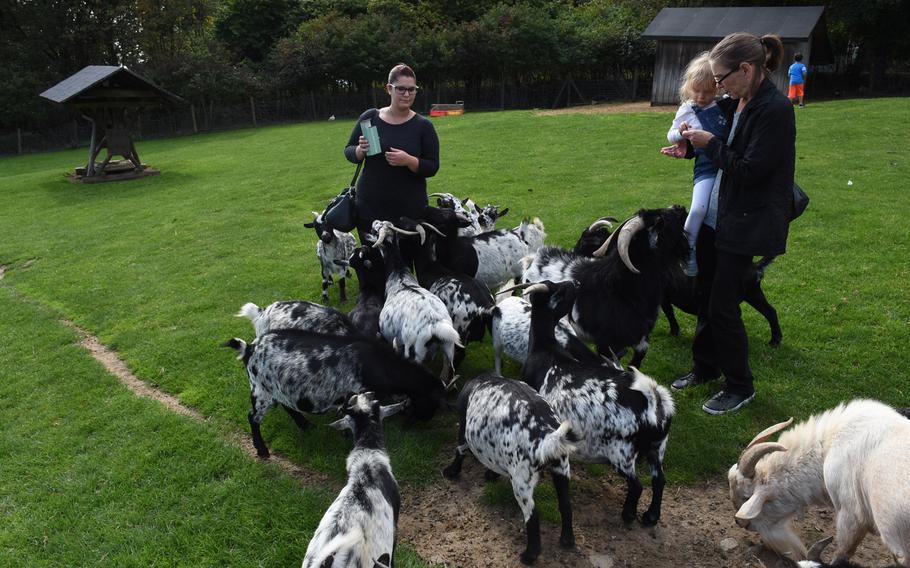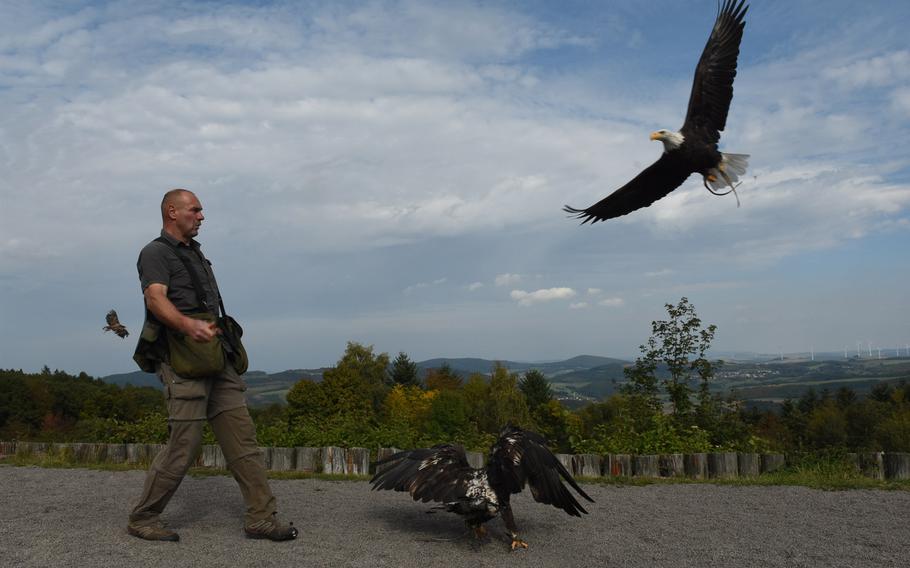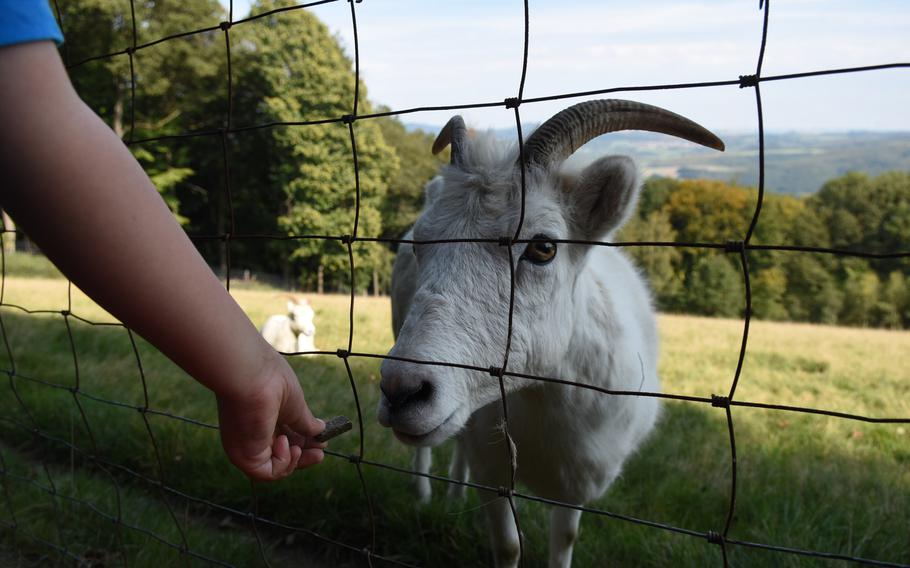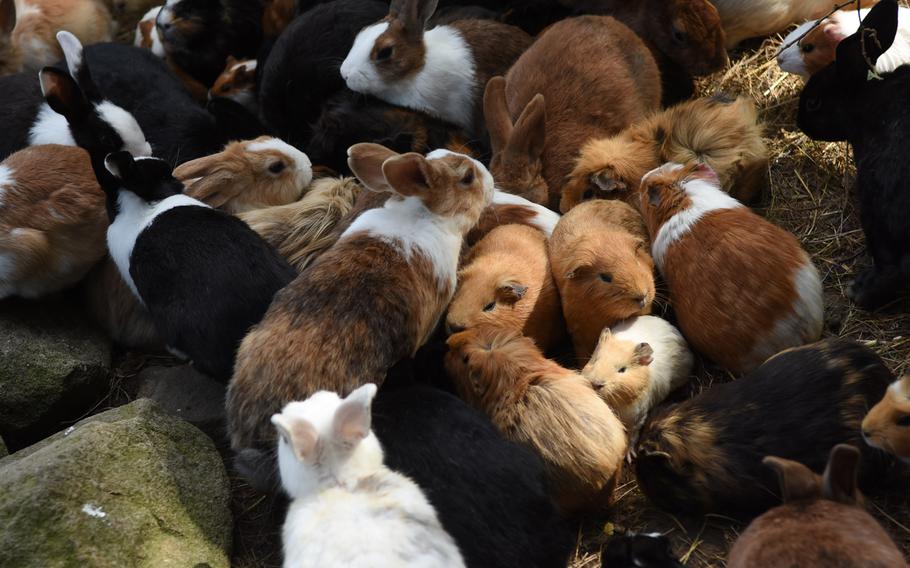 Wildpark Potzberg combines outdoor adventure and family-friendly fun with some educational opportunities.
You can hike, observe animals in a semi-wild state and even get to pet an owl or see a bald eagle up close.
But some caveats: Be prepared to clean poop pellets from shoe soles and wash animal slobber from hands — and perhaps answer questions about dead baby chickens.
The park is spread over about 70 acres on Potzberg Mountain northwest of Ramstein Air Base. About 2.5 miles of trails take visitors past wild boar, moose, white deer and other hoofed mammals. Nearly all of the animals are separated from the humans by a fenced enclosure.
The African dwarf goats are not. They, and their ubiquitous poop, are hard to avoid, especially if you enter the park with a box of green food pellets. Most of the goats congregate inside an enclosure near the park entrance that's open to people, who inevitably let a few out.
Luckily, the goats are domesticated and friendly — maybe a little too friendly. One jumped up on my 6-year-old when he was too slow in presenting a food pellet. We called the goat Pipsqueak because it wouldn't stop its high-pitched, insistent "feed me" bleating.
We managed to hang on to some food for the other animals, as we took about an hour to hike around the park, saving the best attraction for last, the raptor show.
Falconer and park owner Harald Schauss choreographs a dazzling display of birds of prey every day at 3 p.m. from March until the end of October. Schauss and his staff of zookeepers maintain about 120 birds of prey, including two American bald eagles, named Obama and Air Force One.
With quick arm gestures that appear to be nothing more than random finger pointing, Schauss gets the birds to alternately soar to great heights and skim the crowd so close that spectators remain frozen to their seats, lest they get a mouthful of feathers.
A pouch slung over Schauss' shoulder holds the birds' rewards: dead baby chicks. Schauss tosses the chicks up in the air like candy, as the raptors swoop in to grab their meal midflight with outstretched talons. It's pretty amazing to see up close: The birds rarely miss. But it's also a bit unsettling to see baby chicks chucked around like footballs and ripped to shreds.
The only question from my son about the spectacle was why were the chicks dead. Ummm, because the alternative would be a horror show?
At one point during the demonstration, three European sea eagles took off, flying so high they became mere brown dots in the sky above the Potzberg valley. The show seemed to come to a standstill as spectators craned their necks and waited for the birds to come back. Because the show was in German, we didn't know if this was planned or an unexpected departure from the script. The eagles eventually trailed back home while other birds entertained the crowd.
After the show, we got to meet a barn owl, a European eagle owl and a little owl. The birds calmly perched on the leather-clad arm of a staff member while little hands touched their feathers. They didn't even look sleepy despite the afternoon hour.
http://svan.jennifer@stripes.com
Twitter: @stripesktown
Wildpark Potzberg DIRECTIONS
Wildpark Potzberg is slightly more than 20 minutes from Ramstein Air Base. From the A6, take exit 13 toward Ramstein-Miesenbach and follow signs through Miesenbach and Kottweiler-Schwanden to Reichenbach-Steegen. Turn left onto the priority road toward Oberstaufenbach and continue to Neunkirchen, then start looking for signs to Turm Hotel and Wildpark Potzberg. Go through the town of Foeckelberg. At the end of the town there will be a left turn toward Potzberg. GPS address: Wildpark-Falknerei Potzberg, 66887 Fockelberg.
TIMES
Open 10 a.m. to 6 p.m. daily. The Falknerei bird show is 3 p.m. every day, March through October, unless it rains. Special times for the bird show can be arranged in advance for larger groups.
COSTS
Admission is 9 euros ($10.60) for adults, 4 euros for ages 4-16, free for those younger than 4. Group rates and annual rates for individuals and families are available. Feed for the animals is 1 euro per box.
FOOD
The park has a small restaurant where you can get a light bite to eat, beer, coffee and ice cream. Indoor and outdoor seating is available.
INFORMATION
Wildpark Potzberg's website is wildpark.potzberg.de. The park can also be reached by phone at (+49) (0) 6385-6249 or by email at www.wildpark@potzberg.de.