Welney Wildfowl and Wetlands Centre: This trip is for the birds
by
Ron Jensen
January 13, 2004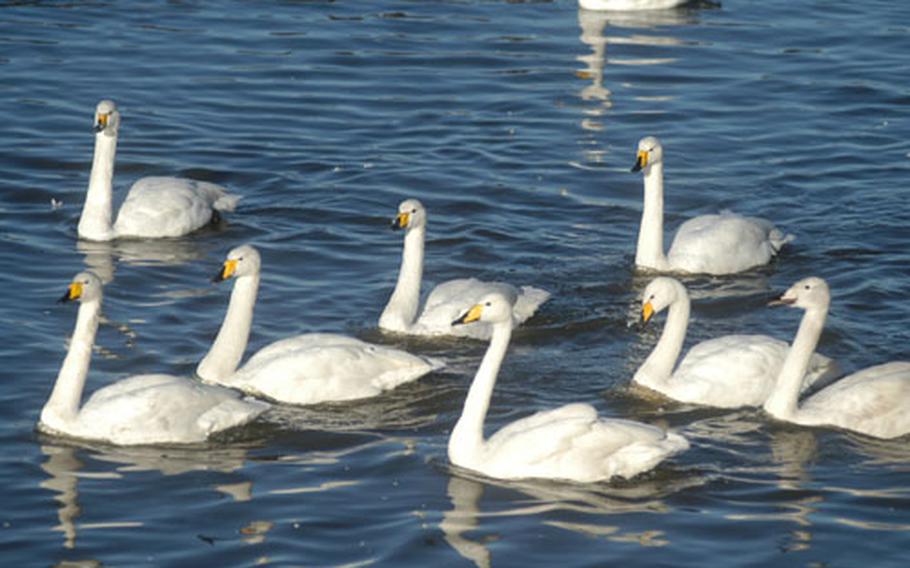 WELNEY, England — Visitors travel thousands of miles each winter to the Welney Wildfowl and Wetlands Centre about 15 miles from RAF Mildenhall and Lakenheath.
And those visitors are also the center's main attraction — wild swans, ducks, geese and all manner of winged migratory fowl.
During this time of year, the marshy reserve is covered with thousands of long-haul travelers who have flown from as far north as the Arctic Circle and upper Scandinavia to make their winter home in the milder climate of central England.
As far as the eye can see are birds, birds and more birds. Too many to count.
Whooper swans and Bewick swans are a wonderful sight as they spread their broad white wings to take flight or float in on the air for a smooth landing.
Thousands of ducks carpet the still water. The constant honking of geese creates a sound not unlike central London at rush hour.
Although the center is open year-round — except Christmas Day — for birdwatchers, it is busiest during the winter when these migratory visitors are on the premises.
Enclosed observatories make birdwatching a warm and dry activity. In the main observatory, large windows offer a view across the wetlands. Other observatories feature narrow slots from which binoculars or cameras can be trained on the birds.
Visitors are advised to go during the noon or afternoon feeding times, when the birds are closest to the observatories.
In the summer, a walking trail extends more than two miles along the wetlands and offers a chance to see fewer birds, but more varieties. It's possible, too, to use a net to dip into the pond and explore the underwater life that is teeming at the Welney center.
Large wall posters provide information about what it is you are seeing. And well-informed workers patiently explain what types of fowl are currently within sight.
The center is one of nine operated by the Wildfowl and Wetlands Trust throughout the United Kingdom. In total, more than 4,000 acres have been set aside to provide the wildfowl with enough space to maintain their presence in a country that is crazy about birds.
On the QT
Directions: The Welney Wildfowl and Wetlands Centre is about 15 miles from RAF Lakenheath and Mildenhall and 10 miles from Ely. Follow A1101 to Littleport and follow signs. Free parking is available.
Cost: Admission prices are 3.90 British pounds (about $7) for adults and 2.30 pounds (about $4) for children. Children ages 4 and under are admitted free.
Members of the Wildfowl and Wetlands Trust are admitted free. Annual memberships to the registered charity is 26 pounds for an adult; 39 pounds for two adults at the same address; and 49 pounds for a family.
Times: The center is open 10 a.m. to 5 p.m. daily except Christmas. The hours are extended to 8 p.m. from mid-November to the end of February except on Mondays and Tuesdays.
Food: A small tearoom is available.
Info: Binoculars can be rented at the center's gift shop. Dogs are not allowed. More information is available at the Web site www.wwt.org.uk or by e-mail at info.welney@wwt.org.uk.